Grid-Enhancing Technologies
Optimizing Energy Transmission And Distribution
The U.S. electrical grid faces many challenges over the coming decades. Aging infrastructure needs to be replaced, demand for power continues to increase, and climate change is driving a push for clean and sustainable energy. These combined challenges strain existing transmission systems to provide reliable power. Upgrades to the transmission system can be costly and time-consuming, which has created a backlog of transmission projects across the nation. Grid-enhancing technologies (GETs) provide operational support while larger upgrades are completed enroute to a transmission system that reliably integrates new power sources. 
To fill the knowledge gaps of GETs, the Department of Energy Office of Electricity and Wind Energy Technologies Office established the Transmission Optimization with Grid-Enhancing Technologies (TOGETs) project. This project guides research to fill knowledge gaps of GETs, develops new modeling and simulation methodologies, and conducts a full-scale, multifaceted field exercise on INL's Power Grid Testbed. INL's nearly two-decades of R&D expertise in Dynamic Line Rating adds significant depth to the expansion of innovative solutions.
A better understanding of how various GETs can work together will allow regulatory bodies and utility providers to evaluate the benefits and risks of these devices and techniques. The combination of GETs leads to improving the use of existing transmission lines, supporting transmission upgrades as they occur, maximizing power transfer, and reducing lost revenue due to congestion and inefficiency.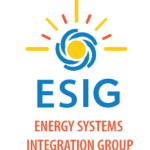 INL Sponsors Energy Systems Integration Group (ESIG)
June 1, 2023: Listen to INL researchers, industry partners and energy sector experts discuss the value of grid enhancing technologies and assess business justifications.
GETs Technologies Studied
The two technologies studied for this project are not the only types of GETs, but they represent mature technologies ready for industry deployment today.
Hardware and software used to access weather conditions such as wind speed, direction and ambient air temperature to determine the true temperature of a conductor and consequently the maximum power that can safely flow on a transmission line at a given time.
A hardware or software device that can actively push and pull power by changing the reactance in the lines. This is useful for redistributing power flow in a mesh network to relieve congestion.
The 2022 U.S. Department of Energy (DOE) Report "Grid-Enhancing Technologies: A Case Study on Ratepayer Impact," focused on the impacts of integrating GETs onto existing transmission lines. GETs can defer or reduce the need for significant investment in new infrastructure projects and increase the use of renewables by maximizing the capacity of the current infrastructure. The report outlined key findings from a case study that evaluates a near-future scenario (2025) in the New York Independent System Operator service area to understand how GETs could impact the region.
To integrate the large amounts of wind and solar resources needed to achieve the state's goal of 70% renewable energy by 2030, significant transmission investment is required. However, GETs and other enabling technology can help facilitate this transition by making better use of existing transmission lines and potentially deferring or augmenting costly traditional transmission upgrades.

As part of the TOGETs Project, INL followed the recommendations of the DOE 2022 Report to Congress by assembling a task force to enable the transparency of GETs. Electric utilities are traditionally risk averse organizations, for good reason. However, the gaps in public knowledge with respect to GETs leads utilities to prioritize established, known solutions. The INL-convened TOGETs task force is charged with helping provide industry with the data needed to fairly consider GETs and ameliorate perceived risk of the modern technologies.
Phase one: Compile information on cost, data, and outcomes from previous studies. This information is vital to understand the use of GETs devices and allow all entities to leverage lessons learned from earlier efforts to streamline future investments. Studying existing data will allow the task force to collect these lessons learned into a centralized repository and identify gaps in the publicly available literature. This work will allow the TOGETs team to focus on filling these gaps.
Phase two: The demonstration will use dynamic line rating and power flow control technology to clarify and answer unaddressed concerns such as integration challenges, cybersecurity and data management. The task force will make collected data publicly available. This will make GETs implementation and operation more transparent to future users.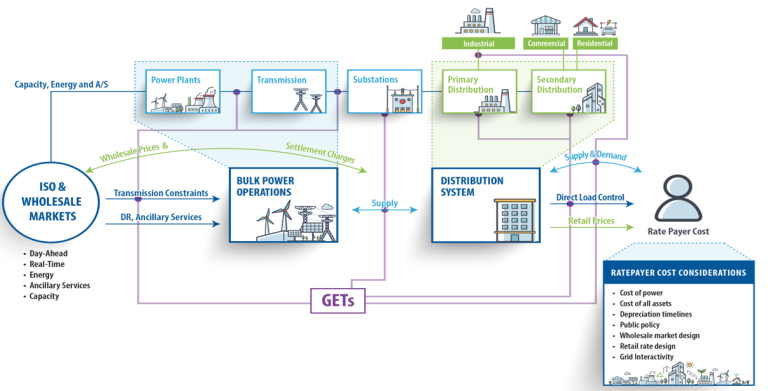 GETs devices can support increased power flow across transmission systems, which shows innovative uses of technology. How utilities and transmission operators will implement the capabilities from GETs in practice remains to be seen. A few potential operational uses of GETs include:
Transmission congestion relief: Dynamic line rating (DLR) can be used to increase the temporary capacity of transmission lines, and power flow control (PFC) can be used to reroute power over an alternate route to prevent congested lines from being overloaded and risking a fault.
Reduce curtailment from wind resources: Higher energy production at wind plants and increased cooling of nearby transmission lines correlate due to the same wind resource. DLR can help operators take advantage of this correlation (referred to as concurrent cooling), allowing more wind energy to be generated and transmitted during high wind periods than what the static rating might allow.
Unit commitment: Day-ahead DLR forecasts can help operators decide which generating units to schedule based on anticipated loads or congestion.
Emergency relief: Real-time DLR can be used during times of peak load or unusual circumstances to temporarily push more power over lines.
Scheduling maintenance: Days-ahead to week-ahead DLR can be used to forecast good periods for line maintenance, when other routes will have to take on more power transmission. PFC technology can be installed temporarily to reroute power while certain lines are out of service for maintenance.
Deferral of transmission system upgrades: The queue for transmission line upgrades is quite long. Supply shortages, skilled labor shortages, and approval processes across different jurisdictions contribute to these delays. Installing DLR and PFC in a region can allow operators to keep up with growing load or the addition of new renewable resources on the system while permanent transmission line upgrades are pending.

After understanding the motivation for deploying GETs, it is important to figure out the detailed process for leveraging GETs information and capabilities. In the case studies document, INL explores this process in detail for two examples of DLR use, highlighting the actors involved, the steps needed, and the requirements for all parties to enable the steps for successful execution of the DLR. Diving into even further detail, the interoperability profile discusses each piece of information that must be transmitted to the operator.