INTERACTIVE PERIODIC TABLE OF ELEMENTS
BRINGING THE PERIODIC TABLE TO LIFE
INL INTERACTIVE PERIODIC TABLE OFFERS DETAILED INFORMATION ON ALL 118 ELEMENTS
Idaho National Laboratory has enlisted its experts, researchers and writers to produce an online interactive Periodic Table that offers pop-up information on every single known element. The feature is a testament to the scientific research done at the lab, but also ties into INL's education and outreach mission, which stretches across Idaho to the most remote and rural places. This mission is evolving all the time, providing relevant and engaging content for teachers and resources for students seeking help with STEM subjects.
Click below to discover information about each element.
*Information for this chart was provided by INL experts along with multiple online sources.
1
18
2
Subcategory in the metal-metalloid-nonmetal trend
Alkali Metal
Alkaline Earth
Nonmetal
Metalloid
Post-Transition Metal
Transition Metal
Halogen
Noble Gas
Lanthanoids
Actinoids
13
14
15
16
17
3
4
5
6
7
8
9
10
11
12
Check out the quotes below to learn what draws some current and former employees to certain elements.
Indium, Tellurium and Radon are my favorite elements on the periodic table because whenever we are among their friends, they introduce me as the InTeRn.
My favorite element is Hydrogen because it small but mighty, driving powerful and essential reactions!
Thanks to Hydrogen: - I have kids, grandbabies and a darling husband (all of whom contain hydrogen) -I have a great job based on 3H (Tritium: a radioactive isotope of hydrogen) -And, as luck would have it, all of my favorite rocks contain hydrogen To me, hydrogen is better than gold!
My favorite elements are Polonium, Tellurium, Nitrogen, Titanium, and Aluminum. After all, they do have a lot of PoTeNTiAl!
I'm gonna have to go with plutonium. Uranium and Neptunium are always telling him he's not a planet, but what do they know?
I love the periodic table. You mix a little sulfur, tungsten, and silver and it's kinda like me - SWAg.
Some may say, "well of course Uranium is your favorite element, you're a radiochemist," but there is more to it than just nuclear energy. It has been used as a colorant in glass since the late 1800s and is still used today, giving us the opportunity to introduce uranium to the public and in STEM outreach.
My wife got me my first uranium glass pieces as a gift a few years ago and my collection has grown to three cabinets full and still growing. While many people know about Uranium in the context of energy, not many know about the beauty it can bring to glass.
There's one smart element on the table and he is...Einsteinium.
Tungsten! It's the metal with the highest melting temperature (over 3400ºC!) and extremely strong.  It's used in fusion as a plasma-facing material because of its ability to withstand extreme environments.
I love gazing at the stars and find it fascinating that they shine from burning hydrogen into helium. Science is awesome!
My favorite element is Carbon because it is a diamond in the rough.
I'm a fan of radium because it reminds me of Marie Sklodowska-Curie, one of the scientists who discovered the element. Marie was a pioneering scientist, with countless achievements. Just to mention a few, she created the theory of radioactivity, developed mobile x-ray units, and founded medical research centers. She was the first woman to win a Nobel prize and the first person and only woman to win the Nobel prize twice.
One of my favorite elements is Dysprosium because it takes part in making many of our high tech systems work due to extra strong high temperature magnets that it facilitates.
My favorite elements are Tungsten, Argon, Nickel, Carbon and Potassium mostly because using the symbols from each of the elements spells my last name. W|AR|NI|C|K
My favorite element is Tennessine, since it was named after Tennessee, where I am from.
HISTORY OF THE PERIODIC TABLE
There is no more enduring reflection of science than the Periodic Table of Chemical Elements, which sheds light not only on the essence of chemistry but physics and biology as well. Go into any scientist's office or lecture hall anywhere in the world and you are likely to see one. Its story is over 200 years old, and throughout its history, it has been a subject for debate, dispute and alteration.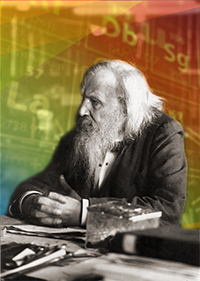 Attempts to classify elements and group them in ways that explained their behavior date back to the 1700s, but the first actual periodic table is generally credited to Dmitri Ivanovich Mendeleev, a Russian chemist who in 1869 arranged 63 known elements according to their increasing atomic weight.
Mendeleev left spaces for elements he expected to be discovered, and today's periodic table contains 118 elements, starting with hydrogen and ending with oganesson, a chemical element first synthesized in 2002 at the Joint Institute for Nuclear Research (JINR) in Dubna, Russia, by a team of Russian and American scientists.
The term "periodic" is based on the discovery that elements show patterns in their chemical properties at certain regular intervals. Were it not for the simplification provided by this chart, students of chemistry would need to learn the properties of all 118 known elements. The periodic table allows chemists a shortcut by arranging typical elements according to their properties and putting the others into groups or families with similar chemical characteristics. (In the modern periodic table, a group or family corresponds to one vertical column.)
Description
The Periodic Table: Crash Course In Chemistry
By Crash Course 11:21min
Hank gives us a tour of the most important table ever, including the life story of the obsessive man who championed it, Dmitri Mendeleev. The periodic table of elements is a concise, information-dense catalog of all of the different sorts of atoms in the universe, and it has a wealth of information to tell us if we can learn to read it.