Net-Zero-1

Net-Zero-2

Net-Zero-3

Net-Zero-4

Net-Zero-5
Idaho National Laboratory is a world leader in solving major energy challenges by creating reliable, sustainable and secure energy solutions. Those solutions include developing ways to reduce carbon emissions to stave off the major impacts of climate change.
INL's focus on clean energy research provides both an opportunity and a responsibility for our employees. In 2021, the laboratory committed to becoming a national model for achieving net-zero emissions by 2031. INL will do this by developing and implementing carbon-free and carbon-capture technologies on the forefront of the move to zero-carbon emissions.
INL IS USING ITS WORLD-CLASS RESEARCH AND CORE MISSION TO ACHIEVE NET-ZERO EMISSIONS FOR BUILDINGS, VEHICLES, OPERATIONS AND VENDORS BY 2031.
"OUR STAFF HAVE A STRONG SENSE OF DUTY TO CONTRIBUTE SOLUTIONS TO THE MOST PRESSING TECHNICAL CHALLENGES FACING OUR NATION AND THE WORLD."
–  JOHN WAGNER, INL DIRECTOR
Net-zero starts at INL
Idaho National Laboratory's 890-square-mile desert site is ideally suited to meet this challenge and inform the nation about best practices in achieving net-zero. The INL Site is like a small city, with more than 100 miles of transmission lines, a landfill, vehicle fleet, buildings, and roads – emission sources that must be addressed. The lab's capabilities, staff, resources and mission offer a unique opportunity to meet this goal and establish a net-zero model for the nation.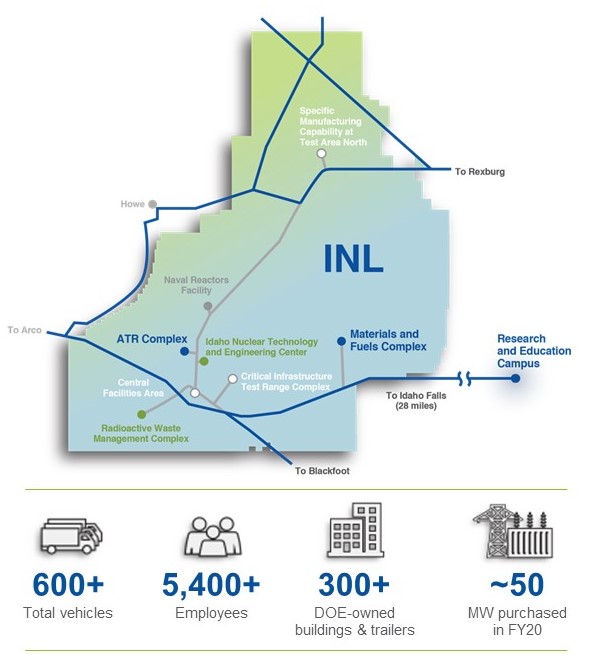 Leading us to Net-Zero through nuclear innovations
Jhansi Kandasamy, Director of the Net-Zero Program, has long been a trailblazer in the nuclear field–rising from an intern at Limerick Generating Station to vice president of Engineering Services Nuclear at GE-Hitachi Nuclear Energy before joining INL. Her 30 years of experience in the nuclear industry have given her incredible perspective as to how nuclear can move INL and the nation to net zero carbon emissions. She is using this knowledge combined with her leadership skills, including those she developed while chair of U.S. Women in Nuclear (WiN), to usher in a new energy era transformed by advanced nuclear technologies that will change this region and the world.