Consequence-Driven Cyber-Informed Engineering
What is Consequence-driven Cyber-informed Engineering?
Consequence-driven Cyber-informed Engineering (CCE) is a methodology focused on securing the nation's critical infrastructure systems. Developed at Idaho National Laboratory, CCE begins with the assumption that if a critical infrastructure system is targeted by a skilled and determined adversary, the targeted network can and will be penetrated. This 'think like the adversary' approach provides critical infrastructure owners and operators a four-phase process for safeguarding their critical operations.
Methodology and Four-Phase Process
CCE provides a four-phase process for safeguarding critical infrastructure operations. The following graphic and animation provide more information for each of the four phases of the CCE Methodology.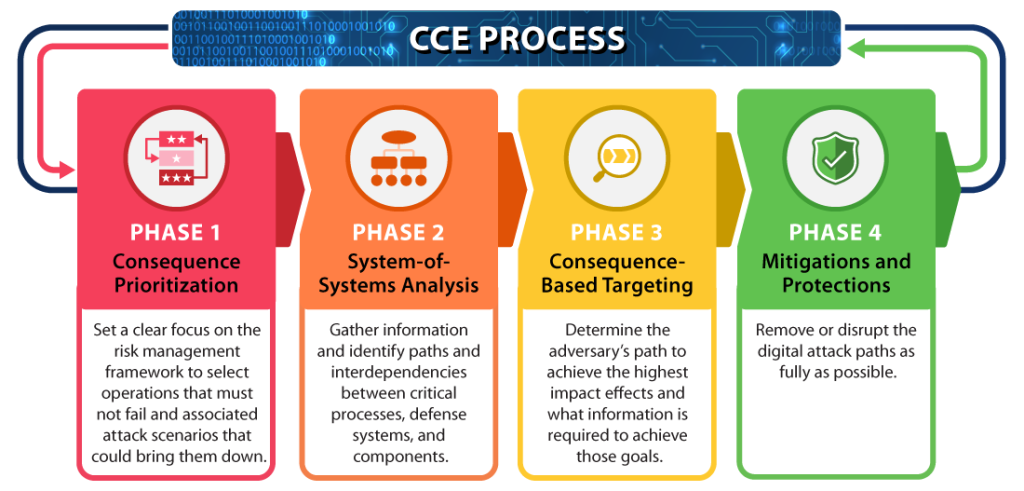 Animated CCE Kill Chain Workflow
Engagements and Training Opportunities
ACCELERATE TRAINING
Course Description: ACCELERATE Training provides critical infrastructure companies with a self-guided approach to conducting their own CCE effort. Course is two days (16 hours) and includes CCE methodology, plus a detailed guide and templates participants can use to facilitate a CCE effort within their organization. Course offers continuing educations units/credits. >>MORE INFO
Registration: Free. Registrants are responsible for travel expenses (flight, hotel, and meals).
Location: Denver, Colorado
Training Dates: September 11-12 – REGISTER NOW through September 8 
Location: Idaho Falls, ID
Training Dates: September 26-27 – REGISTER NOW through September 8   

For any questions related to registration, please email: nhs-training@inl.gov
OTHER TRAINING OPPORTUNITIES
INL and DOE-supported CCE Engagement (Tier 1) – Specific engineering solutions—not just cyber controls—to design-out cyber risk from critical operations.
Self-Driven CCE Engagement (Tier 2) – In-depth, team-based training for Tier 1 individuals
Workforce Development – In-depth, team based training for select individuals who will help guide Tier 1 partners in the execution of a CCE engagement.
CCE Licensed Industry Partners
In this section we have listed supporting papers, presentations and media that support the CCE Program and Methodology.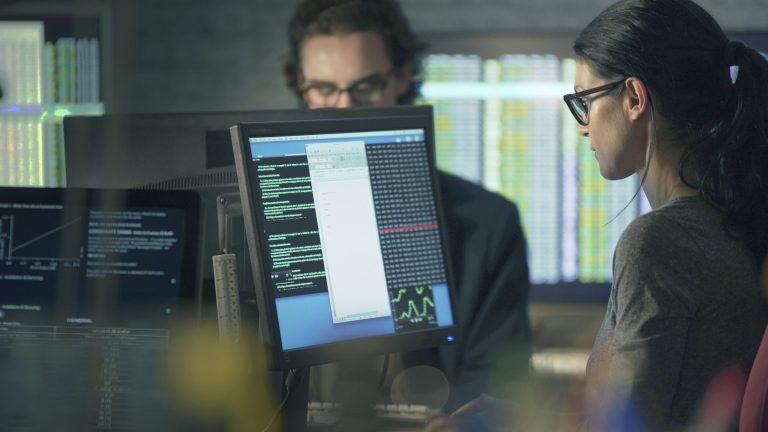 NIST: SP 800-82 Rev. 3 (DRAFT) Guide to Operational Technology (OT) Security
The draft of NIST's revision for their Guide to OT Security, now open for comments, includes an Appendix on OT Security Organizations, Research, and Activities and has a section for "INL Cyber-Informed Engineering (CIE) / Consequence-Driven CIE (CCE)"
The Department of Energy (DOE) and Idaho National Laboratory (INL) have developed a framework to guide the application of cybersecurity principles across the engineering design life cycle. The Cyber-Informed Engineering (CIE) framework and body of knowledge drives the inclusion of cybersecurity as a foundational element of risk management for engineering of functions aided by digital technology. Consequence-Driven Cyber-Informed Engineering (CCE) is a rigorous process for applying CIE's core principles to a specific organization, facility, or mission by identifying their most critical functions, methods and means an adversary would likely use to manipulate or compromise them and determining the most effective means of removing or mitigating those risks. CIE emphasizes "engineering out" potential risk in key areas, as well as ensuring resiliency and response maturity within the design of the engineered system. The following CIE framework shows some of the key focus areas and how the relate to the CCE Methodology. CCE walks an organization through core components of CIE in CCE's 4-phase process to evaluate and remove or mitigate weaknesses in their critical functions.
Countering Cyber Sabotage Book
By Andrew Bochman and Sarah Freeman
January 2021
Countering Cyber Sabotage: Introducing Consequence-Driven, Cyber-Informed Engineering (CCE) introduces a new methodology to help critical infrastructure owners, operators and their security practitioners make demonstrable improvements in securing their most important functions and processes.
Current best practice approaches to cyber defense struggle to stop targeted attackers from creating potentially catastrophic results. The most pressing threat is cyber-enabled sabotage, and CCE begins with the assumption that well-resourced, adaptive adversaries are already in and have been for some time, undetected and perhaps undetectable.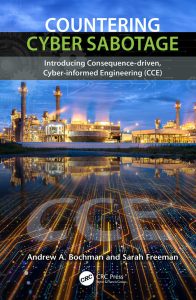 No amount of investment in digital defenses can protect critical systems from hackers. It's time for a new strategy.
Harvard Business Review
By Andy Bochman
May 31, 2018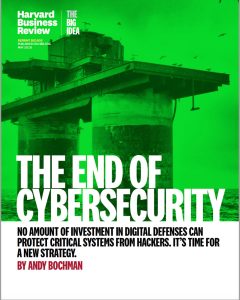 INL Mission Support Center Concept Paper
October 2016
CCE participants are encouraged to work collaboratively with each other and with key U.S. Government (USG) contributors to establish a coalition, maximizing the positive effect of lessons-learned and further contributing to the protection of critical infrastructure and other national assets.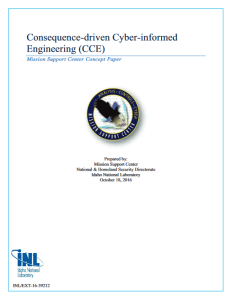 Cyber Threat and Vulnerability Analysis of the U.S. Electric Sector
INL Mission Support Center Analysis Report
August 2016
This paper seeks to illustrate the current cyber-physical landscape of the U.S. electric sector in the context of its vulnerabilities to cyber attacks, the likelihood of cyber attacks, and the impacts cyber events and threat actors can achieve on the power grid. In addition, this paper highlights utility perspectives, perceived challenges, and requests for assistance in addressing cyber threats to the electric sector.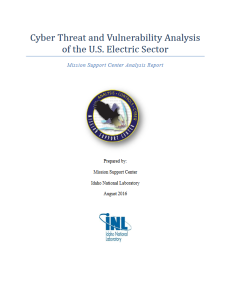 The Need for Cyber-informed Engineering Expertise for Nuclear Research Reactors
International Conference on Research Reactors: Safe Management and Effective Utilization
December 2015
This paper examines the need for cyber-informed engineering practices that encompass the entire engineering life cycle. Cyber-informed engineering, as referenced in this paper, is the inclusion of cybersecurity into the engineering process. This paper addresses several attributes of this process and the long-term goal of developing additional cyber-safety basis analysis and trust principles. With a culture of free information-sharing exchanges, and potentially a lack of security expertise, new risk analysis and design methodologies need to be developed to address this rapidly evolving (cyber) threatscape.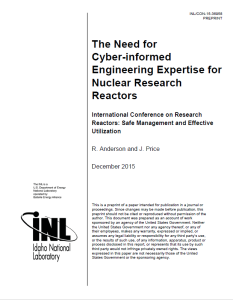 2022 National ResilienceEXCH (Exchange) Summit – CCE Virtual event, January 27, 2021
Panel Moderator: Wayne Austad, INL Chief Technology Officer
Panelists:
Sarah Freeman – Senior Industrial Control Systems Cybersecurity Analyst, Idaho National Lab
Marco (Marc) Ayala – Director, ICS Cybersecurity & Sector Lead, 1898 & Co., Part of Burns & McDonnell
MRO Power Meeting – Intro to CCE
Midwest Reliability Organization Power Meeting, October 7, 2020
Andrew Bochman, Senior Grid Strategist, National and Homeland Security INL discusses INL's engineering-based method for blocking or disrupting highest consequence attacks from top tier cyber adversaries.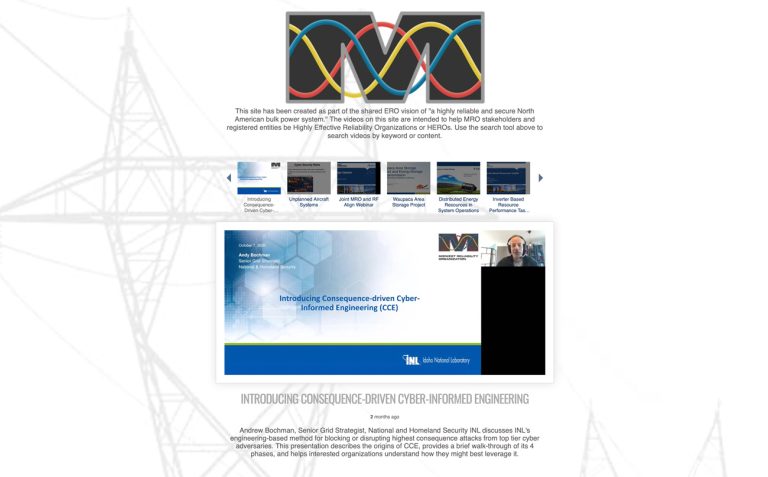 Engineering Out the Cyber-Risk…
Presenters: Virginia Wright and Andrew Bochman
It is dawning on critical infrastructure operators that even the best cyber-hygiene—the sum total of all we now do in cybersecurity—cannot be counted on to keep well-resourced attackers from touching their most critical processes and the systems that support them. This talk will introduce a new approach that draws from engineering first principals to take the highest value targets off the table.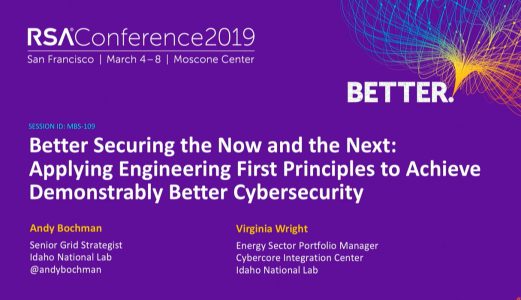 Consequence-based ICS Risk…
January 2019
Dale talks with Andy Bochman about the Consequence-Driven, Cyber-Informed Engineering (CCE) and John Cusimano about CyberPHA's and  lowering the maximum impact of a successful attack.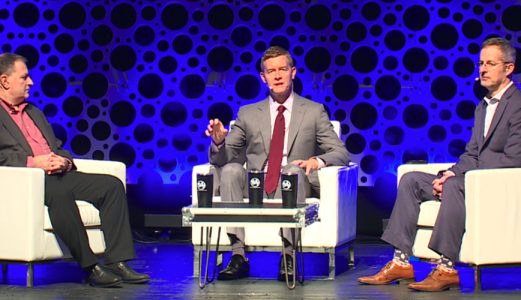 Related Information
Related Energy Cyber Programs
For more information contact: cce@inl.gov