Given Chris Michelbacher's lifelong love of cars, it's odd that the Idaho National Laboratory engineer and his family spent the past three years riding bikes around Washington, D.C.
"It's by far the fastest way to get around the city," says Michelbacher, who is on temporary assignment with the Department of Energy's Vehicle Technologies Office. "We'll ride our bikes on the Capital Crescent Trail to Bethesda to get breakfast, and things like that."
While in D.C., Michelbacher led a multilab DOE team that explored the challenges and opportunities of extreme fast charging, a technology that would allow electric vehicle (EV) owners to charge their cars to 80 percent capacity in 10 to 15 minutes. A report on extreme fast charging helped the team win the DOE Office of Energy Efficiency and Renewable Energy's Assistant Secretary's 2017 Outstanding Impact Award.
With five months left on his detail, Michelbacher says he's enjoyed his time in the nation's capital, but he's ready to return home.
Michelbacher grew up in Idaho Falls. When he was a kid, the Michelbacher family spent time at a second home in Sun Valley, where Chris developed passions for mountain biking and skiing.
Michelbacher's father, Bert, was a nuclear engineer who worked on nonproliferation efforts in coordination with the International Atomic Energy Agency. He credits his father for encouraging his interest in mechanical engineering, and automotive engineering in particular.
"I've always been interested in automotive from a very early age," he said. "Cars are fascinating. They are the most complex thing people interact with on a daily basis, and yet we take them for granted. It's really an amazing piece of engineering."
After high school, Michelbacher studied mechanical engineering at Montana State University, where he met his wife, Clara, who now works as a professional garden designer.
At the time, MSU didn't have a Society of Automotive Engineers (SAE) chapter, so Michelbacher and a friend decided to start one.
"We were eventually able to get the College of Engineering to give the group money to design a race car," Michelbacher said.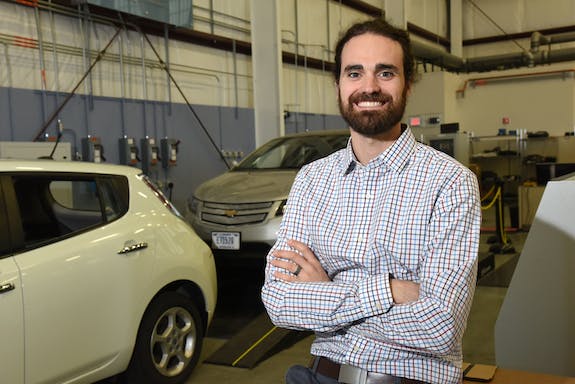 They designed the car to compete in Formula SAE competitions, where students win points based on design, a drag race, fuel economy and other measures of performance. After a year, the race car was included among the College of Engineering's senior capstone projects.
Michelbacher graduated from Montana State in 2008, and landed a job at INL a year later. "Ultimately, what brought me to Idaho was INL's battery and electrification work," he said.
"INL does a lot of research with electrified vehicles and advanced battery chemistries," he continued. "I was drawn to that, because I saw electrification as the next phase, the ultimate end goal. Plus, I could be close to the mountains and close to my family. It was very appealing."
Michelbacher started his INL career at the state-of-the-art Battery Test Center (BTC) as a research engineer. After a stint in vehicle systems research, he returned to the BTC as the principal investigator responsible for operations, analysis and reporting of energy storage device testing.
In 2015, he began his Washington, D.C., detail at DOE's Vehicle Technologies Office, where he's focused on program management and technical oversight for battery and electrification programs. His work includes coordinating with the U.S. Advanced Battery Consortium, a collaboration among national labs, automotive manufacturers, and DOE to promote development of next-generation automotive batteries.
He also works on assessing how electric vehicles will impact and integrate with the grid, and electric vehicle cybersecurity.
Michelbacher also found time to finish a Master of Business Administration program at George Washington University during his detail.
He said the extreme fast charging collaboration—which involved researchers from INL, Argonne National Laboratory and the National Renewable Energy Laboratory—was one of his favorite accomplishments to date.
"One of the most rewarding parts of the project was collaborating with a team from several national labs," he said. "It's a really high-caliber team to work with. They certainly taught me a lot."
The technology, he said, marks one of the final hurdles that electric vehicles face before they meet or exceed the performance and convenience of conventional gasoline-powered vehicles.
Solving some of the challenges posed by extreme fast charging will go a long way toward getting more electric vehicles on the road. "It is now very much part of the EV conversation everywhere we go," he said.
John Smart, head of INL's advanced vehicles group, said Michelbacher has represented INL well in Washington. "With his sharp intellect, genuine personality, quick wit and strong work ethic, Chris has become a valuable member of DOE's Vehicle Technologies Office," he said. "He has helped VTO successfully lead highly visible research programs of national importance."
Michelbacher's assignment ends in August 2018. He and his family are eager to get back to Idaho.
"I'm excited to get out of the hustle and bustle," he said.
Michelbacher said he's also looking forward to getting back to work with his colleagues at INL.