If you want to see Idaho National Laboratory Bioenergy Technologies Department Manager Erin Searcy beam with pride, ask about her dog.
When Searcy purchased her house in Idaho Falls in 2010, the first thing she did was rush out to the animal shelter to adopt Sophie, a mostly black mutt with a strong dose of Labrador retriever.
All was fine until two years ago, when Sophie developed cataracts so severe that she needed surgery to remove both of her eyes. The news was devastating.
But soon after the surgery, Searcy began to notice that a visionless Sophie was managing pretty well. Now, at 7.5 years old, Sophie uses her nose to steer herself around trees at the park. People who come over to pet her often don't even notice that she's blind.
Like Sophie, Searcy overcame her own challenge – severe shyness – on her way to taking the reins of INL's bioenergy program.
Searcy grew up just outside of Winnipeg, Manitoba, which she jokingly calls "sort of a barren, hostile wasteland," the daughter of a hospital administrator and a homemaker.
"We had a cabin," she said. "We did a lot of hiking around. We just tried to stay warm, I guess. That was the number one priority."
As a kid, Searcy thought she wanted a career as a veterinarian, but a stint as a volunteer at an animal hospital changed her mind. "Every day, it seemed like you were telling somebody they were going to lose their best friend," she said. "And there was a lot of feces involved."
It didn't help that Searcy was something of an introvert, especially when she had to talk in front of groups or to people she didn't know.
"Until I was in my early 20s, I was cripplingly shy," she said. "The idea of having to interact with new people all the time was very uncomfortable for me."
Toward the end of high school, Searcy's brother, Cory, had just started working on his engineering degree at the University of Manitoba, and she decided to give it a try.
"I was good at math," she said. "I got high marks in engineering and physics. And I could see tons of opportunities with the degree. I wanted a challenge and I wanted something with a career path."
Searcy finished her bachelor's and master's degrees at the University of Manitoba and, after a brief stint as a consultant, began considering the University of Alberta for her Ph.D.
There, her brother introduced her to Peter Flynn, an engineering professor who would become one of Searcy's most important influences.
"I talked to him for two hours," Searcy said, explaining that Flynn was on the cusp of retirement when they first met. "He's very interested in people and what makes them tick. At the end of it, he said, 'I'll take you on as my last student."'
Searcy said she had a strong desire to work in a field that could make a positive contribution to the world, and the combination of academia and bioenergy seemed like a good fit. "I could help contribute to a low-cost, clean energy source," she said.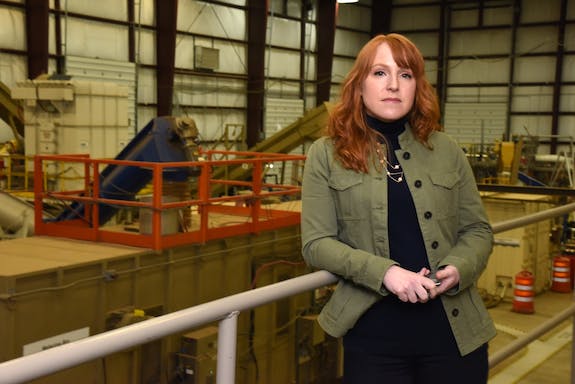 And yet, Searcy still grappled with her discomfort in social situations. "I had this cartoonish image of how this was all going to play out, yet I was still this really shy person," she said.
Flynn forced Searcy to address her fear head-on when he offered her a teaching position. Suddenly, she found herself lecturing engineering classes with roughly 100 students each.
While the teaching experience was difficult, especially dealing with confrontational students, the experience helped Searcy overcome her anxiety. Flynn coached her on how to be extremely direct with students. That way, she could end confrontations in the classroom quickly and move on with the lesson.
Another technique that helped Searcy was making herself into almost a caricature of a professor. This sort of play-acting helped her slip into the role when she was teaching her classes.
Still, Flynn could see that Searcy didn't like teaching. He suggested she contact Richard Hess, one of the researchers who founded the INL bioenergy program.
Aside from Flynn, "Richard Hess has been one of the few people who mentored me," Searcy said. "He really cared, and he gets it."
Searcy started with INL in 2008 as a biofuels research engineer specializing in the design of supply systems for woody biomass feedstocks. In 2012, she moved to Washington, D.C., for a rotation with the Bioenergy Technologies Office where she, again, specialized in feedstock supply systems as well as guided the development of bioenergy research programs.
"I'd prepare and give presentations on biomass feedstocks," Searcy said. "I'd review reports for technical content. It was kind of a technical advisor role."
She returned to Idaho as the Bioenergy Analysis lead in 2015, and took over as Bioenergy Technologies Department manager in 2016.
Throughout her career, Searcy says she found her niche by being both a good engineer and a good communicator.
"When it comes to doing lab work, it's not my strength," said Searcy, who has co-authored several major bioenergy reports during her career. "I like the story more than the data."
Flynn and Hess remain some of Searcy's biggest fans.
At the University of Alberta, Searcy worked on a novel approach to the bioenergy challenge, said Flynn.
"We had never gotten to the key issue: for a given biomass resource, say corn stover, straw or woody residues, what was the best choice of technology for using them," he said. "Erin took on this complex and very important project for her Ph.D. thesis, and over 3.5 years tackled that question with initiative and true engineering insight."
"It is engineering at its best: analyzing complex data to get to the right outcome," Flynn continued. "And her energy and enthusiasm made her a joy to work with."
Hess agreed. "Erin is ambitious and committed," he said. "She cares a lot about people. When somebody is upset, it deeply affects her. She starts working on solutions and really cares about making things right."
"She has the potential to be a strong leader here or anywhere she chooses to work," Hess continued. "The thing about Erin is that she's always growing. If she has a challenge at one point, you can be confident it won't be there next year."