INL Nuclear Science Week 2023
Nuclear Science Week (NSW) is an international week-long (or more!) celebration intended to focus local, regional and international interest in all aspects of nuclear science and technology. Commercial nuclear utilities, new advanced reactor developers, universities and schools participate each year, attending a national 'Main Event' and hosting many other events throughout the week in their own regions. INL has been an active participant for many years.
Here's what we have in store for 2023. Curious minds of all ages are encouraged to participate at many of these events to learn about the past, present and the exciting future of nuclear energy.
Nuclear Science Week Main Event
INL is participating along with nuclear industry partners, advanced nuclear innovators, universities, and other DOE labs at this year's NSW Main Event. More than a thousand K-12 and university students and community members will gather to learn about nuclear science and the exciting work going on at dozens of participating organizations in all aspects of nuclear science.
When: Thursday, Oct. 12, from 10 a.m. to 3 p.m.
Where: Fleet Science Center, Balboa Park, San Diego
Family Nuclear Science Night
Note: Registration for INL's 2023 Family Nuclear Science Night is now closed. You may fill out the waitlist form to be considered.
Idaho National Laboratory invites local students and their families to attend Family Nuclear Science Night, a STEM event that introduces visitors to nuclear science, engineering and more. Families will be able to meet scientists and engineers, engage in hands-on activities and demonstrations, and learn more about the science happening right here in eastern Idaho.
Each student will be given a passport book of activities to complete to earn a stamp, pins for their lanyard, and other freebies they can gather throughout the evening.
When: Thursday, Oct. 12, from 5:30 to 7:30 p.m.
Where: University Place, Bennion Student Union Building, 1784 Science Center Drive, Idaho Falls  
STEM Science Show – "Lights, Action, Chemistry!"
This very popular event is a K-6 science show, presented by Dr. Cathy Riddle, an INL radiochemist and board member of the Idaho Section of the American Nuclear Society (IANS). Many Eastern Idaho schools attend this event, with additional seats available on a first-come, first-served basis at the iconic Colonial Theater in Idaho Falls. Future innovators should prepare for an afternoon filled with captivating experiments and scientific discovery.
When: Thursday, Oct. 19, from 1:30 to 2:30 p.m.
Nuclear Now Documentary Screening and Q&A Panel
Join us for a special screening of Oliver Stone's documentary "Nuclear Now" at the Colonial Theater in Idaho Falls, followed by a Q&A session with industry experts from INL. Stone's documentary describes his eye-opening journey that he and millions of others are making away from an irrational anti-nuclear stance to understanding how nuclear can lead us to a brighter, cleaner future. Mark your calendar and invite your friends to explore the power of nuclear with us.
FREE EVENT
When: Thursday, Oct. 19, from 5:30 to 7:30 p.m.
In honor of Nuclear Science Week, the INL Tours team is proud to welcome you for a special Experimental Breeder Reactor-1 Open House. Visit this fascinating National Historic Landmark to learn how far we've come since 1951, when the historic EBR-I reactor demonstrated the production of electricity for the very first time, along with several other firsts in nuclear science.
FREE EVENT
When: Friday, Oct. 20, from 10:00 a.m. to 3:00 p.m.
Where: EBR-I, Arco, Idaho
Virtual Tours And Presentation
Nuclear 101 virtual tour
Monday, Oct. 16, 11 a.m. – noon MST
For community members and INL employees working outside the nuclear field who want to understand more, INL Tours offers a great primer on how nuclear energy works, the effects of radiation, and how we use both for all kinds of beneficial uses.
Meeting ID: 255 220 850 158
Passcode: ohsQmK
Virtual 52 Reactors virtual tour
Tuesday, Oct. 17, 11 a.m. – noon MST
Today's exciting developments in advanced reactor designs build on a foundation resting largely on the early prototypes and research and test reactors developed right here in Idaho. Learn about the brilliant successes and the lessons learned from the nuclear pioneers of the National Reactor Testing Station who built a new science from scratch. This presentation on the 52 Reactors will help you understand what they were and how they helped plant the seed for the exciting work INL is involved in today.
Meeting ID: 293 773 455 57
Passcode: rynjMP
Learn more about a few of our nuclear researchers and their work at the nation's center for nuclear energy research and development.
Christina Appleby, Reactor Operator

You'd be forgiven for never having heard of the small northern California town of Shingletown, which sits in the foothills of the Cascade Range's Lassen Peak.
But it's home for INL employee Christina Appleby. And although she now finds herself nearly 800 miles away in Idaho Falls, where she works as an operator at INL's Transient Reactor Test (TREAT) facility, her new surroundings feel familiar.
Appleby joined INL just over a year ago and now plays a central role in conducting experiments at the TREAT facility, a research reactor designed to simulate accident conditions and help engineers develop more robust reactor fuels.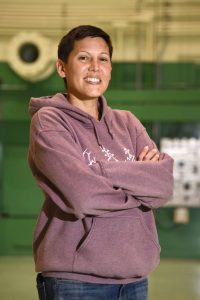 Andrea Jokisaari, Computational Scientist
Andrea Jokisaari is sort of like a Sherlock Holmes of nuclear energy.
Jokisaari, a computational scientist at INL, works to unlock the mysteries of how fuel and materials change over time in nuclear power plants, information crucial for plant safety and economics.
What is a computational scientist? It is a discipline that uses mathematical models to solve scientific problems. Her research focuses on being able to predict irradiation damage and how it changes material properties from fundamental physics.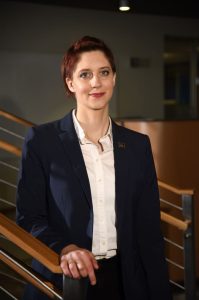 Aaron Balsmeier, Engineering Manager
Trishelle Copeland-Johnson, Research Materials Scientist
Austin Fleming, Nuclear Material Experiment Designer
Nuclear Careers & Internships
National laboratories might be known for their scientific capabilities, but it takes people with a variety of skills to change the world's energy future. As the nation's center for nuclear energy research, there's a place at INL for individuals with all kinds of backgrounds, and we want your help.
Whether you're looking for an internship or a career, if you are passionate about ensuring a clean, prosperous and secure future, there may be a place for you at INL.
For more information on internships and careers at INL, visit inl.gov/careers.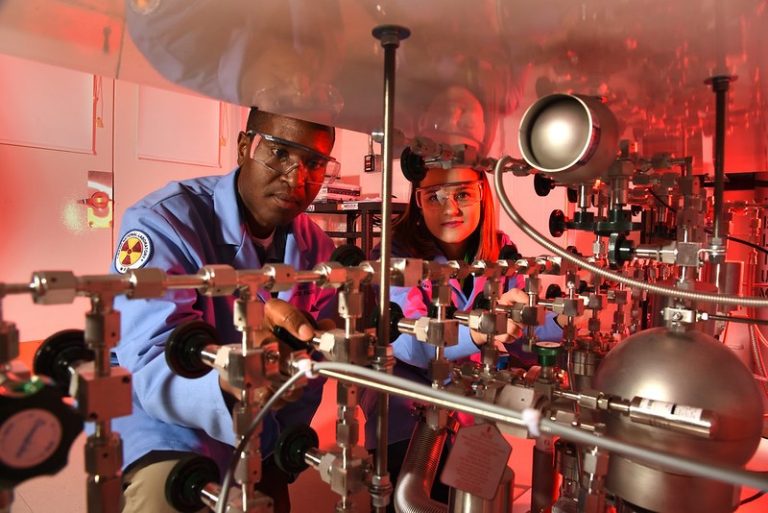 Nuclear themed activities
Explore nuclear themed activities for the classroom, home or anywhere. These lessons are geared toward elementary, middle or high school students. Learn about atoms, background radiation, nuclear fission and more!
Explore INL with Ida and Tank
Learn about all we do at INL with the help of Ida and her best friend, Tank! "Ida Explores INL," a fourth-grade curriculum-aligned book presented by former first lady Lori Otter, will take students on a trip around our site to learn about our research.
Join in our virtual scavenger hunt to follow along:
Explore careers in nuclear in Idaho
View this interactive presentation to see a picture of Idaho's nuclear industry from a workforce perspective. Everything from occupation information to education pathways is captured: the pipeline to Idaho's nuclear industry starts here!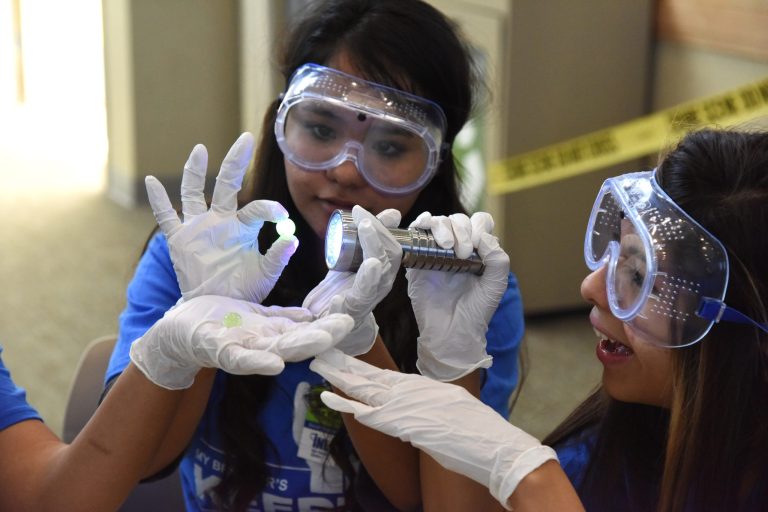 Take a virtual field trip of INL and explore high school and middle school nuclear curriculum
The American Nuclear Society and Discovery Education are providing the highest standard in nuclear science education with Navigating Nuclear: Energizing Our World. This new, dynamic, standards-aligned program invites students to explore the many applications of nuclear science and its impact on energy, health care, food, and the environment through an interactive suite of FREE classroom resources. Find classroom resources, take a virtual field trip to INL, explore career profiles, and much more!