In celebration of Nuclear Science Week, INL is highlighting a few of its nuclear researchers and their work at the nation's center for nuclear energy research and development.
---
You'd be forgiven for never having heard of the small northern California town of Shingletown, which sits in the foothills of the Cascade Range's Lassen Peak. But it's home for Idaho National Laboratory (INL) employee Christina Appleby. And although she now finds herself nearly 800 miles away in Idaho Falls, where she works as an operator at INL's Transient Reactor Test (TREAT) facility, her new surroundings feel familiar.
"Idaho reminds me of home," she said.
With its stunning mountains and scenic vistas, you can see why.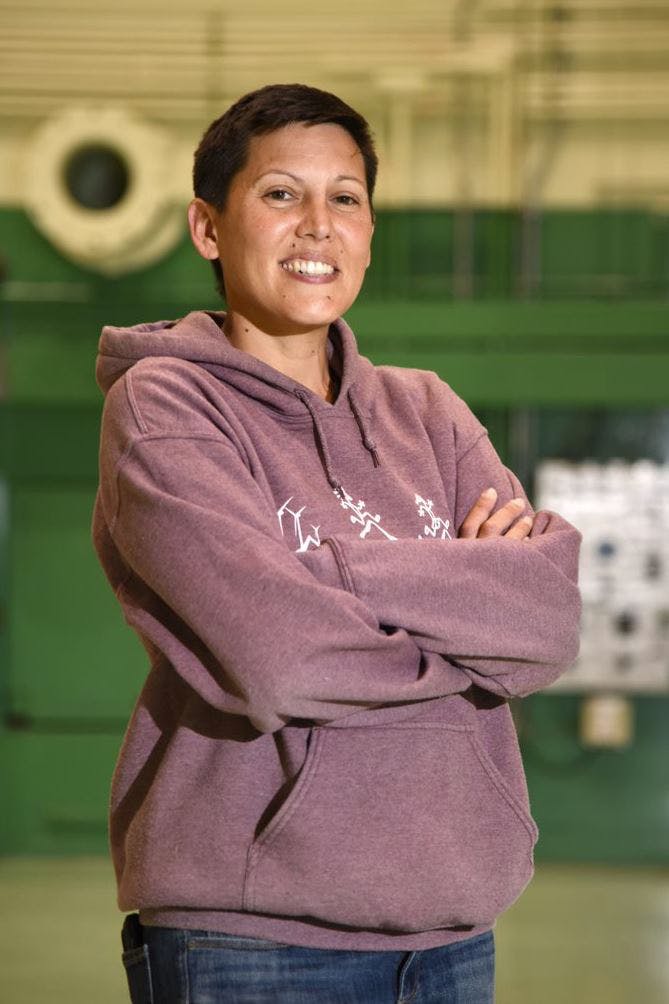 Appleby joined INL just over a year ago and now plays a central role in conducting experiments at the TREAT facility, a research reactor designed to simulate accident conditions and help engineers develop more robust reactor fuels. The facility runs what are known as "transient" tests: high-powered, relatively brief trials subjecting fuels to various stress scenarios, with researchers using an array of instruments to observe the results.
Her path to the nation's premier nuclear energy research laboratory began when she decided to enlist in the U.S. Navy after initially dropping out of high school. Once she met the enlistment requirements by completing her high school diploma through homeschooling, she signed on as an electronics technician. Soon after, she moved into reactor operations.
"I was really interested in the challenge of nuclear engineering," she said. "Diving into such a dynamic field with so much to learn was super appealing to me."
After a year and a half of training, she stayed on as a staff member and served aboard the nuclear-powered USS Nimitz for four and a half years, eventually becoming a qualified reactor supervisor. From there, she taught prospective operators at a hands-on learning school, and ultimately became a duty officer in charge of reactor operations.
"My time in the Navy prepared me really well for coming to work at TREAT," Appleby said. "From learning reactor theory and protocol to gaining extensive experience at the operator panel, I was given all the tools I needed to succeed at INL."
Before coming to INL, Appleby attended the University of Rhode Island and earned a bachelor's in environmental and natural resource economics. While certainly a departure from her previous experience, she found the program broadened her horizons and reinforced her belief in the importance of environmental stewardship and the need for expanded use of carbon-free energy sources.
At TREAT, no two days are quite the same. Operators and scientists at the facility work on a range of tests calibrated to produce high-quality data supporting nuclear engineering initiatives. These include recently conducted experiments using a newly designed transient heat sink overpower response (THOR) capsule, a device built to simulate heat transfer from a variety of fuel types, including advanced ceramic fuels.
Arriving at the TREAT facility by 7 a.m., Appleby's tasks for the day depend in part on whether the team is running a new experiment, or making changes to the core.
"On transient days, we start by changing and then testing new set points, followed by getting all systems online and then running the transient," she said. "It requires a lot of attention to detail and getting the parameters just right.   We have to move huge 17,000-pound blocks off the top of the reactor before removing the previous experiment and putting a new experiment in." The TREAT core design allows the reactor fuel to be reconfigured to accommodate a variety of experiment shapes and sizes. The reactor core can be configured to meet the experiment parameters and experiment vehicle shape depending on the research needs.
It's a highly rewarding job, and a welcome change of pace from her previous work. "I like that we're reactor operators but yet we don't spend too much time sitting at the panel," she said. "The diversity of tests we run keeps the job very interesting."
She also has great coworkers with high standards for their work.
"This is the most amazing group of people I've ever worked with," she said. "We really have a family dynamic and just get along so well."
In her free time, Appleby enjoys backpacking, fishing and running. She's already completed a few half marathons and is signed up for a 50K – a run of more than 30 miles.
"One of my favorite places around here is the Wind River Range out in Wyoming," she said. "It's so beautiful and just a wonderful place to go for some solitude." It's also a prime spot for snowshoeing, another one of her preferred activities.
Out in the wilderness but right at home, Appleby's journey has been impressive – and the best is surely yet to come.