It starts with a simple question: "What can I do to help?" At INL, we're committed to creating an environment where everyone is valued and treated with respect every day. A large part of that goal is ensuring the work environment is inclusive and psychologically safe. When people feel psychologically safe, they can concentrate on the work that matters, be more creative, and work safely.
Research suggests that underrepresented groups face different challenges in the workplace — challenges that can make it more difficult to access stretch opportunities, senior leadership and viable resources. Allies can help. An ally is anyone who supports or empowers another person or group.
In June, the United States celebrates LGBT Pride Month. The month commemorates the impact LGBT individuals have had in history and continue to have in society today by sharing the message of acceptance, self-pride and inclusion. This month, we're featuring employees who are allies and members of the LGBT community. They share why they value inclusion and simple ways we can all be allies to each other.
Meet Dr. Sean O'Kelly, associate laboratory director for the Advanced Test Reactor Complex
As the associate laboratory director for the Advanced Test Reactor Complex, Dr. Sean O'Kelly is a familiar face for many. He was born in Texas into a military family, so growing up he moved every four or five years. While he wasn't raised to be open to the LGBT community or inclusive ideas in general, through his own experiences, he has grown to understand the value and importance of being inclusive to all.
During his time serving in the U.S. Navy and then in academia, he had the opportunity to interact with people from all over the world and formed friendships with a diverse set of people. The value of diversity hit home while he was getting his university degrees – first a bachelor's degree in physics and a master's degree in industrial engineering from Texas A&M University, and then a doctorate in mechanical engineering from The University of Texas at Austin.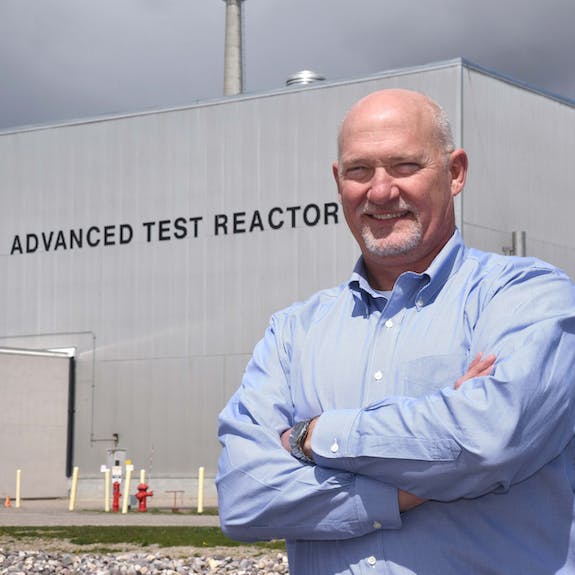 "In Texas, I realized that we get better ideas when diverse teams work together. When we respect and accept people for who they are, we get more collaborative and better results," he said.
Although it's important to have people at all levels being inclusive, having leaders role model inclusive behavior can be the best way to impact inclusion in a work environment.
O'Kelly outwardly shows his support for the LGBT community by wearing a rainbow lanyard each day, but to him, inclusion extends beyond just the LGBT community.
"I'm an ally for everyone," said O'Kelly, "which means being inclusive of all dimensions of diversity." This includes appreciating the external differences we all have, but also internal differences like diversity of thought.
He knows he's an insider in pretty much every way; he's a white male in a leadership position – so why does he care about inclusion?
"Everyone knows what it feels like to be left out. To be the last person picked for a team. To not be invited to a party or to sit alone at lunch. That feeling is something everyone can relate to and we all can work to be better and more accepting of others."
It's particularly important for those who are in the majority population to be cognizant about inviting others to the table; inviting them into the conversation.
To O'Kelly, it seems disingenuous to say he knows what it feels like to be in the minority or in the LGBT community, because, quite frankly, he doesn't.
"Just because you have friends or family who identify as LGBT or an underrepresented population, that doesn't mean you can ever truly understand what it's like to be in their shoes."
But there are simple things those in the majority can do to help others feel included, starting with accepting and allowing people to be their best selves.
"Everyone has the power to be kind to everyone," he said. "We can show empathy and let others know it's okay to be who they are. Let them know we've got their back."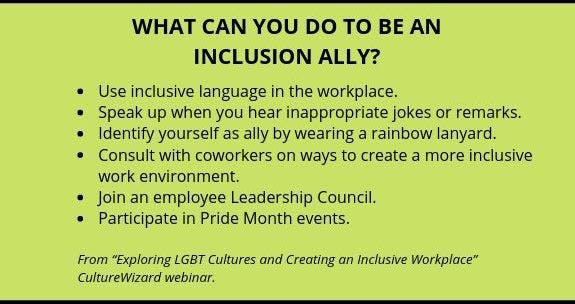 Meet Carmen McKellar, video producer 
Carmen McKellar has known her whole life that she wanted to be a video producer. "I remember the first video I made was in fourth grade," she said. "For my Idaho history project, I interviewed Lewis and Clark reenactors on camera and worked on the music and graphics to pull the video together." She fell in love with the process and her interest led her to pursue a degree in communications with an emphasis in video production from Brigham Young University-Idaho.
McKellar was required to complete an internship as part of her degree program and had heard about INL from her dad, who'd worked at the lab for most of his career. She applied and was hired for an internship doing video production for the Training organization. "I never thought it would turn into a full-time job, but I always hoped," she said. "I feel extremely lucky I got to intern and now get to work full time doing what I love."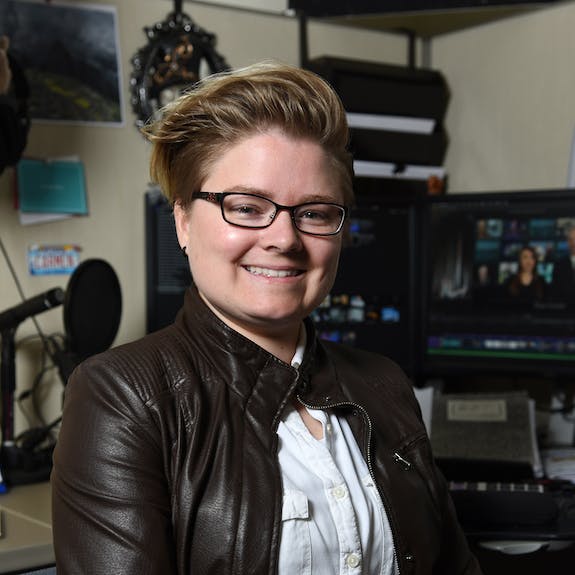 While she felt like she'd found her niche in her work life, McKellar struggled being her true self in her personal life. She was raised in a very religiously conservative culture where she was taught it was wrong to be LGBT, but was conflicted because she knew she was bisexual.
"I wasn't happy living a fake half life," McKellar said. "I finally came to accept myself for who I am." She came out about a year ago and has been pleasantly surprised with her experience. She said her parents have been nothing but supportive and her INL colleagues have been great.
She looks forward to the day when coming out is no longer a thing. Just like straight people don't have to come out, LGBT people won't have to, either – they'll just be who they are their whole lives.
Her advice on how to help create an inclusive environment: "Be kind to people. You never know what someone's going through."
McKellar has seen a huge culture shift at the lab in her time at INL and we're on the right path, but need to keep pushing for positive change.
She's happy to finally feel like she's living a full life and being true to herself. "You only have one life, so do what makes you happy."
Meet Heath Buckland, Advanced Test Reactor Project Implementation Program Manager
Although born and raised in southeast Idaho, Heath Buckland's more than 28-year career in the nuclear industry on highly complex nuclear instrumentation and control systems has taken him all over the world, including Switzerland, Canada, Korea, and Lithuania.
"In my career, I've noticed the more diversity of people and opinions, the more innovation happens," said Buckland.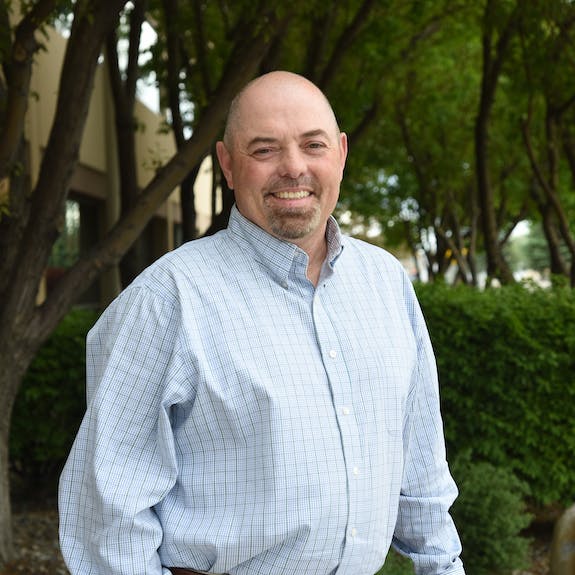 Now an Advanced Test Reactor (ATR) Project Implementation program manager, he still remembers one day that changed his life's path. Buckland started working as a locksmith right out of high school and at the time hadn't planned on any further education. "One day I came to the Engineering Research Office Building (EROB) to unlock a car in the parking lot," he said. "I started talking to the INL employee about what he did. It was fascinating and made me start thinking about what I wanted to do with my life."
Buckland had always liked science and, after that pivotal conversation, decided to go back to school. He enrolled in an instrumentation and control systems and electronics associate degree program. That education helped him get his first job in the nuclear industry as a test engineer at Nuclear Utility Services (NUS) and he went on to get his bachelor's degree. His education coupled with on-the-job experience has gotten him to where he is today.
In his time working at ATR, Buckland noticed there were lots of work silos and many people didn't understand what other people or organizations were doing or how they could all work together. This prompted him to establish the ATR Inclusion Council to bring people together and get to know each other.
He attended a Prism (LGBTA leadership council) meeting to learn about LGBT inclusion. "I wanted to be inclusive, but needed some education to learn how I could be a good ally," he said.
"People can get hung up on the idea of inclusion, but it's not political, it's not religious, it's just the idea to treat everyone with respect," said Buckland. "That's a pretty simple idea I think every person can get behind."
He's encouraged with the inclusion and diversity progress he's seen at the laboratory. He's seen people calling others out if they see bad behavior, and the development of a culture where employees trust others enough to feel they can be their best selves.
"When we, as allies, celebrate our differences, INL can do bigger, better things."
Did you know?
INL offered same-sex partner health-care benefits to employees years before it was the legal requirement. This is just one example of how INL is pushing the envelope of inclusion. We don't just do the bare minimum to meet requirements, we go above and beyond.
This was also evidenced in INL receiving a top score on the Human Rights Campaign Corporate Equality Index, the nation's premier benchmarking survey and report on corporate policies and practices relating to lesbian, gay, bisexual, transgender and queer (LGBTQ) workplace equality. This score makes INL the highest scoring business in Idaho, leading the way in inclusive practices.
Resources:
Social Media Campaign Posts — #PrideMonth