Technology transfer at Idaho National Laboratory has come a long way since 1980, the year President Jimmy Carter signed the Stevenson-Wydler Technology Innovation Act, directing national labs to shepherd government-developed innovations into the private sector.
"Our core business has always been trying to get technology out of the lab and into the hands of people who use it," said Jason Stolworthy, INL's Technology Deployment director. "Technology advancements often result in profound societal benefit when commercialized, and we work with entrepreneurs, start-ups and innovative companies to turn INL's innovations to products and services that improve our lives."
From its inception, technology transfer required a paradigm shift in thinking at the national labs, said Ken Koller, who was a co-director of a former site contractor's Technology Transfer Group along with Dr. Jane Welch, and is now CEO of Advanced Ceramic Fibers, an INL spinoff. By the mid-1990s, the U.S. Department of Energy incentivized technology transfer in the lab's management and operations contracts. By Fiscal Year 1997, Idaho's national lab accounted for seven of the 19 spinouts from national laboratories.
By mid-2019, INL had more than 300 active licenses across the United States. The greatest challenge is making a match between a lab-developed technology and someone who can realize a use for the technology. "It's like matching a unique piece of art with a buyer," Stolworthy said. "We have to find someone who understands its full value and potential. Plus, for a technology, they also need to be capable of commercializing it."
In some cases, companies with INL-licensed technologies have headquarters in places like Virginia, Rhode Island or Texas, but have kept research and development teams in eastern Idaho, near the lab that hatched their innovations. Regionally, six companies in various stages of maturity offer examples of how the lab deploys technology to increase regional and national competitiveness.
Advanced Ceramic Fibers
Located in the Idaho Innovation Center in Idaho Falls, Advanced Ceramic Fibers (ACF) dates back to 2012, when Dr. John Garnier retired from INL. Garnier had been Armored Program lead for the lab's National & Homeland Security Directorate when he decided he wanted to commercialize his patents for the direct conversion process that converts carbon materials — such as fibers, foams and particles — into metallic carbides for use in many composite applications. He brought two partners with longtime INL experience: Ken Koller, who had worked for site contractor EG&G Idaho in the 1980s, and Shawn Perkins, who had participated in national lab technology transfer efforts through Lockheed-Martin's Technology Ventures Corporation.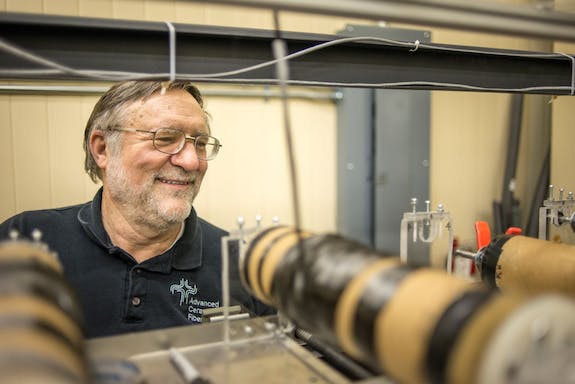 While INL technology transfer training courses provided support and guidance after they left INL, ACF founders forged their own path. For three years, Garnier and his partners self-financed the company.
In 2014, ACF received a Small Business Innovation Research (SBIR) Phase I grant for $149,950 from the Department of Defense. This was for alpha silicon carbide/carbon-based fibers capable of withstanding temperatures up to 2700 degrees Celsius, to be used by the U.S. Navy in advanced turbine engine components. In 2016, the company received an SBIR Phase II award for the development of fiber- reinforced ceramic matrix composites with enhanced material performance in salt and moisture environments, critical to achieving higher military turbine engine performance utility. That same year, the company also received a $150,000 SBIR Phase I grant from DOE for advanced metallic composites to improve thermal electrical and thermal conductivity in high-voltage transmission lines.
Today, ACF employs seven people, including four part-time employees. Its products have applications in everything from water and nutrient retention in agriculture to deep space rocket engine nozzles. Employment could expand to 20 to 30 R&D people if the company finds the capital to scale up and start producing tonnage. "The only thing that's holding us back now is capital," Koller said.
But Garnier has been careful about sharing equity in his company. He turned down venture capital money when they were starting out, and is still looking for the right deal now. "It is tempting to take money early, but new materials take time to mature and find appropriate markets," he said. "ACF has waited to find strategic investors who not only bring capital, but also deep channel expertise and a need for a competitive differentiator. That way, the capital can be employed efficiently, bringing significant value to the investor, ACF and our future customers. We are trying to learn from the experiences of others when it comes to capital investment."
Cogent Energy Systems
Founded in 2012, Cogent Energy Systems of Merrifield, Va., was looking for technology that would economically recover energy from waste on a small scale. "We came upon a technology at Idaho National Laboratory that was being used to create nanoparticles," Cogent's chief business development officer told Waste Management World in 2017. "It was a modular hybrid plasma technology, and through discussion with the inventor, Dr. Peter Kong, we came to realize that the same basic concept could be applied to gasify waste materials for energy recovery applications."
Cogent executed a license option agreement with INL in 2012 and exercised the option to license the technology two years later. In its relationship with Cogent, INL has taken the approach that a successful technology transfer requires a sustained effort that does not end with execution of the license agreement. Peter Kong, formerly the Plasma Process Group lead at INL, is now Cogent's chief technology officer, supervising the company's R&D efforts in Idaho Falls. In collaboration with Creare, an engineering and research company based in Hanover, N.H., Cogent has designed, built and is testing a system for the U.S. Navy able to convert up to four tons of mixed waste a day into pure syngas, with the potential to create about 800 kilowatt hours (kWh) of electricity per ton of municipal solid waste. If successful, this conversion option is expected to replace many of the incinerators the U.S. Navy has been using.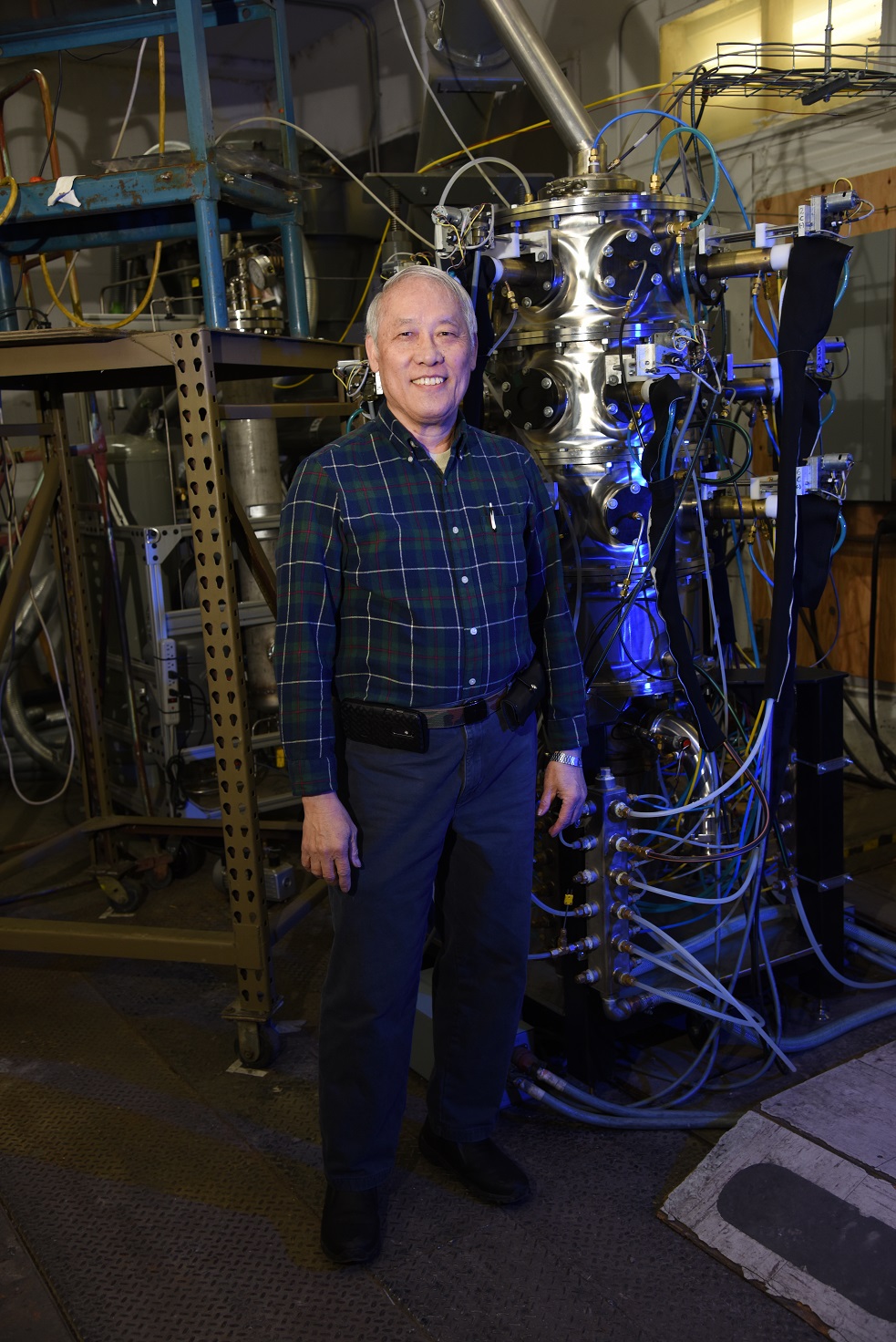 Meanwhile, Cogent is looking at having a commercial demonstration project up and running in 2020. "We foresee the opportunity for many applications, such as on ships and at resorts, remote communities with small populations, hospitals and farms," Cogent CEO Dr. Abe Haspel told Waste 360 in late 2018.
In April 2019, INL received a Federal Laboratory Consortium (FLC) National Award for technology transfer excellence in the Technology Focus category for its work with Cogent Energy Systems. The FLC is a formally chartered organization mandated by Congress to promote, educate and facilitate technology transfer among more than 300 federal laboratories, research centers and agencies nationwide. The Technology Focus award recognizes technologies that have demonstrated innovation or creativity in the transfer of an energy product, technology or service.
Rocky Mountain Scientific
Rocky Mountain Scientific, an Idaho Falls company, had been working for more than two years on a technology to address toxic blue-green algae blooms, a rapidly growing environmental crisis affecting bodies of fresh water around the world, caused largely by phosphate runoff from agriculture and other human activities. Steve Hammon, the CEO, and Mike Irish, the chief technology officer, had developed a phosphate-attracting compound, but knew that in powder form it would either gum up equipment or be carried away by water flowing through the system. "We needed something to hold it in place," Hammon said.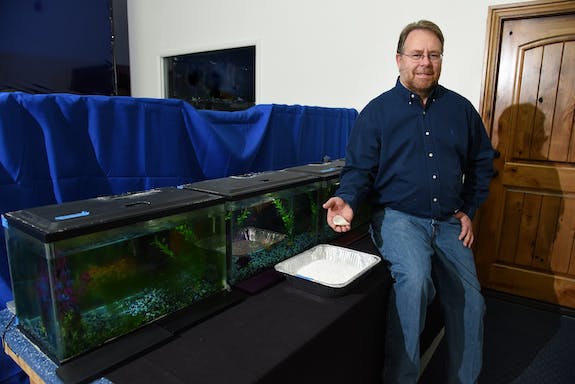 Hammon sought out the Aqueous Separations & Radiochemistry department in the lab's Nuclear Science & Technology Directorate. Small technology companies like RMS are eligible to apply for help through INL's Technical Assistance Program (TAP), a support program that provides access to scientific and engineering expertise for small businesses. Department Manager Jack Law and INL researchers Troy Garn and Mitch Greenhalgh suggested creating composite pellets that can remove specific target elements from liquid or gaseous waste streams. This approach had worked to remove cesium from radioactive and acidic waste streams, also for selectively removing noble gases such as krypton and xenon from off-gas treatment systems. "There was no reason to think we couldn't make it work with RMS's active ingredient to target phosphates, too," Law said.
The pellet binding process was successful, resulting in a product called Phosphate Sponge that cleans phosphates almost completely out of water, removing nutrients that feed the cyanobacteria (technically not algae). Using a process similar to that used in water softeners, the phosphates can be drawn out of the composite beads and recycled as fertilizer feedstock, while the beads can be reused hundreds of times.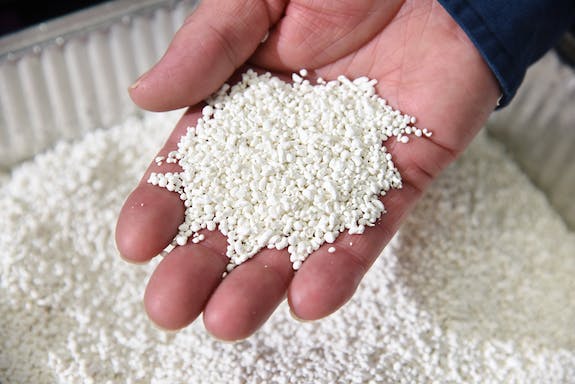 With the technology validated, RMS then worked with INL's Gary Smith, a senior commercialization manager, securing an exclusive U.S. license to produce the Phosphate Sponge for removal of phosphates, arsenic, fluoride and selenium from water.
Recently the Phosphate Sponge won $50,000 for competing in the George Barley Water Prize, an innovation competition sponsored by the Florida Everglades Foundation. It also won Special Recognition for Green Technology in the 2018 R&D 100 Awards, often called the Oscars of Invention.
"Phosphates are an enormous environmental problem around the world, and I think we have a real solution with our product," Hammon said.
NanoSteel
NanoSteel, a company that spun out in 2002, has since engaged in equity ventures with General Motors and licensed its metallic coatings portfolio to Lincoln Electric, a global manufacturer of welding products and systems.
The company was founded by Dan Branagan, an INL researcher who led a team in the mid-1990s in the development of Super Hard Steel. When he left the lab, Branagan, now NanoSteel's chief technical officer, took the processes and patents he developed at the lab and offered them for licensing to industry. The company's products are used in oil and gas exploration, mining, power generation, and cement and concrete, and it develops metal powders for 3D printers.
Branagan was selected by Massachusetts Institute of Technology as one of the top 100 "brilliant young innovators" in the world whose work will have "a deep impact on how we live, work and think in the century to come."
While the company's headquarters are in Providence, Rhode Island, NanoSteel's R&D remains in Idaho Falls. The company has its own researchers and engineers, but still uses INL resources such as the Microscopy and Characterization Suite at the Center for Advanced Energy Studies.
Nitrocision
Nitrocision's roots extend back to 1990, when scientists at the Idaho National Engineering Laboratory  – INL's former name – needed a technology to cut open storage tanks containing radioactive material that would not ignite the material inside or create a secondary waste stream. Saws, torches, and water jet technologies were not feasible, so the research turned to the potential for compressed gas, specifically liquid nitrogen, as a cutting agent.
Experiments revealed that liquid nitrogen could safely cut live explosives, including TNT without detonation, and remove industrial and radiological contamination. With DOE support, several Idaho-based investors sought to commercialize the technology. TRUTech LLC created Nitrocision in 2001 to develop the technology, and the company brought NitroJet, its ultra-high-pressure liquid nitrogen cutting technology, to market in 2003.
Ten years later in 2013, IHI Southwest Technologies, of San Antonio, Texas, bought Nitrocision, offering the NitroJet technology as its waste management solution. "The NitroJet technology can also be used to disarm explosives, remove industrial contamination, remove coatings and cut a wide range of materials," the company's website says.
Idaho Laboratories Corp.
INL's development of a High-Temperature Irradiation-Resistant Thermocouple would not have been as easy without the resources of Idaho Laboratories Corp., a 40-year-old Idaho Falls company that manufactures, designs, calibrates and tests mineral-insulated cables.
Used for decades to measure temperatures in ovens, kilns, furnaces and jet engines, as well as in pasteurization and food production, thermocouples consist of two wire legs made from different metals, welded together at one end. The difference in voltage across the two materials can be used to calculate a temperature reading.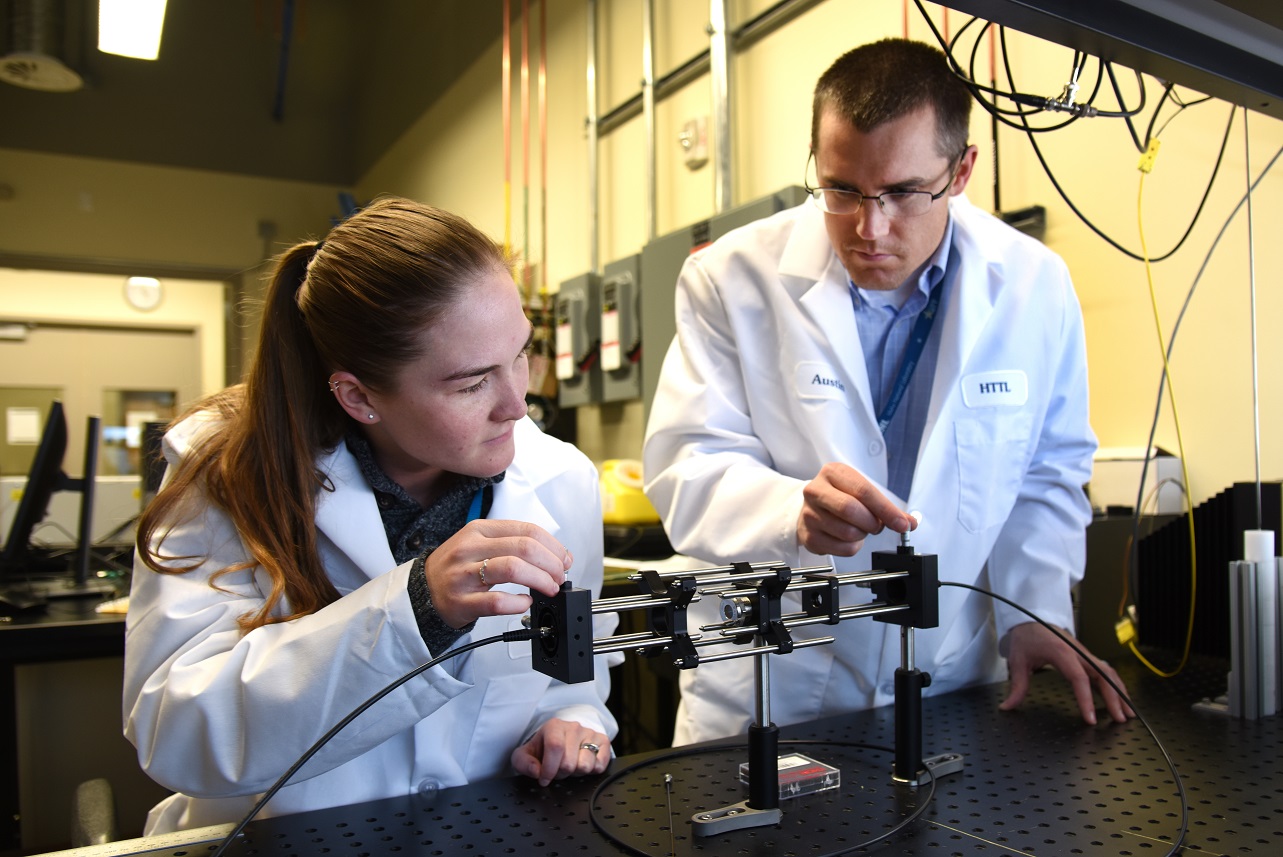 In nuclear research, however, the high temperatures and radiation levels inside reactor cores create conditions in which conventional thermocouples cannot survive for long.
In collaboration with Idaho Laboratories Corp., INL researchers developed a molybdenum-niobium thermocouple probe that can withstand temperatures over 1,250 degrees Celsius inside reactors and nuclear fuel rod assemblies for sustained periods of time and maintain their integrity in the intensely radioactive environment.
While the HTIR-TC will benefit Gen III and Gen IV nuclear reactors being developed now, it also fills a niche for general industrial users that need an accurate sensor for very high temperature applications. "The extra layer of safety that the HTIR-TC offers cannot be ignored," said Doug Corbett, one of Idaho Laboratories' officers.