Idaho National Laboratory, Idaho Cleanup Project cooperate toward meeting key settlement agreement goal
IDAHO FALLS, Idaho — On Feb. 21, workers removed eight spent fuel elements from the cooling canal at Idaho National Laboratory's Advanced Test Reactor (ATR), packed them in a cask, and drove the container two miles to the Idaho Nuclear Technology and Engineering Center (INTEC) for storage.
It marked a major milestone for spent fuel storage at the INL Site. It was the first time in ATR's 50-plus-year history that the reactor's spent fuel elements were transferred directly from the canal to longer-term dry storage. The canal is a key part of the ATR system where fuel is staged for rotation into, and out of, the reactor to meet specific power requirements for the various experiments.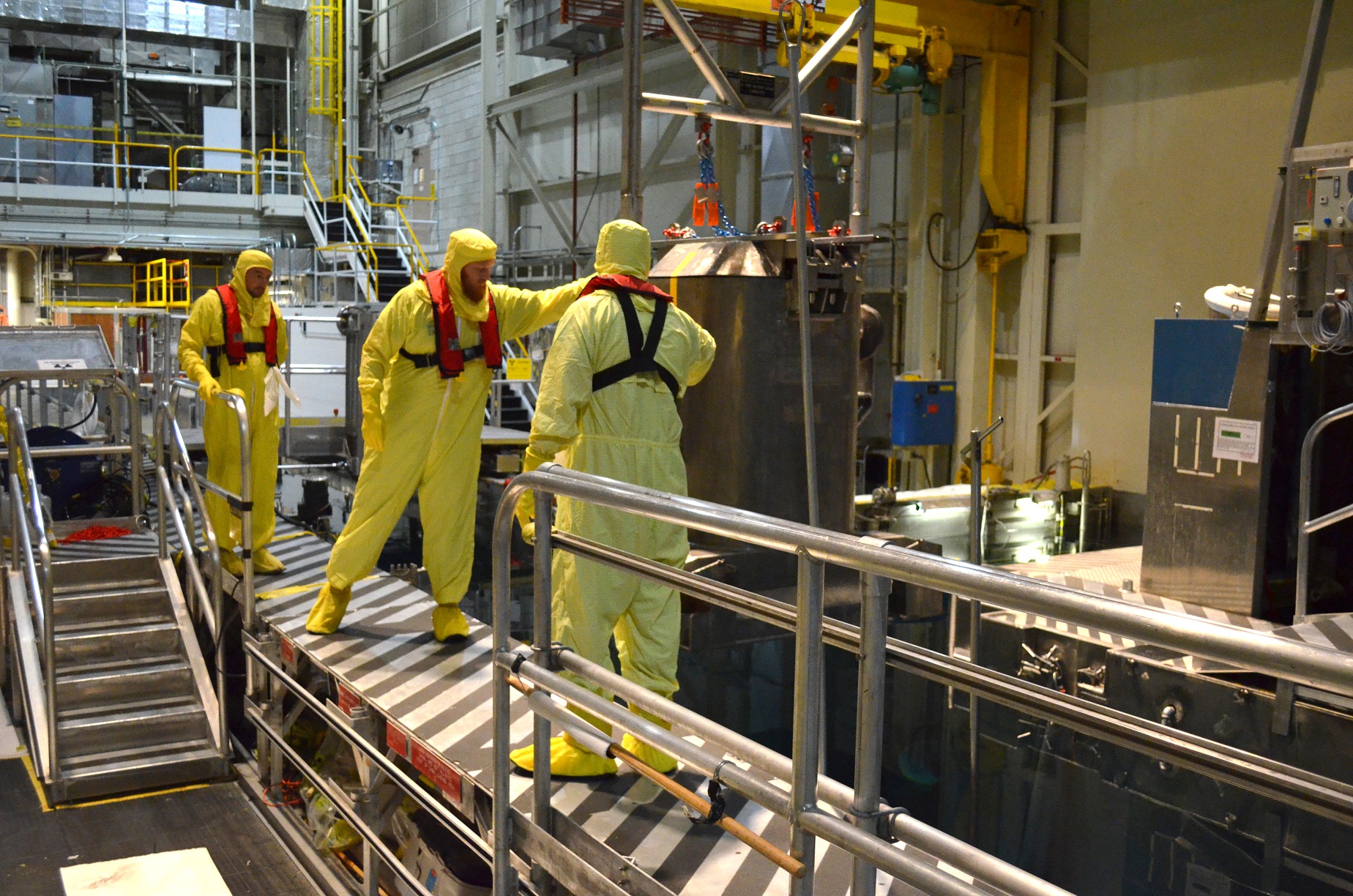 The transfer from the canal directly to dry storage also is a significant step toward the U.S. Department of Energy meeting a key tenet in its 1995 Settlement Agreement with the state of Idaho.
Sean O'Kelly, INL's associate lab director ATR, credits the strong working relationship between Battelle Energy Alliance, which operates INL, and Fluor Idaho, which runs the Idaho Cleanup Project (ICP), for the achievement.
"We take our commitment to the state seriously and INL and ICP have been working diligently toward this goal for several years," said Sean O'Kelly, associate laboratory director at ATR.
Since ATR began operating in 1967, its spent fuel elements have been cooled in the ATR canal before being sent to storage pools at INTEC. For the first 25 years of ATR operations, the pools at INTEC provided temporary storage and housed the spent elements until they could be reprocessed. But reprocessing ceased in Idaho in 1992, and since then, the ATR spent fuel elements have been sitting in the giant pools awaiting their move to dry storage. New fuel buckets recently developed by Fluor Idaho will store 24 ATR spent fuel elements per canister, while previously only 16 spent fuel elements fit in a fuel canister.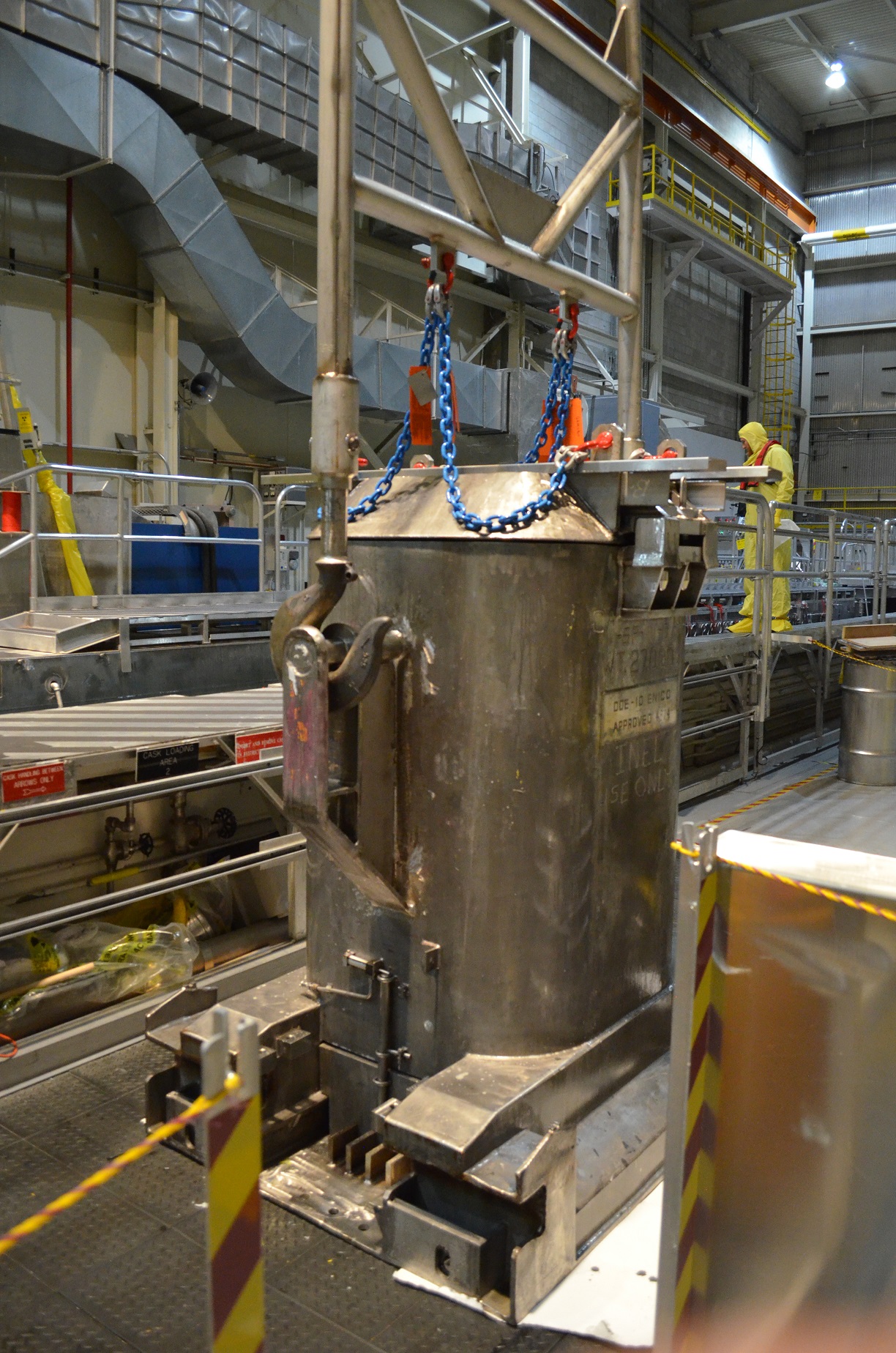 The Settlement Agreement requires the storage pools at INTEC to be emptied by the end of 2023. While that responsibility falls to Fluor Idaho, the contractor that operates INTEC, INL's role of transferring ATR's spent fuel elements directly from the ATR canal to dry storage, thus bypassing the INTEC pools, is critical to meeting the 2023 deadline.
The first shipments from ATR directly into dry storage were completed in February and will continue over the next few years. Dave Schoonen, ATR's chief operating officer, expects to average 15 shipments per year over the next two years to keep up with ATR usage and to ensure ATR is prepared for some planned material upgrades scheduled for 2021.
"By completing 30 shipments over the next two years, we can ensure plenty of operating space in the ATR canal to support the needed 2021 upgrades," he said.
INL is one of the U.S. Department of Energy's (DOE's) national laboratories. The laboratory performs work in each of DOE's strategic goal areas: energy, national security, science and environment. INL is the nation's leading center for nuclear energy research and development. Day-to-day management and operation of the laboratory is the responsibility of Battelle Energy Alliance.
Fluor Idaho, LLC is a wholly owned subsidiary of Fluor Corporation with subcontractor partners CH2M, North Wind Inc., North Wind Portage, and Waste Control Specialists. Fluor Idaho manages the Idaho Cleanup Project Core contract at the DOE's Idaho National Laboratory Site located 45 miles west of Idaho Falls.
See more INL news at www.inl.gov and www.fluoridaho.com. Visit us on Facebook at www.facebook.com/IdahoNationalLaboratory and www.facebook.com/idahocleanupproject. Follow @INL on Twitter.
ATR by the Numbers
4 feet: Height of fuel elements that power ATR
40: Number of fuel elements needed to power ATR
6-8 weeks: ATR average operating cycle before being shut down to move experiments in and out as well as perform scheduled maintenance, upgrades and inspections
100: Average number of spent fuel elements ATR generates every year
75: Number of experiment and isotope production locations in ATR that can be used simultaneously