Idaho National Laboratory researcher Richard Skifton and industry partner Analysis and Measurement Services Corporation (AMS) received a financial boost this spring to conduct testing on an advanced sensor system. 
The boost comes from the Department of Energy's Small Business Innovation Research (SBIR) and Small Business Technology Transfer (STTR) programs. Skifton said the funds may be a catalyst to commercialize the technology. 
"They are beneficial," he said. "But it is a bit of a 'Goldilocks' situation where the research product needs to be in the right technology readiness level and even timing needs to be right." 
The SBIR and STTR programs provide DOE laboratories and small businesses – which can be resource challenged – the ability to engage and take new technologies to market, which can only be done through the lab's industry partners.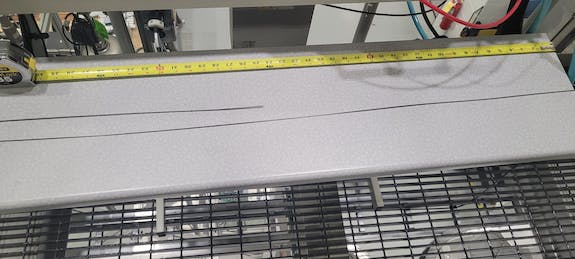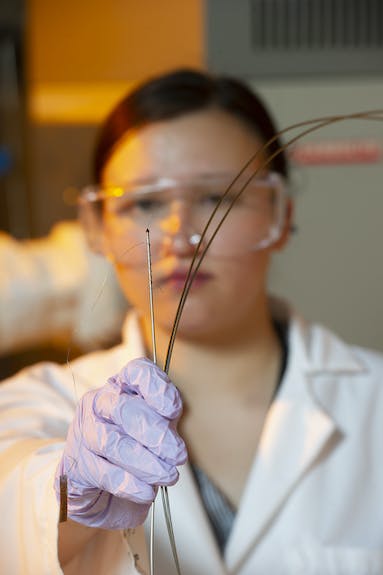 "SBIRs and STTRs provide critical funds, and when combined with the lab's technical capabilities, we get some amazing success stories and new technologies that keep America competitive, create jobs and improve our lives," said INL Technology Deployment Director Jason Stolworthy.    
For more information on SBIR and STTR programs, click here. 
Thirteen other INL researchers and their small-business partners also received SBIR/STTR funding in the 2022 round, totaling more than $11 million for Phase I and II projects. DOE announced Phase I and Phase II awards in May and July, respectively. Projects address a variety of fields, including nuclear technologies, cybersecurity and advanced manufacturing.  
Skifton and AMS received a total of $200,000 Phase I SBIR funding to complete testing for the compact high-temperature irradiation-resistant demicouple (HTIR-DC, pronounced "High-ter DC"). The sensor provides more reliable and accurate temperature, flow and level measurements in next-generation nuclear reactors.  
The researchers are trying to create the sensor prototype and eligibility to receive Phase II funding and push the technology to eventual commercialization. 
Prior program success
Skifton used SBIR funding in 2020, along with Idaho Laboratories Corporation, to bring the high temperature irradiation resistance thermocouple (HTIR-TC) technology to market. 
"I was able to not only get the vendor lined up with how to manufacture and market the technology (through the SBIR), but we were able to get three additional patents out of the project on improvements to the technology," Skifton said. "This made it more lucrative as the technology applied to a broader field." 
Thermocouples have existed for years, but there's nothing in the market that can go into a nuclear reactor, said Idaho Laboratories Corporation's spokesperson Doug Corbett. The HTIR-TC's groundbreaking capabilities make it a unique technology to add to the marketplace.   
"This was a vehicle that worked best to get it here," Corbett said about the SBIR program. "Working with the INL researchers is a fantastic experience. They have a lot of resources available at the lab that wouldn't have been available otherwise."  
SBIR/STTR Phase I Project Awardees (all in partnership with INL)
Development of porous yttrium-chromium hydride as an increased-performance and reduced-cost microreactor moderator.

Ultramet will produce a robust yttrium-chromium hydride material for a microreactor moderator with the potential for many benefits, including being longer lasting to reduce microreactor cost.    

 

Commercialization of the micro-pocket fission detector (MPFD

). Radiation Detection Technologies is developing a micro-pocket fission detector for nuclear reactor in-core neutron detectors that can be economically scaled for numerous applications.  

 

NEAMS reduced order modeling for regulatory analysis

.

Radiant Nuclear will develop an algorithm for predicting the release of radionuclides from TRi-structural Isotropic particles (TRISO particles). 

 

Robot mission planning & operations software and hardware system investigation for security applications at advanced and small nuclear reactors

. Ares Security Corporation

will focus on identifying the challenges of advanced and small reactor physical security requirements. It also will evaluate and define a business case for using robotic technology to support physical security tasks at advanced and small reactors.

 
SBIR/STTR Phase II Project Awardees
Metallic zirconium internal coating of cladding tube

. Applied Nanotech Inc. will perform material compatibility tests to investigate coating effectiveness. 

 

Enabling solution verification and efficient high-accuracy simulations through spline-based adaptivity in MOOSE.

Coreform LLC., will integrate the Flex IGA capability within the MOOSE simulation environment.  

 

Intelligent, real-time migration of scientific computing applications on commercial cloud-based HPC platforms.

INL's digital engineering team is developing technologies to assist in diversion pathway analysis and apply safeguards by design concept for advanced reactors and power plants.

Exotanium

Inc., is partnering to containerize MOOSE family apps for this application using Exotanium's container technology. 

 

A digital infrastructure for techno-economic analyses and optimization of complex integrated energy systems using HERON.

FPoli Solutions LLC., is working to integrate the use of the HERON modeling program, including design support, and necessary core framework upgrades to support its activities. 

 

High penetration wireless networking for nuclear power plant sensing.

Operant Networks Corporation demonstrated that commercial sensors connected through a long-range mesh network can provide coverage and connectivity across the plant sites. This is essential for optimal sensor placement in a nuclear power plant. 

 

High-precision broadband optical spectrometer for molten salt reactors

. Opticslah LLC., will further develop its dual comb spectroscopy to apply the technology to molten salt aerosols.  

 

Advanced mechanical testing system for highly irradiated materials.

Product Innovation and Engineering LLC., will perform validation testing using irradiated samples from INL's sample library. INL will characterize the materials to elucidate results from the mechanical properties tests. 

 

Energy- and cost-efficient E-waste recovery project for rare-earths and precious metals.

Quantum Ventura Inc. will lead a pilot demonstration of metal recycling processes developed at INL. The lab has developed a U.S. patented technology to reclaim valuable metals from waste electronic equipment. 

 

A scalable platform for real-time microscopy image analysis using artificial intelligence and machine learning.

INL will provide Theia Scientific with nuclear fuels sample data and access to instrumentation as a test site to obtain valuable, real-world data and user feedback.