The United States military, and those who serve in its ranks, are woven into the fabric of Idaho National Laboratory.
INL's 890-square-mile Site was developed on a former Naval proving ground. At the Submarine Thermal Reactor facility on the desert Site, in 1953, the U.S. Nuclear Navy was born. Experiments performed at INL's Advanced Test Reactor helped bring the Nuclear Navy into the modern age.
Today, INL works with the departments of Homeland Security and Defense on projects important to U.S. national security.
But it's not this history or work scope that makes Veterans Day so important to so many at INL. It's our people. Of all INL employees, roughly one in 10 identifies as a military veteran.
Veterans work in physical security and cybersecurity. They are nuclear reactor operators, firefighters, accountants, communicators and administrators.
These are people who didn't take the usual route into the corporate world. They came of age on the battlefield, or inside tanks, submarines and airplane cockpits.
INL's servicemen and women have many stories to tell. Here are three:
Simone Stoumbaugh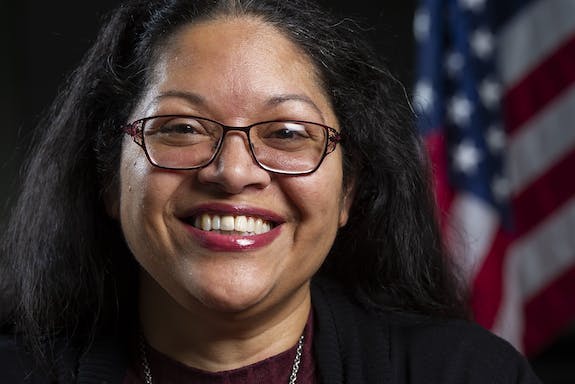 During Operation Desert Storm, Simone Stoumbaugh found herself in Saudi Arabia, a place where American women sometimes struggle to navigate.
Among her responsibilities was to train airmen on the maintenance of certain air traffic control communications equipment.
Her goal was to be invisible. She accomplished this so well that, one afternoon, one of the locals asked how a Saudi woman got in the U.S. military.
"When asked why he thought I was Saudi, he said, 'because I was so well-behaved,"' Stoumbaugh said.
That's irony at its finest because, as her INL colleagues know firsthand, Stoumbaugh is anything but "well-behaved."
A native of the Bronx, who grew up four blocks from the old Yankee Stadium, Stoumbaugh has retained many of her hometown's characteristics. She is assertive, tough and outspoken – a person with a quick pulse. Stoumbaugh also is unpredictable in all the best ways.
For example, you might never guess that this Air Force veteran, who is the business lead for INL's Wireless Test Bed, once flirted with a modeling career and is a budding novelist.
Stoumbaugh is the Idaho Falls co-municipal liaison for National Novel Writing Month, where would-be Stephen Kings and Toni Morrisons attempt to pound out 50,000 words in a single month. For perspective, the average novel runs about 80,000 words. This story uses 1,404.
Stoumbaugh doesn't just encourage participation. For the last five years, she has completed the 50,000-word challenge.
"One of these days, I'll finish one of my novels and get published," she said.
Don't bet against her. Stoumbaugh's career has been all about setting – and accomplishing – goals.
Following a decade in the Air Force, Stoumbaugh joined the Hawaii Air National Guard. There she met her future husband, Shane Stoumbaugh, an Operation Enduring Freedom veteran who works as a construction field representative at INL's Materials and Fuels Complex.
Stoumbaugh began as an administrative assistant at the Wireless Test Bed and worked her way up the organization, with the help and support of co-workers and her mentor, Lynda Brighton.
"Our mission is helping to save lives," she said. "That's one thing I love and that's what keeps me at the Wireless Test Bed."
There's also a level of comfort with her co-workers. Within the WTB's ranks are military veterans from the Air Force, Navy, Marines, Army and Coast Guard. That includes one colleague, Mark Broka, who served with Stoumbaugh in an Air Force mobility unit in Florida when Desert Storm began in 1991.
"It's still about camaraderie, the brotherhood," Stoumbaugh said. "It doesn't go away once you're out."
Ian Phillips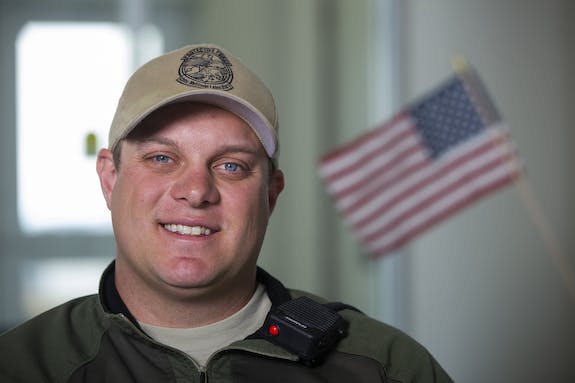 As formative life experiences go, Ian Phillips' is tough to beat.
At 20, Phillips, who comes from a town so small it doesn't have its own mayor or governing body, went to Iraq as part of the Idaho Army National Guard's 116th Cavalry Brigade Combat Team.
This was 2010 and the mission was New Dawn. Phillips was part of a small group that provided security for a special forces unit. That's right. Not even two years removed from high school and a kid from Bern, Idaho, found himself protecting America's military elite.
That, of course, sounds more glamorous than it was. Phillips and his colleagues were not special forces, or anywhere near that level of training or ability. But even the best of the best need to sleep, eat and relax.
"It was really cool to work with those guys," Phillips said. "I learned a lot about how they do things."
Phillips also learned a lot about human nature, from the people American military forces were in Iraq to help. He recalls watching grateful Iraqis bring their children to be treated by American medics every Wednesday and being invited to dinner by people he knew struggled to feed their own families.
"It definitely gives you a greater appreciation for all the things you have," Phillips said.
Now 29, Phillips works as an INL security police officer, assigned to the Materials and Fuels Complex.
Phillips took a circuitous route from Bern to the INL Site, one that included stints in the North Dakota gas fields and employment at a crane company. That job kept him constantly on the road and took him to some unusual places, including atop the windmills in the Idaho Falls foothills.
Phillips was eating at a local restaurant when he heard about a job opening at INL, a place he knew almost nothing about. He applied, was accepted, and has never looked back.
Married with two children and living in Shelley, Phillips has settled into a routine. He spends from three to six days a month in guard training and will head to Germany this spring for the third-largest military exercise on the European continent since the Cold War.
Because the 116th is a heavy combat brigade, Phillips knows he could be deployed overseas again at some point.
And while some members of the guard face employment uncertainty because of their schedules, that's not the case at INL.
"INL has been really great to work with," Phillips said.
Christina J. Morgan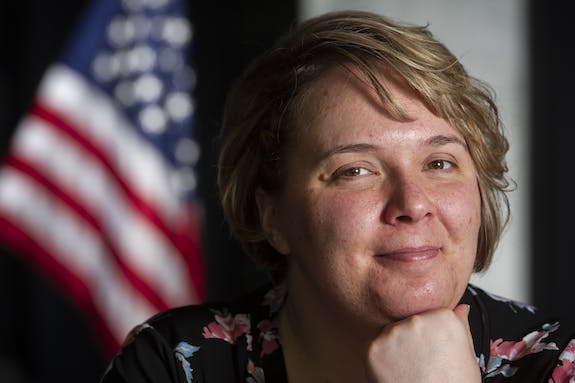 For Christina Morgan, nuclear energy is not an academic or theoretical exercise. Since graduating from high school in her hometown of Denver in 2001, Morgan has been immersed in the practical application of nuclear energy.
Morgan joined the Navy, was trained and educated in Illinois, South Carolina and New York, and then joined the crew of the USS Carl Vinson, a nuclear-powered aircraft carrier in service since 1983 and famous for being the place from which the body of Osama bin Laden was buried at sea in 2011.
As a Navy nuclear trained electronics technician, Morgan was responsible for helping maintain the USS Carl Vinson's power source.
Because, however, women were not allowed on submarines during Morgan's six years in the Navy, she spent her time on an aircraft carrier deck, though far below the flight deck. From there, she saw much of the world, from Guam to Singapore, Bahrain and Dubai, the Suez Canal, Greece and Portugal.
And while Morgan said she wouldn't have minded experiencing a nuclear submarine, there were certain advantages to being above – rather than under – the ocean.
"I liked being on the aircraft carrier," she said. "It was nice to be on deck and feel the wind and see the sun and stars."
Morgan left the Navy in 2007, returned home to Denver, and worked a couple different jobs, spending time as a cake decorator and in retail.
Wondering what to do with her life, she applied for a nuclear reactor operator class at INL that she now teaches.
Morgan ended up at INL's Advanced Test Reactor, where, to her delight, she found herself working on projects involving her alma mater, the U.S. Nuclear Navy.
"It is very, very full circle for me," Morgan said. "It's nice to be working on projects for the Navy again."
It's also rewarding, she said, to be working on broader applications for nuclear energy, on experiments that help commercial reactors deliver more carbon-free energy across the world.
Though she has been immersed in the practical application of nuclear energy, being employed at INL has allowed Morgan to work alongside those academics who reside in the theoretical world. Both sides, she said, have a lot to learn from each other.
And for those back home who ask about her work in the eastern Idaho desert, Morgan has a delightfully simple, yet descriptive, answer.
"I do Homer Simpson's job correctly," she said.