For the mostly young professional crowd attending the "Empowered to lead, inspiring the next generation of leaders" symposium on July 15 at the Energy Innovation Laboratory, the keynote speaker's advice rang true.
Find mentors. Understand your workplace structure. Embrace opportunities whenever they arise. Never stop learning, and above all, believe in yourself.
"As long as you know who you are and what you are, trust me, there are people who are looking at you and that day will come," said Albert Spencer Jr., director of the engineering standards division at the NOAA National Weather Service.
One piece of advice from Spencer – the importance of adaptability – resonated even more because it was driven home by the real-world experiences of two Idaho National Laboratory leaders: Dr. Marianne Walck and Dr. Noel Bakhtian.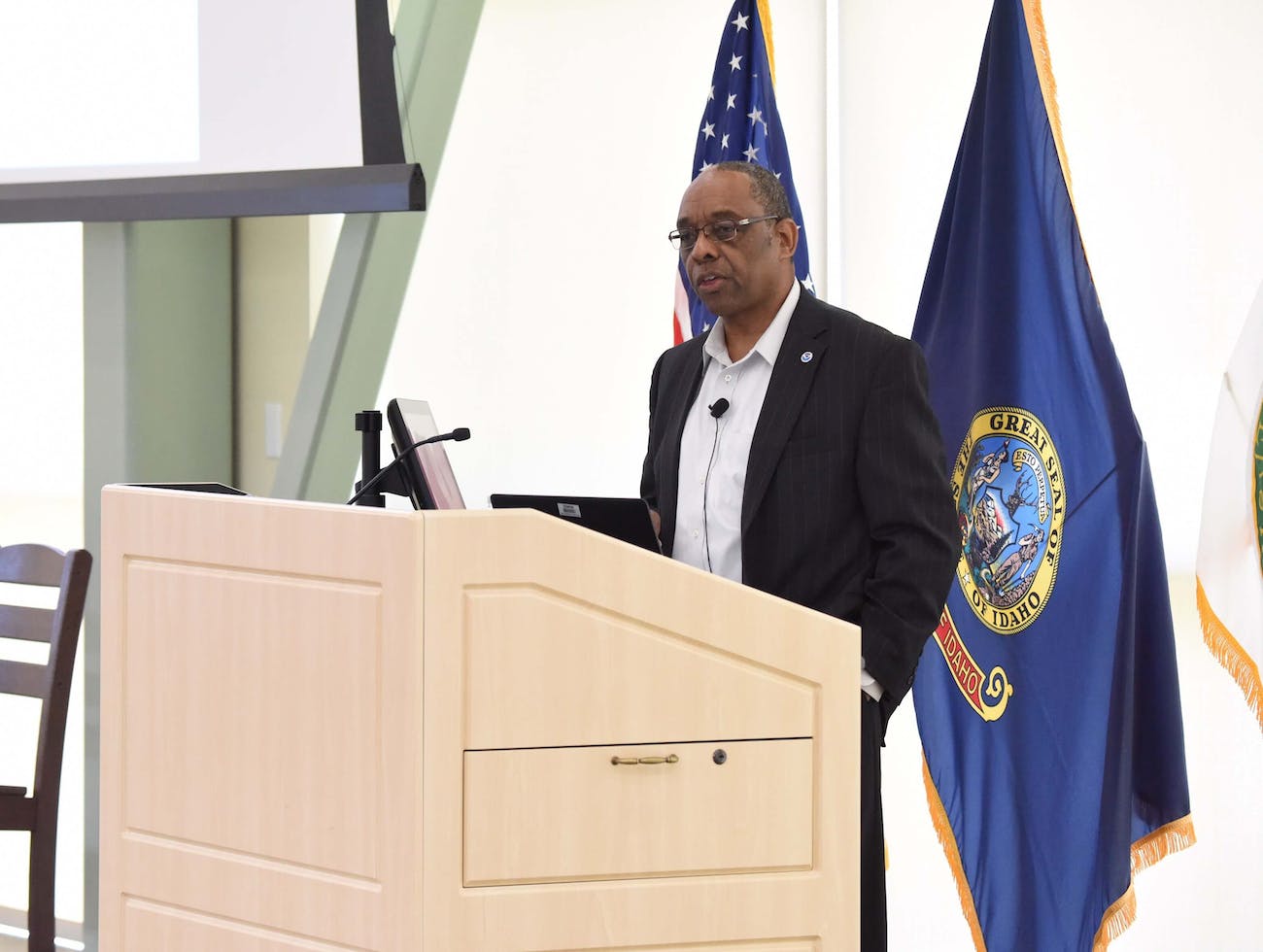 While at Sandia National Laboratories several years ago, Walck became aware of an upcoming multilaboratory "big idea" brainstorming session.
Walck had to lobby her bosses to attend the meeting. When she arrived, Walck found that she didn't know many people. But, when a subsurface crosscut initiative focusing on shale gas, oil and geothermal production was developed, Walck was chosen to lead it.
The appointment, Walck said, allowed her to become involved in an issue that, as a seismologist, she was passionate about, and to build a network of friends and colleagues throughout the national laboratory system.
"It was really a game-changer for me and my career because it gave me this opportunity to broaden the scope of what I was doing across the lab complex and not just within the lab I was associated with at the time," Walck said.
Bakhtian, director of the Center for Advanced Energy Studies, shared a similar story.
While working for the U.S. Department of Energy in Washington, D.C., Bakhtian "kept hearing rumblings about something called the energy-water nexus."
"It kept coming up, and so I started trying to learn more about the nexus by Googling, reading reports and talking to people," Bakhtian said.
Her interest grew and Bakhtian scored a meeting with a senior DOE official. Eventually she was selected as the lead of a new energy-water initiative for the department's office of international affairs.
"I kept my eyes open, pursued new ideas that I was interested in, built connections across the complex, and started leading in areas that were wide open with opportunity," Bakhtian said.
The July 15 symposium was co-sponsored by INL's Veterans & People with disabilities and Multicultural Leadership councils. It was the 11th discussion around career and professional development since they began in 2017.
As part of the seminar, Walck and Bakhtian took part in a panel conversation, alongside Toni Carter, INL's inclusion and diversity strategy director, Dr. Gavin Hawkley, the laboratory's systems science and Engineering Department manager, and Lynne Coe-Leavitt, the safety and health manager at the Materials and Fuels Complex. Dr. Mitchell Kerman, co-chairman of INL's Veterans & People with Disabilities Leadership Council, moderated the panel discussion.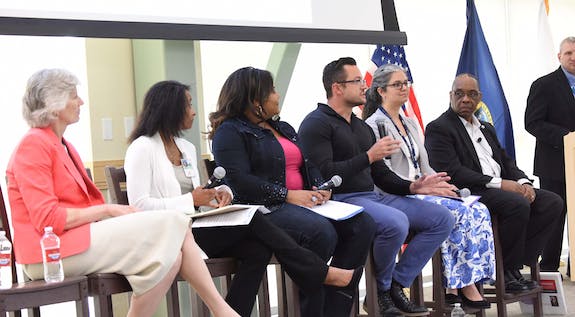 Carter, Hawkley and Coe-Leavitt shared experiences that helped them develop leadership skills.
From Carter, a story about learning not from a successful venture, but an oversight that taught her a valuable lesson.
And from Hawkley and Coe-Leavitt, learning to overcome the all-too-human fear of change.
"You could see people like Gavin and Lynn talk about not getting into a routine – move on, grow, if it's not working out, then change," said Veronika Vazhnik, an INL Graduate Fellow from Penn State University. "Then a different perspective from others like Dr. Kerman, who said, 'No, stay in the same place and try to do something for longer and change over time.' It was useful that two different generations and types of leaders were at the same event."
Ashley Jo Winters-Glenn, who attended the summit and works in information management at INL, said she appreciated the variety of perspectives offered by a range of panelists at different points in their careers.
"It helped me see that my career may not have started on the path I intended, but is now on the right track because someone believed in me even when I didn't believe in myself," she said.
Winters-Glenn said a discussion between Walck and Carter about how they balance their professional and personal lives resonated with her.
"It was fascinating to get different perspectives from leaders about how they have taken their careers and how it's led them to where they are today, their choices to stay home or put more into work life," Winters-Glenn said.
And so, mission accomplished, because events such as these aren't intended to make up anyone's mind for them. However, they provide information and inspiration to help young professionals understand what they'll need to do to ultimately reach their goals.
"No matter where you're at in your career or life, the future belongs to you," Carter said. "Create it."