Idaho National Laboratory has been a longtime sponsor of Science Trek, the 21-year-old Idaho Public Television show aimed at bringing elementary school students up to speed on STEM (science, technology, engineering and math).
"IPTV is such an important strategic partner to us," said Jennifer Jackson, INL's K-12 STEM program manager. "As our education and outreach missions intersect and are amplified across Idaho, IPTV is especially good at reaching rural and remote places. It's evolving all the time, especially when it comes to providing relevant and engaging content for teachers."
Technology and communications have evolved at warp speed over the past 20 years, and so has Science Trek, which started in 1999 as Dialogue for Kids. With the support of IPTV management, staff producer and host Joan Cartan-Hansen launched the program after envisioning a science call-in show for elementary-age students.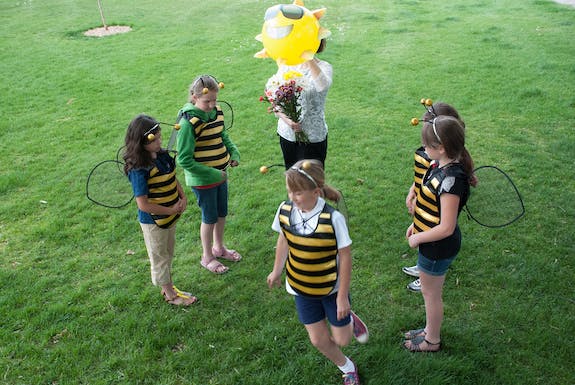 The program's mission was to engage children with science, provide classroom resources for teachers, and inspire students to investigate STEM careers. And while it started on TV, allowing children to ask questions of scientists, the World Wide Web was on the rise and they quickly added a companion website.
In the late 1980s, the American Association for the Advancement of Science (AAAS) had started Project 2061, an initiative to explain why it was essential for Americans to improve their science literacy and science education in schools. In 2001, the National Science Foundation introduced the STEM concept, and the IPTV producers knew they had a strong educational peg on which to hang Dialogue for Kids (the name change to Science Trek came in 2015).
"It all comes out of that same view that there were real deficiencies in science education, especially for kids," Cartan-Hansen said. "If you're going to have science-literate citizens, you have to start when they're in elementary school. It's been shown that if you don't have kids excited about science by the age of 10, you've probably lost them for life."
The five-person Science Trek team no longer produces new 30-minute television programs, focusing instead on making multiple digital shorts.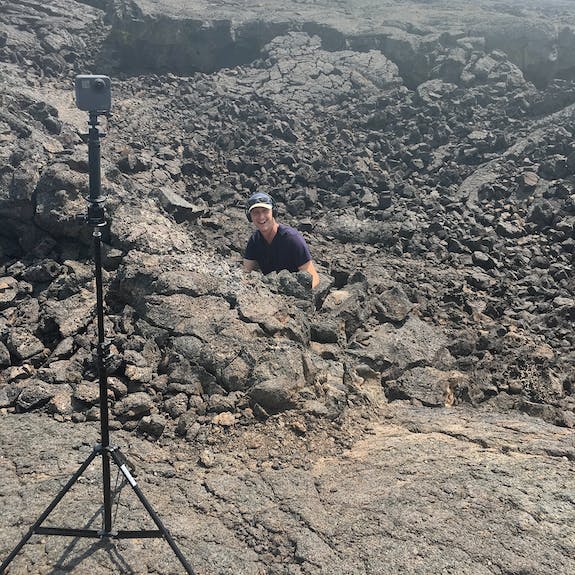 "We moved to 'digital first' because surveys show 94 percent of classroom teachers use video as part of their lessons and younger viewers watch 2.5 times more internet video than TV," Cartan-Hansen said. "If we are to meet our mission, we need to go where our educators and students already are."
Each month of the school year, the team releases new video shorts and several "60 Seconds With Science Trek" spots on specific scientific topics. Videos are supported with facts, links, glossaries, reading lists, lesson plans, games and other resources. All content receives design help and review by educational specialists, to ensure it adheres to Idaho's newly adopted science standards and the national math and literary Common Core standards.
They are also experimenting with 360-degree immersive videos. "As teachers begin using virtual reality in their classrooms, we want to be there with high-quality content to engage students in science," Cartan-Hansen said.
The Science Trek website gets almost 3 million pageviews every school year, about a fourth of them from outside the United States. With Facebook, Twitter and YouTube all in play, the digital shorts are downloaded from various platforms several thousand times each month.
"You will find material from Science Trek in textbooks in England, educational displays in the zoo in Kabul, and in several state science assessment tests. A lot of people abroad are using it to learn English," Cartan-Hansen said. "I think they find the language is easier to understand. Most digital-first science productions skew toward older high school and up or to preschool levels. We found our own niche."
As widely as Science Trek has spread around the world, however, the producers know they still have work to do in their home state. "We know a good share of elementary teachers in Idaho don't even know this free resource exists," Cartan-Hansen said. "So, I'm back to the original question: 'What can I do?'"
In addition to producing and hosting, Cartan-Hansen blogs on the Science Trek webpage, often calling attention to the accomplishments of Idaho scientists. INL people she has profiled include Roberta Jordan, a nuclear safety engineer; Dr. Heather Chichester, Post-Irradiation Examination Division director at the Materials & Fuels Complex; and Dr. Chenlin Li, who leads the Feedstock-Conversion Interface Consortium.
Cartan-Hansen herself has a personal connection with INL. Her parents, Fred and Gloria Cartan, both worked for Idaho Nuclear Corporation at the National Reactor Testing Station, which over the decades evolved into INL. Although she chose a career in broadcast journalism, her interest in science was always strong and she was one of the few nonscience students in her high school class to receive a college scholarship from the lab.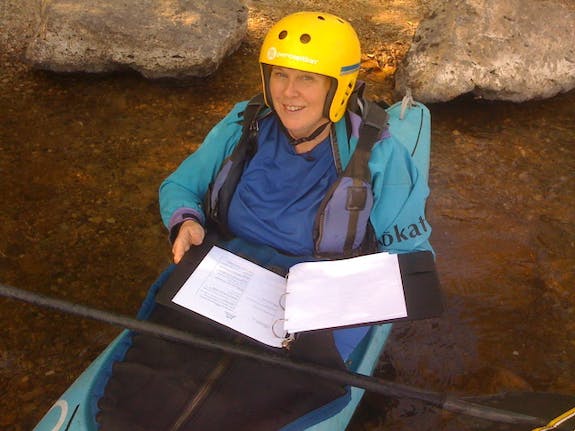 "I said, 'Don't you want reporters with an understanding of science?'" she said.
After a few years as a reporter with KIDK-TV in Idaho Falls, in 1988 Cartan-Hansen went to Boise and IPTV, where she worked on such programs as Idaho Reports, Outdoor Idaho, Idaho Experience and Dialogue. In the late '90s, with children of her own, she was having dinner with her uncle, Dr. Richard Getzinger, AAAS' International Programs director. Bemoaning the latest round of international test results, showing American kids still at the bottom of the math and science rankings, he said to her, "You're the media. What can you do?"
"I didn't know the answer, but I knew I could try something to help kids in Idaho," she said.
Students, educators and parents can find Science Trek videos on: IdahoPTV's On-Demand video player; PBS Learning Media, a free online media-on-demand service developed for Pre K-12 educators; YouTube and Science Trek's Facebook page for teachers and parents.