INL got its start as the National Reactor Testing Station (NRTS) 70 years ago. In 1949, Idaho Falls, the surrounding area, and the desert Site looked very different from today. INL has had a tremendous impact on many communities in southeastern Idaho, and its research goals, business needs and clean energy promise have brought growth to the entire state, as well as the nation, the world and even outer space.
On Aug. 14, former and current INL employees, nuclear and environmental pioneers from across the nation, and politicians with a vested interest in and awareness of the importance of the lab, gathered to celebrate 70 years of energy innovation and security excellence. The anniversary celebrations included speaker sessions with key players in the nuclear industry, including Bill Magwood, director-general of the Nuclear Energy Agency and former Department of Energy (DOE) assistant secretary for Nuclear Energy; and Maria Korsnick, president and CEO of the Nuclear Energy Institute. The event featured a large symposium with three distinguished panels related to environmental topics, and a formal evening gala.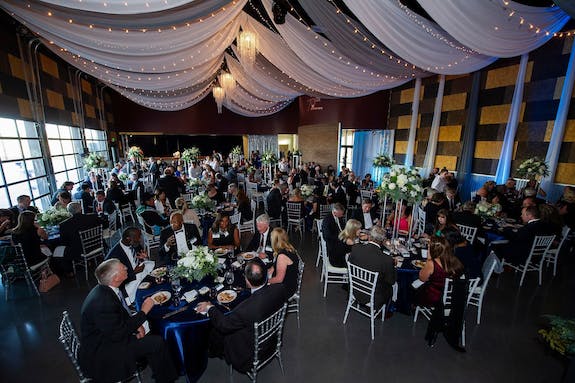 Even as INL celebrated 70 years of history, speakers and attendees at these events were looking into the future. The theme of the symposium discussions was "Energizing the Modern Age: Adapt and thrive, not just survive." INL Director Mark Peters introduced the symposium with this powerful statement: "Today, as we discuss INL, we need to think about reliable, resilient, clean energy across the globe." Rita Baranwal, DOE's assistant secretary for Nuclear Energy, echoed these sentiments in her introductory remarks, stating that "nuclear is an important part of our domestic energy portfolio," and citing a significant nuclear fact – that it provides around 60% of the nation's clean energy.
Baranwal's introduction included perspectives on what INL had to offer going forward, not just in the potential for advanced reactor technology, but also in high-performance computing and cybersecurity. She concluded her symposium remarks with the notion that nuclear held a bright future, and with her confidence that working together with INL, DOE could push the boundaries of nuclear energy and clean power generation.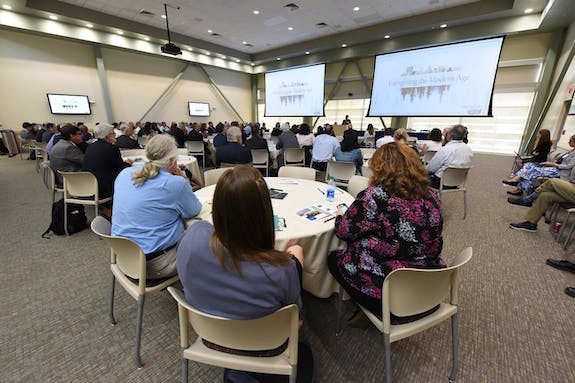 Next, Peters introduced Dr. Martin Keller, director of the National Renewable Energy Laboratory. Keller emphasized the importance of the DOE national labs working together to solve the energy crisis, adding that his team "loves working with INL." With the conclusion of Keller's remarks, the first panel discussion, began on the topic "Sustainable Scenarios for Energy-Intensive Solutions," geared toward exploring what motivates competing definitions of sustainability.
The First Panel: The Question of Sustainability
Dr. Mitchell Waldrop, a freelance writer and editor with experience in Nature and Science magazines, moderated this panel. The speakers were Darrel Anderson, president and CEO of IDACORP and Idaho Power; Gary Litman, U.S. Chamber of Commerce's vice president of Global Initiatives; Raj Pandya, director of American Geophysical Union's Thriving Earth Exchange; Dr. Jesse Trushenski, president of the American Fisheries Society; and Tom Wolfe, vice president of Business Development and Software at Toray Membrane USA.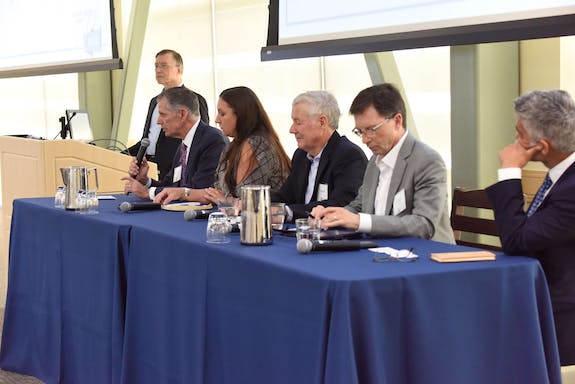 Two key words came up in this first panel: compromise and pragmatism. Anderson introduced compromise in his opening remarks, suggesting it is a necessary action in terms of the world's energy future, as there is "no perfect source of energy." Trushenski added pragmatism to the concept of compromise. Other critical ideas that arose throughout this discussion included the notion that solutions do not arise from maintaining the status quo and that disruption is necessary; that collaboration leads to compromise, which leads to action; and that it is crucial to remain open-minded and flexible, willing to embrace new technology as it comes along, and making decisions that are conducive to positive change.
Panelist Raj Pandya focused on an idea that was apparent in several of the areas where he worked, including lower income communities and communities of color. "In many places, it is impossible to separate sustainability from equity," Pandya explained. "These communities are often on the receiving end of problems created by lack of sustainability. It is important to invest in them and create opportunities where they can get on the low-cost clean energy bandwagon."
The Second Panels: Where Do We Go From Here?
The first panel was followed by two breakout sessions and separate panels. The first of these, entitled "Investing in Infrastructure Transformation," was moderated by Joan Cartan-Hansen, Idaho Public Television producer. It featured Zulfe Ali, C5 Capital managing partner; Jake Jurewicz, Exelon Corporation's manager of corporate strategy; Michael Strauss, a partner at Harris, Wiltshire & Grannis LLP; and Art Baker, INL's Industry Partnerships lead for Nuclear Science & Technology.
Central ideas to this panel were incentivizing individuals to make better climate-related decisions; creating technology that is flexible and open to change; providing better education on climate change to reach a joint reality and a joint solution; and recognizing that climate solutions are different for different people, in different places and at different times.
"If we could all get ourselves aligned in terms of even recognizing that climate change is a problem, that would get us a long way toward developing a viable solution," Ali added.
Dr. David Gattie, University of Georgia associate professor, moderated a panel entitled "Leadership in an Era of Decarbonization." Panelists were Jack Cadogan, senior vice president for Site Operations at Palo Verde Generating Station for Arizona Public Service; Wendolyn Holland, managing director at Holland Consulting, LLC; Mike Pasqualetti, a professor of Geography at the Arizona State University's School of Geographical Sciences and Urban Planning; Nick Smoot, founder and CEO of Innovation Collective; and Richard Walje, CEO of Magnum CAES.
This panel underscored the importance of education, participation and awareness in solving the energy crisis. As Pasqualetti said, "Energy is a social problem with a technical solution, not the other way around, as it is often perceived." Panelists encouraged improved energy education, including a required course on energy generation for all college students, and an "all-of-the-above" approach to technology. This essentially means operating under the assumption that we have access to the technology required to decarbonize the world, and we need to be using it, rather than searching for what Cadogan called "a magic solution." This panel stressed the importance of engaging youth in changing the world's energy future.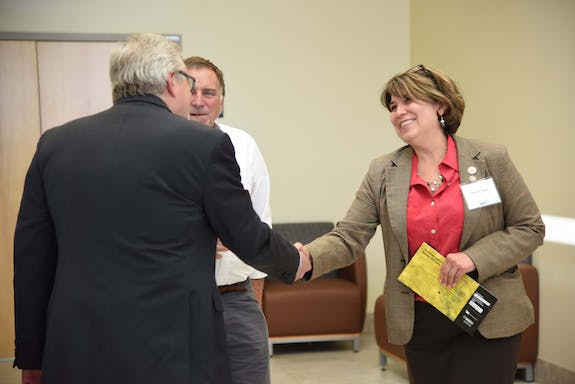 The Gala: An Evening of Celebration
A more light-hearted evening followed these thoughtful and meaningful panels, as INL employees and guests from across the nation gathered in downtown Idaho Falls for the 70th anniversary celebratory gala. Attendees heard from several accomplished and interesting speakers on topics discussed throughout the day.
Dinner began after a prayer from LaGrand Coby of the Shoshone-Bannock Tribes, and remarks provided by Donna Thompson, secretary of the Fort Hall Business Council, congratulating INL on 70 years and recognizing DOE's continued commitment to respect and protect the sacred tribal lands on which they sit.
Magwood and Bill Madia, retired executive vice president for Laboratory Operations at Battelle Memorial Institute, shared reflections on the challenges of developing INL to what it is today, and their pride at seeing the growth of the lab and its tremendous impact on the nation's clean energy future.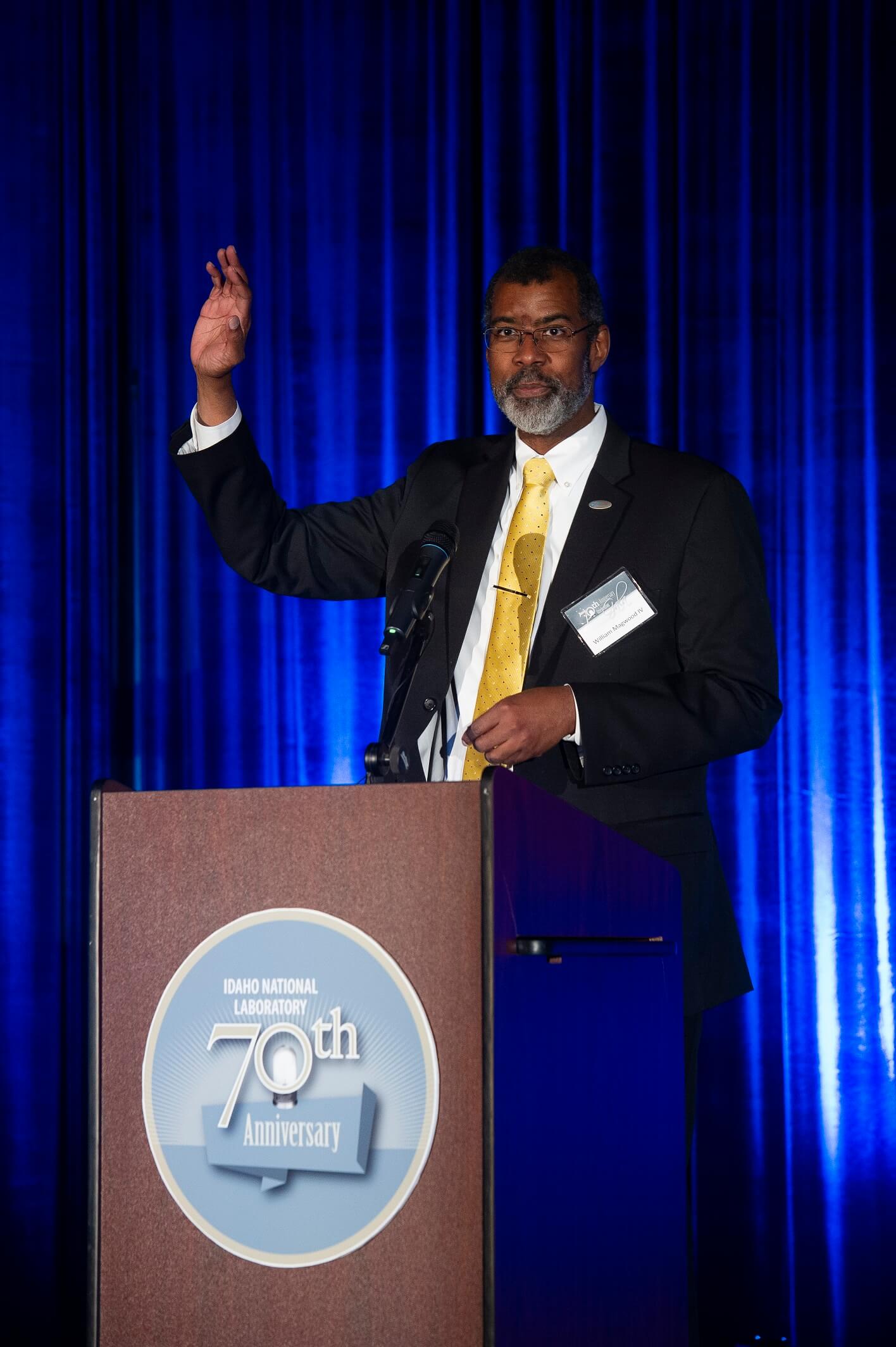 Baranwal shared her concerns about creating a clean environment for her teenage children and the children they may have one day. Nuclear, she believes, and the research and work done by DOE and INL in particular, will provide the generations to come with that auspicious future.
In his address, Idaho Gov. Brad Little asserted that "Idaho and INL have always been on the forefront of innovation." He discussed the lab's value to the state, national and global economies, and commended the lab for its commitment to safety and transparency.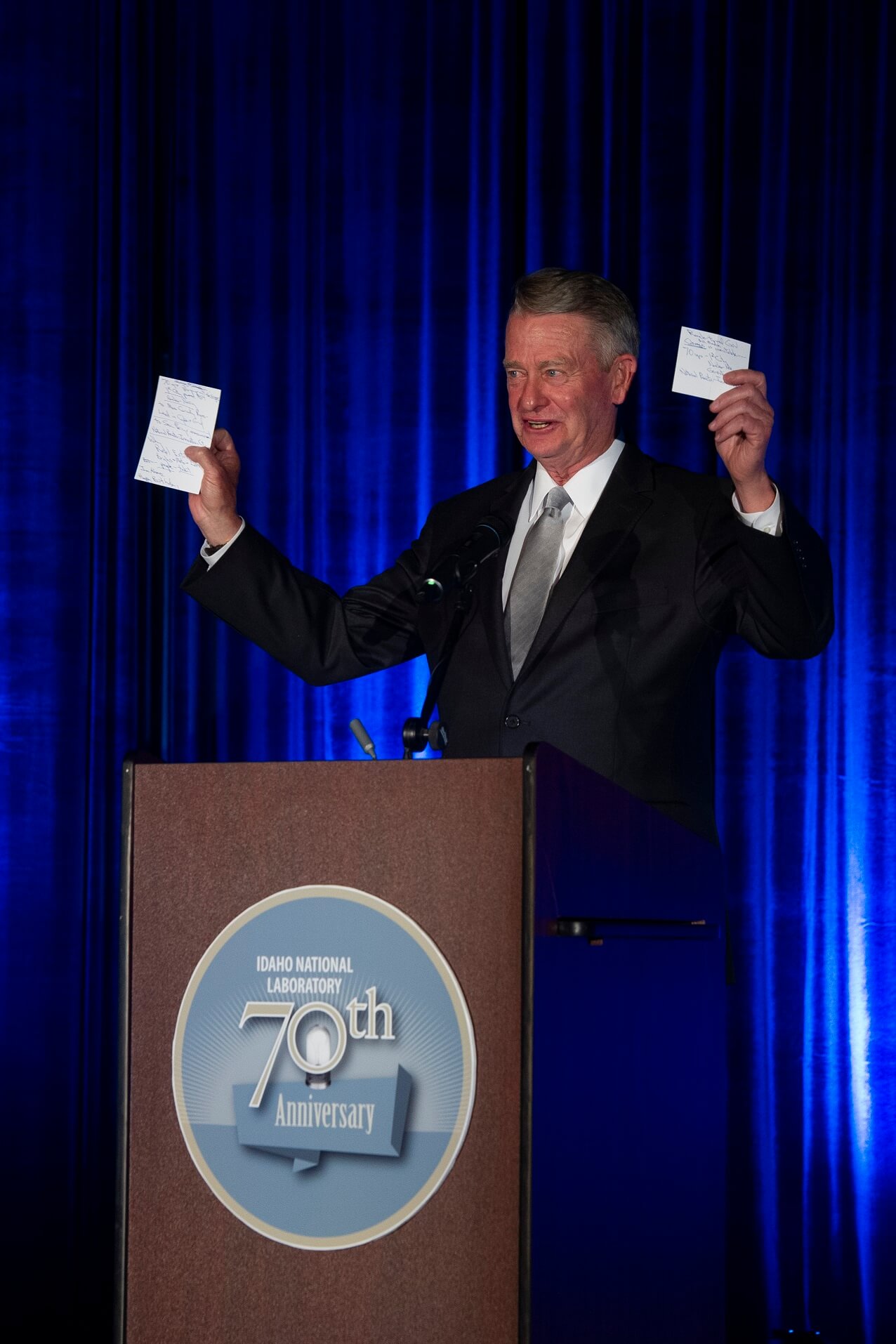 Idaho Sens. Mike Crapo and Jim Risch offered their congratulations via video on INL's 70th anniversary; Risch hailed INL as a "true gem within the Gem State."
Idaho Rep. Mike Simpson praised INL for bringing significant growth to southeastern Idaho and the state at large. "Today, we celebrate not only the growth of the lab, but the achievements of the people here," he said. "The scientific case for the work done here has already been made. If you are concerned about global warming, you should be excited about nuclear, and the work INL does as the nation's lead nuclear lab."