In early 2019, Jhansi Kandasamy thought she had already landed her dream job — vice president of engineering at GE Hitachi Nuclear Energy. There, she led engineering, operations support and development for six years supporting everything from operating power plants to small modular reactors to power systems for NASA's rocket ships.  
So, when Idaho National Laboratory Director John Wagner approached her with an offer to lead the lab's Net-Zero program, Kandasamy hesitated.  
"I was thinking, 'Why would I want to go to Idaho when I have this wonderful job for GE in North Carolina,'" she said.  
Then she thought about her late father, a mechanical engineer who had encouraged his curious daughter to follow in his footsteps. "He would be proud that I had the opportunity to make an impact globally," she said.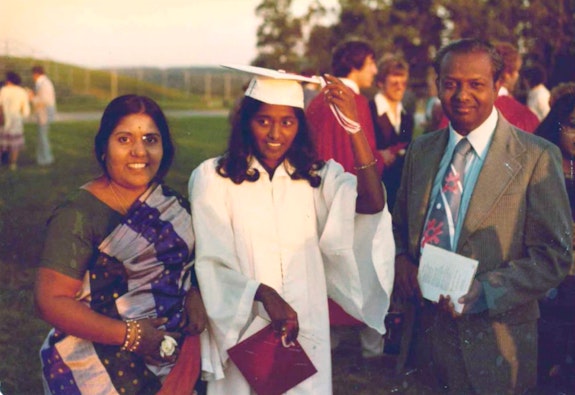 Breaking down barriers
Kandasamy was 9 when her family moved from Madurai, India, to just outside Philadelphia.   
There, Kandasamy's father taught mechanical engineering at Villanova University, worked for a private engineering firm and welded at night in the Philadelphia shipyards.  
"He worked three jobs," Kandasamy said. "I don't think I ever saw him sleep." 
Eventually, her father accepted a position at the Limerick Generating Station, a nuclear power plant near Philadelphia. 
He enrolled Kandasamy in a Catholic school with a reputation for rigorous academic and disciplinary standards. "We were all first-generation immigrants," she said. "Half the kids were Irish, half were Italian and I was the only Indian girl. I remember not being included in this circle of girls. The first year was pretty tough."  
But Kandasamy broke down those cultural barriers. By the time she graduated eighth grade, she was elected to student government and the homecoming court.  
Finding a career
After high school, Kandasamy enrolled at Pennsylvania State University. She initially considered medical school, but an internship at the Limerick Generating Station inspired Kandasamy to change her focus to electrical engineering.  
As an intern, Kandasamy's supervisor challenged her to find various instruments throughout the power plant, research their design and create drawings of their wiring.  
"That got me tinkering," she said. "It really opened my eyes to engineering. I still find it fascinating how thoughts in your brain go on paper and become reality — how a tiny piece of fuel can create so much heat that then turns your lights on."  
After she graduated, Kandasamy took a job at the power plant, starting as an electrical systems engineer. She organized a group of co-workers who were interested in getting their Master of Business Administration degrees and convinced Eastern University to set up a program at the plant.  
After construction and startup, Bechtel turned over operations of the plant to the owner, the Philadelphia Electric Company (PECO), and Kandasamy left for the Palo Verde Generating Station in Arizona. About a year later, she returned to PECO and worked her way up to become an engineering branch manager.  
In 2000, she took a job with Exelon as the regulatory affairs manager at the Oyster Creek Generating Station in Forked River, New Jersey. "It was a good move because I got to work with the state and the Nuclear Regulatory Commission (NRC) and helped with the plant's successful license renewal," she said.  
When the site manager at Oyster Creek asked her to take a job as the chemistry manager, Kandasamy thought her career was in trouble. "They had gone through eight chemistry mangers in five years," she said. "At the time, I asked my manager if this was a way to get rid of me." 
But her managers assured her that, with her leadership experience and relationship with the NRC, she was perfect for the job. "In a year and a half, I took the chemistry department from the bottom of the fleet to the top of the fleet," Kandasamy said.  
In 2010, Kandasamy moved to the Public Services Energy Group, where she worked her way up to become the senior director of nuclear projects position. "I identified all of these opportunities to save millions of dollars on simple tasks," she said.  
During that time, she also served as the company's Women in Nuclear chair, which set her up to serve on the steering committee and eventually chair the national U.S. Women in Nuclear organization later in her career.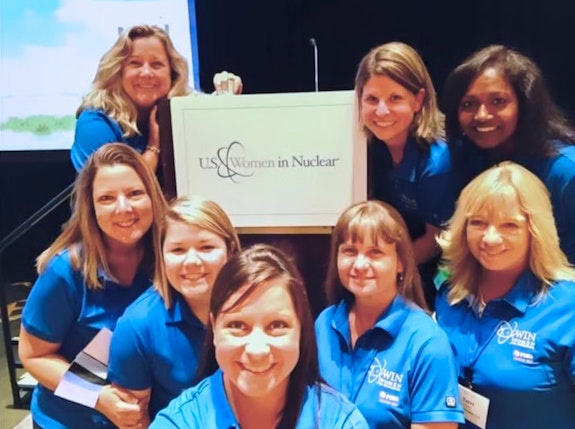 After years of Kandasamy's friends pestering her to set up a LinkedIn profile, she finally agreed. "Months later, GE happened to see my profile in LinkedIn," she said. "They told me they were looking for a vice president of engineering in the nuclear group and that I was perfect for the position." 
Today, as executive director of INL's Net-Zero program, Kandasamy supervises the lab's efforts to offset or eliminate the sum total of its carbon emissions by 2031.  
It's an ambitious task, but Kandasamy loves a challenge. "I've had a couple of other jobs where I can't wait to get up in the morning, but this takes the cake," she said. 
"My dad would have been thrilled to know I am working at INL," Kandasamy said. "He was always fascinated by the workings of the brain. He would have loved INL's amazing scientists, its history as the host of the world's first operating nuclear reactor and that it is coming full circle after all these years to deploy advanced reactors. I did it for me and for him, because he put me on this path."