The U.S. Department of Energy awarded Idaho National Laboratory's Christopher Ischay a 2022 Sustainability Award, naming him a Sustainable Champion.  
Ischay is the Sustainable INL department manager. He helped establish the laboratory's sustainability program in 2007 and developed the program into a "high performing sustainability organization," said Kathryn Huff, assistant secretary for DOE's Office of Nuclear Energy.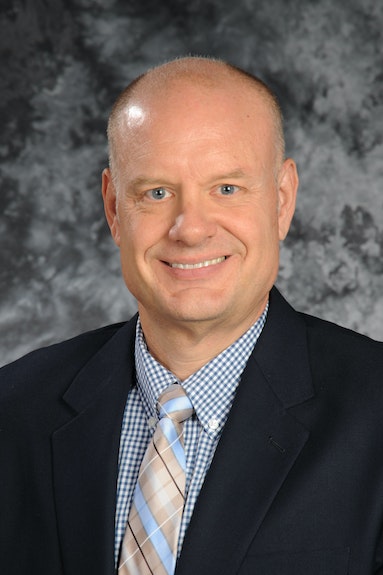 "Thanks to your efforts, INL is well positioned to meet the challenging goals of net-zero, carbon pollution-free electricity, and the administration's other sustainability objectives," Huff said in an Oct. 17 letter announcing the award. "Your leadership and dedication have had a profound and lasting impact on the INL and NE sustainability efforts and is appreciated by those who have had the privilege of working with you." 
The Sustainability Awards recognize outstanding contributions of individuals and teams at DOE facilities across the country. Sustainability Champions are individuals who have advanced DOE's sustainability goals for buildings, water, waste and acquisitions, among other areas. This award comes on the heels of other Sustainability Awards, including the Electronic Product Environmental Assessment Tool Purchaser Award, DOE Sustainability Award for Innovative Approach to Sustainability, and Governor's Award for Leadership in Energy Efficiency in the Building category.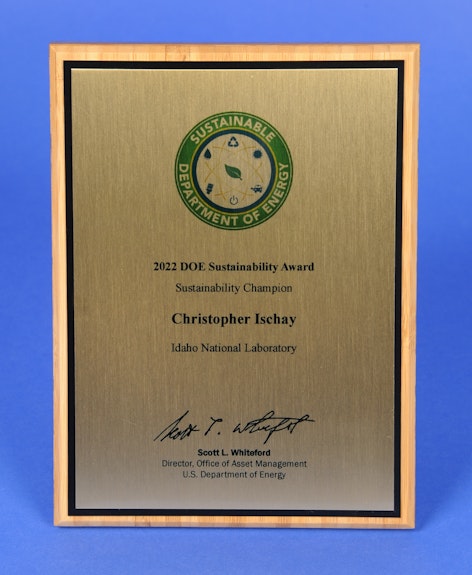 "Through his excellent work with the Sustainable INL Program, Chris Ischay and his colleagues laid the groundwork for the laboratory to reach its goal of net-zero greenhouse gas emissions by 2031," said Jhansi Kandasamy, Idaho National Laboratory's Net-Zero Program executive director. "The sustainability team is an essential part of the Net-Zero program, and we couldn't have asked for a better collaboration." 
Through the Net-Zero Program, the laboratory has committed to demonstrating for the world how a mixture of emissions-free technologies – including safe, secure advanced nuclear energy – can work with renewables to stem the impacts of climate change.  
"I have always been fortunate enough to have a great team and the support of those I work with," Ischay said. "As we look toward a net-zero future, I am hopeful that this is only the first step as we perhaps then move toward a net-zero water, net-zero waste and net-zero energy operation."