Idaho National Laboratory and the International Atomic Energy Agency (IAEA) have entered into an agreement aimed at bolstering a cooperative effort to expand and strengthen nuclear installation safety around the world.
Under a Practical Arrangements agreement signed Dec. 6, INL will support IAEA and its 170 member states with peer review expertise, technical assistance and advisory services. The agreement also offers INL resources for IAEA scientific visits, fellowships and meetings. The agreement, the first of its kind involving IAEA and INL, is valid for three years and can be extended, according to an IAEA announcement.
"It opens a continuing dialogue, and allows more direct access to understand current IAEA issues that INL could help resolve," said Peter Wells, chief operations officer of the lab's Nuclear Science and Technology directorate. Because IAEA helps "embarking countries" in their development of nuclear energy infrastructure, the agreement is likely to raise INL's profile around the world, he said.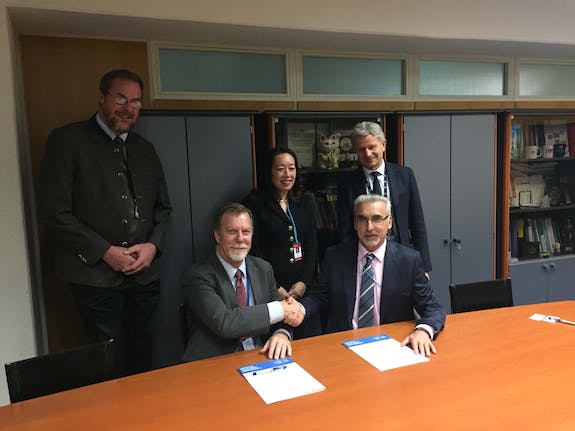 IAEA regularly enters similar agreements with the governing authorities of member nations and even hospitals. While INL has a long history of support for IAEA — from 2009 to early 2017, Wells was stationed at IAEA headquarters in Vienna, Austria, where he worked in the Division of Nuclear Installation Safety — the agreement allows a more direct exchange of information, he said. The agreement is valid for three years and can be extended.
"This agreement consolidates our cooperation, and work under the agreement will contribute to facilitating the exchange of safety-relevant experience and information," said Juan Carlos Lentijo, IAEA deputy director general and head of its Department of Nuclear Safety and Security. "This will help countries develop the technical knowledge they need."
Both INL and IAEA date back to the early days of nuclear energy. Established through the United Nations in 1957 as the world's "Atoms for Peace" organization, IAEA is an independent, intergovernmental science and technology organization. It establishes nonbinding safety principles, requirements and guidelines for its member states.
IAEA reported having 502 active technical cooperation projects and 12 active coordinated research projects in 2018. It assists members in planning for and using nuclear science and technology to generate electricity and facilitate the transfer of technology and knowledge in a sustainable manner. It develops nuclear safety standards and promotes the achievement and maintenance of high levels of safety in nuclear energy applications. Through its inspection system, the IAEA ensures that member states comply with their commitments under the Non-Proliferation Treaty and other agreements.
INL dates back to 1949, when it was established as the U.S. Atomic Energy Commission's National Reactor Testing Station. Now part of the U.S. Department of Energy's national laboratory complex, it has been designated the nation's leading center for nuclear energy research and development.