Grandfather and grandson, Don and Dylan Sherick, represent the main trunk of an Idaho National Laboratory family tree that spreads out over three generations.
There's Jack, Don's brother. Then there's Steve, Karrie, Janis, Mark, Vanessa, Bob, Ryan and Lauren, all of whom have interned or been active on cleanup activities at the U.S. Department of Energy's Idaho Site. Wives, sisters and brothers, aunts and uncles … it should come as no shock that the Site has been an oasis offering good jobs that pay well.
For Don Sherick, now 81, the story starts in 1959. A native of Butte, Montana, he was getting ready to graduate from Montana State University with a degree in chemical engineering. He was not sure where he was going to find a job, but when representatives from Phillips Petroleum came to the campus to talk about the National Reactor Testing Station, which Phillips then managed for the U.S. Atomic Energy Commission, Sherick was all ears.
"The nuclear industry was something we didn't know much about at the time," he said. "But I decided it was a nice move, closer to home than I expected." An avid outdoorsman, working at NRTS would allow Sherick to keep doing the things he liked.
He found himself riding the bus out to the Test Reactor Area to work at the Engineering Test Reactor. "It was challenging, with great pay and benefits, but there was a very steep learning curve," he said. "A lot of the technical part of it was very new." Sherick credits Marion Thomas, Phillips' ETR plant manager, with keeping everyone up to speed and everything running smoothly.
Sherick was shifted to the Experimental Organic-Cooled Reactor for a year, which was run cold but never taken critical. He went back to ETR for less than a year, then shifted to the Advanced Test Reactor, which was being built at the time.
"Being in on the startup, I know every bolt in that plant," he said.
In the five years he was ATR operations manager, it was a time of change at the Site. "These were test reactors," Sherick said. "Surprises were normal. Everything was fairly new and everything was fairly challenging as an engineer." Over six years, Sherick operated three different reactors, two of which he'd started.
In 1980, he went to the Loss-of-Fluid Test facility, where he was operations manager for core meltdown tests. When LOFT's mission wrapped up in the mid-1980s, he was the site manager for the decommissioning. He retired in 1995.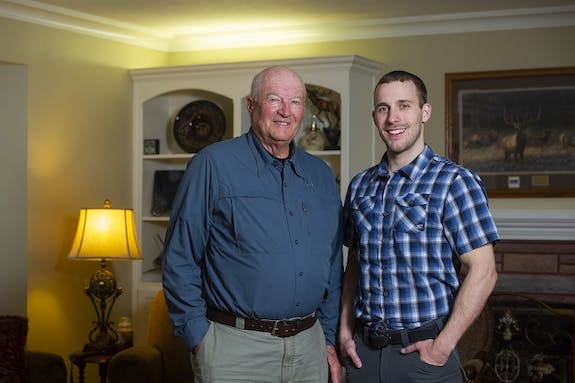 Growing up, Dylan Sherick remembers a truly "nuclear" family. "Between my grandfather and my father (Steve Sherick, now a project manager for Fluor), I learned early. There was a chart of nuclides above the stairs. I grew up around a lot of 'hot cell' speak," he said.
Dylan Sherick, 27, studied mechanical engineering at Boise State University, then returned in 2014 to become a reactor operator at ATR. "A lot of gentlemen I work with now worked with my grandfather," he said. Taking over for them as they retire is a very important responsibility. "A lot of operational experience and knowledge leaves when these older people retire," he said. "A lot of little things."
Both grandfather and grandson say some things never change. "School taught me how to think, but ATR operations taught me how to think on my feet," said Don Sherick.
"Sometimes I think I know those guys at ATR better than I know my own brother," said Dylan Sherick.