Why do we celebrate heritage months? Because learning about different cultures and people with different backgrounds makes us all better and increases our cultural competencies. A culturally and inclusively diverse workforce increases innovation and allows us to solve more complex problems. It's important to highlight role models of all demographic groups, particularly because it helps underrepresented talent feel welcome, included, and that INL is a place where they belong. Plus, we'll need people with lots of different backgrounds to fill the talent pipeline.
In May, the United States celebrates Asian American and Pacific Islander (AAPI) Heritage Month. The month has been commemorated in some form since 1977, when a House Joint Resolution proclaimed the first 10 days in May Pacific/Asian American Heritage Week. May was selected because the first Japanese immigrants came to the United States in May 1843, and the transcontinental railroad, assembled largely by Chinese immigrant laborers, was completed in May 1869.
AAPI encompasses all Asian Americans, Native Hawaiians and Pacific Islanders. According to the most recent U.S. Census numbers, 23.7 million people (about 7% of the population) identified as AAPI. The largest ethnic populations of AAPI in the U.S. are: Chinese, Asian Indian, Filipino, Vietnamese, Korean and Japanese.
This month, three exceptional INL employees with AAPI heritage share their experiences at INL with us.
Meet Dr. Ruchi Gakhar, research scientist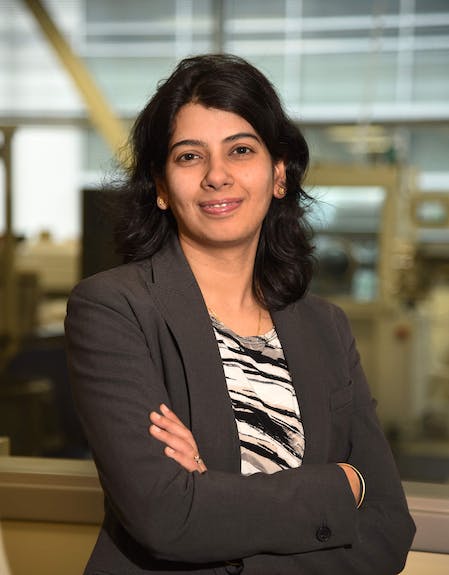 Dr. Ruchi Gakhar describes her hometown of Bhiwani as a small town in northern India. With a population of about 200,000, it's small by Indian standards, but nothing compared to Drummond, Idaho, with a population of 17. She always liked chemistry, but her passion for research grew during her time as a graduate student when she was able to spend more time in the laboratory environment.
She first came to INL as a Russell L. Health Distinguished Postdoctoral Fellow, but has recently transitioned into a full-time employee. Gakhar currently works as a research scientist in the Pyrochemistry and Molten Salt Systems department where she studies the chemical structure of molten salt for applications in reprocessing fuel and advanced nuclear reactor designs. "I like the research thinking process and designing experiments," she said. "It's challenging at times, but always interesting."
Gakhar holds a bachelor's in chemistry, one master's in organic chemistry and one in nanotechnology, and a doctorate in materials science and engineering. Prior to coming to INL, she was a postdoctoral research associate at University of Wisconsin-Madison.
She was drawn to INL because she really liked the research environment of a national lab. "INL has such unique capabilities," Gakhar said. "We get to do interesting science that will have a huge impact on the environment."
Her life in Idaho is fairly different than it was in India, particularly because her community in India was very close and she grew up living with uncles, aunts, and cousins under the same roof as her immediate family – 16 people in all.
Gakhar has enjoyed getting more familiar with southeastern Idaho but misses her family, friends, and the large festivals in India. She taught her five-year-old daughter the Hindi language and still follows many Indian traditions. Each year, Gakhar celebrates the Diwali Festival (which translates to "Festival of Lights" in Hindi). During Diwali, families place lights all around the outside of their homes and celebrate with feasts, gifts and prayers.
She said it's tough to be away from her family and her husband, a software engineer working in Atlanta who's hoping to find a job in Idaho, but she really enjoys her work and appreciates the support she receives from her mentors and colleagues every day, which makes everything a lot easier.
"I love working here," Gakhar said. "I get to do exciting science every day. There's always something new and interesting to learn."
Meet Marcus Jankowski, HR information specialist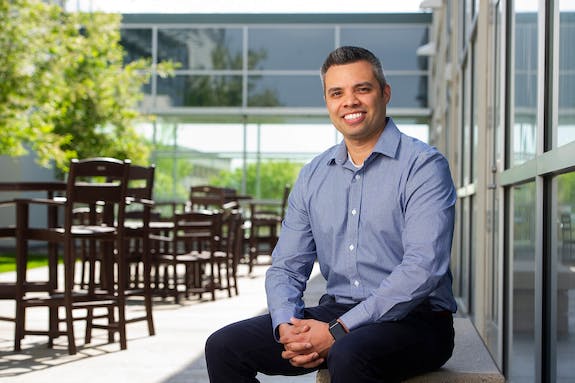 As a kid, Marcus Jankowski was fascinated by outer space and initially thought he'd go into a scientific field. Although he still enjoys science, those interests morphed into business, finance, human resources, and some information technology. Now a Human Resources information specialist, Jankowski gets to be on the forefront of new business technologies coming into the lab. "In my job, I get exposure to lots of new things and opportunities to develop myself," he said. "At INL, we're encouraged to find ways to develop and further our education, both formally and informally."
Jankowski grew up in California, but became familiar with southeast Idaho while earning his degree at Brigham Young University-Idaho in business management. During college, he talked with his dad about career options. "My dad had a job at AT&T as a Service & Deliverance & Assurance manager for many years and worked long hours," he said. "He always emphasized the importance of education because what he did was exhausting work and he wanted his kids to have more options."
After graduating, Jankowski applied for a job at INL. "The lab always had a reputation as a great place to work and offered a great work-life balance," he said. He didn't get that first job he applied for, so he left the area to work in Utah. When a job came open a few years later, Jankowski jumped at the chance to take the position and live near his family again. "I played it safe growing up, but I've learned not to be afraid of failure," he said. "Taking a chance and trying something new can be the best way to grow."
Now just over two years into his time at INL, he's happy he took that chance and came to the laboratory. "The people here are super friendly and our human resources group is like one big family – we'll go the extra mile to help each other," he said.
Jankowski's mom is originally from the Philippines and has shared several aspects of the Filipino culture with him and his siblings. The two things he remembers most: the importance of family and karaoke. "At every family gathering or party, there is karaoke," he said. "Family is huge in Filipino culture." Jankowski said their doors were always open for visits from extended family and when his grandparents got sick, they came to live at his house so his family could take care of them.
Family is still very important to him and in his spare time, he enjoys camping, playing sports and bike riding with his three kids. He also schedules some time for himself to work out after work. "Exercise is a great stress relief and I can come home stress-free and have quality time with my family," he said.
Jankowski has found INL a welcoming and inclusive workplace and does his best to welcome and include others. He remembers what his mom taught him as a kid: "It's the golden rule: Treat others like you'd like to be treated. Put yourself in others' shoes and just be kind."
Meet Dr. Chandu Bolisetti, research scientist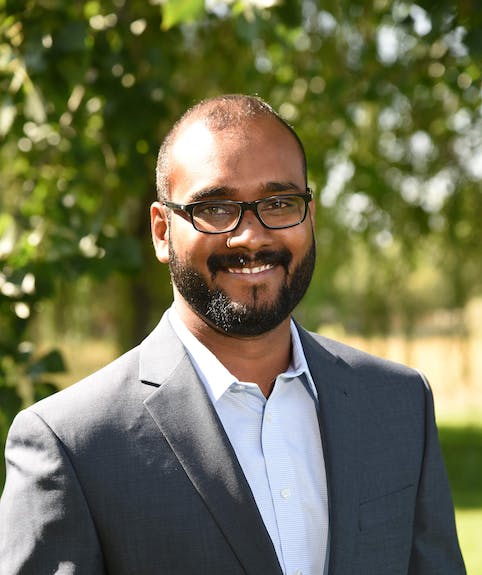 Dr. Chandu Bolisetti took a leap of faith four and a half years ago when he accepted a job at INL sight unseen. "I'd only done phone interviews, but I was surprised at the breadth of research done at INL," he said. Bolisetti has a doctorate in civil engineering with a specialization in structural and earthquake engineering. As a research scientist in the Nuclear Science and Technology directorate, he works to predict and mitigate seismic risk in nuclear power plants and to reduce the costs of building them.
"I like that I can do a diverse set of research at INL," Bolisetti said. "It's a great research environment where we're encouraged to branch out and collaborate."
Originally from Hyderabad, a city of almost 7 million people in southern India, Bolisetti grew up in a very traditional Indian family. He tested well in engineering and really liked math and science, so he pursued a career in civil engineering.
Bolisetti tries to visit his family in India once a year, but always goes in the wintertime. "Southern India has tropical forests – it's naturally beautiful," he said, "but it's hot and humid so I only go in the winter." He misses his family and the festivals, but has had an opportunity to show them around the area when they come to visit. "We stayed at a cabin in Driggs, Idaho, and they liked it, but were shocked at how much space was between houses," said Bolisetti. "That's very different from India, where space comes at a premium."
Mentors have made a big difference in Bolisetti's life. "I've had some great mentors at INL including my team lead, Justin Coleman, and colleague, Vivek Agarwal," he said. He also still stays in touch with his Ph.D. adviser. "Having a mentor in your field of work is great, but it's even better if you step beyond your circle at work and look outside your organization or even outside of the lab." He said this can give you a great perspective on how others are doing things and open up opportunities for collaboration.
He follows this philosophy not just at work, but in his personal life, too. "I love trying new things and branching out," he said. He loves hiking, snowshoeing, trail running, cooking, and has started to get into gardening.
Bolisetti is happy to see conversations about inclusion and a celebration of different cultures at INL. "Working at INL has been a great opportunity," he said. "I get to do cool, cutting-edge research that can increase access to cleaner, safer energy, making the world a better place."
Learn more about Asian American & Pacific Islander Heritage Month:
Social Media Campaign Posts — #APAHM