Ask Tiasha Bhattacharjee about her time at Jadavpur University in Kolkata, India, and she won't talk about her classes, the parties or her friends.
She'll tell you about how the school was founded during British colonial rule by activists who wanted to reestablish an educational system, industries and culture for the native Indian people.
"There's still a kind of revolutionary feeling to the place," she said. "That place really helped me learn to trust my instincts and be more sure of myself. Overall, it made me stronger."
Now, as a chemical engineer in the bioenergy group at Idaho National Laboratory, that revolutionary spirit lives on through Bhattacharjee's passion for music, acting and writing.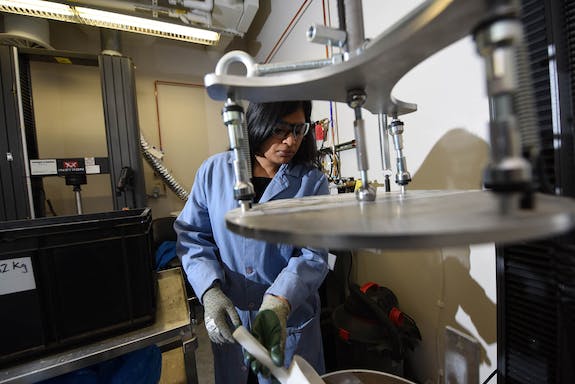 Ask about her favorite rock bands, and she'll roll up her sleeve to show a "Lizard King" tattoo inspired by the rock band "The Doors."
Next to the lizard, there's a little crown. "That's not the king's crown, it's a queen's crown," she says, explaining that it's a tribute to another favorite band, "Queen."
Bhattacharjee was born in Dallas, Texas. When she was 10, her parents moved her and her younger sister back to Kolktata, India.
Around that time, Bhattacharjee—inspired by her parents' interest in the fine arts—began exploring her talent for music. "My parents have always encouraged me to perform," she said. "My dad sings, so that's where I get it from."
She gravitated toward Indian classical music, which she describes as the Indian counterpart to opera. "It's pretty complex and intricate," she said. "I love it."
Eventually, Bhattacharjee added acting, directing and writing to the list. In college, she headed her university drama club.
As for her career, Bhattacharjee again looked to her parents for guidance.
"Both my parents are engineers, and I've grown up exposed to a lot of discussions surrounding science and technology," she said. "I was also always encouraged to have a very systematic and analytical approach to solving any issue or problem. Even for things like where we would go on a trip, we would prepare an Excel spreadsheet."
Over time, engineering appealed, not only to Bhattacharjee's analytical and innovative instincts, but also to her desire to produce something tangible with real world applications. "The whole process of taking a raw material and converting it into a commercially usable product really fascinated me," she said. "I wanted to understand how a manufacturing supply chain worked and wanted to have the skills necessary to be able to develop or design a process in an industry."
In 2016, Bhattacharjee graduated from Jadavpur University with a degree in chemical engineering. One year later, she earned a master's degree in chemical engineering with an emphasis on particle technology from the University of Delaware.
After graduate school, Bhattacharjee landed an internship at Particulate Solid Research, Inc. (PSRI), a consortium of companies with the goal of advancing technologies that allow particles to move through machinery.
There, she focused on the fluidization of dry biomass and catalysts under different conditions.
"While doing my internship at PSRI, I first came across biomass and learned about the kind of work that is done in this field," she said. "I was really able to apply my graduate degree knowledge to do some great research with biomass. I realized how important and impactful the work was, especially with today's dire need for renewable energy."
After a stint traveling in Europe, she took the job with INL's biomass team. She now works with Jordan Klinger studying the mechanical properties and flow characterization of different biomass materials, and she will soon begin working on preprocessing research as well. Preprocessing can include chopping, drying, grinding, pelletizing, roasting and chemically treating biomass in preparation for conversion to biofuels, biopower or bioproducts.
Bhattacharjee moved to Idaho Falls in February, and is excited to explore the region. "It's very different from any place that I've lived before, much smaller and quieter," she said. "Everybody, including people at work and even strangers have been so welcoming and extremely helpful."
Next, Bhattacharjee plans to work toward her Ph.D. "I'm still looking to find my niche area of work," she said.