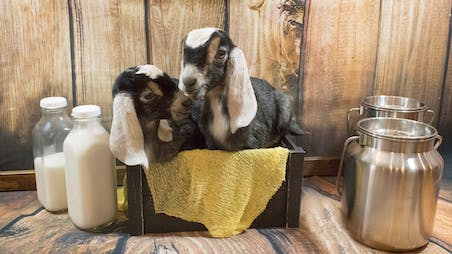 Every morning, Idaho National Laboratory employee Whitney Jolley laces up her boots and readies to conquer her day. The routine begins shortly after 5 a.m., just as the sun breaks across the horizon of her farm in Firth, Idaho. She sets out to feed, water and care for animals of all shapes and sizes, but no one is as demanding of her attention as her dairy goats.
Some are loud, some are quiet, and some can even be moody, but all are eager for her attention and a scratch on the head. Watching the different personalities flocking around Jolley isn't much different from watching "Snow White and the Seven Dwarfs," except the dwarfs are 10 goats being cared for by a financial analyst rather than a Disney princess.
LIFE ON AN IDAHO FARM
For as long as she can remember, Jolley has been involved in the process of raising and caring for animals. Her involvement began at a young age on her family's 110-acre farm located just north of Idaho Falls.
Caring for them throughout her youth led Jolley to develop a bond with her animals, especially her goats. She raised them from the time they were born, learning their personalities and their quirks.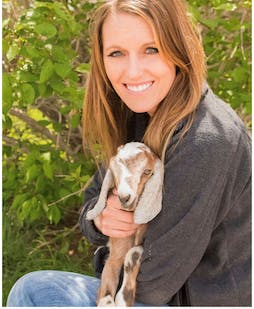 Every goat knew and responded to its name, had its own unique collar and on many days, would follow Jolley around as she canvassed the farm. Their unique personalities and affinity for humans led her to view them less as farm animals and more as oversized puppies.
"Most people drive down the road and see their neighbors walking their dogs," Jolley said. "In our case, my sister and I would be walking our goats."
Every morning and evening was spent milking her dairy goats and feeding her calves, eventually nurturing the baby cows into livestock ready to be sold. If she wasn't on the family farm, she was participating in various agriculture youth programs like 4-H and the Idaho Cattle Association.
In Jolley's eyes, there is one word to define life on the farm growing up and life on her farm today: busy.
"It is lots of hard work between early mornings and late nights, but I love every minute of it," she said. "People say that it sounds like a ton of work, but I don't know if I could do anything else. I love taking care of animals and watching them grow and mature."
According to Jolley, her dedication and diligence paid off in the long run, as both her and her sister's college educations were completely paid for with money made from the sale of livestock they raised on the farm. This allowed Jolley to earn her bachelor's degree in health care administration and her master's degree in business from Idaho State University without worrying about financial burdens.
THE ART OF RAISING GOATS
Upon finishing school, Jolley, alongside her sister and childhood friend, founded The Goat Milk Maidens, a triumvirate that creates lotions, bath bombs, skin care items and even desserts using milk from their dairy goats.
Each product made by the trio is fueled by their devotion to helping people, which is rooted in Jolley's connection to her grandfather
"My sister and I researched what we could do to help his irritated skin," Jolley said. "We found out that goat milk is nutrient dense and is great for skin care, so we started making goat soap and goat lotion."
Their grandfather began using the products, and his skin condition began improving. The success of his treatment inspired Jolley to share her remedy with others.
"All of my creativity and love goes into making these products because it's so much fun," she said. "But at the same time, hearing our users talk about how it helped their irritated skin is really rewarding."
SUPPORTING INL RESEARCH
When she isn't on the farm or crafting dairy goods, Jolley helps support INL's critical research missions as a Planning and Financial Controls analyst, a position she's held since 2015. In her role, Jolley oversees budgets involving INL's Research and Education Campus in Idaho Falls in addition to helping facilitate projects involving other contractors at the Site. That may sound like a daunting task to many, but it's a challenge that Jolley enjoys.
"Working as an analyst, I don't always have a set objective of what has to be done," Jolley stated. "Working on a farm is the exact same thing. It's all about being flexible, and I learned that from my job."
In the five years she's been at the lab, Jolley has worked with countless individuals across various organizations to help bring their research to life as efficiently and effectively as possible. It's helped forge relationships and connections with people she'd otherwise go without meeting and has created a great sense of collaboration, which she says is her favorite part of the job.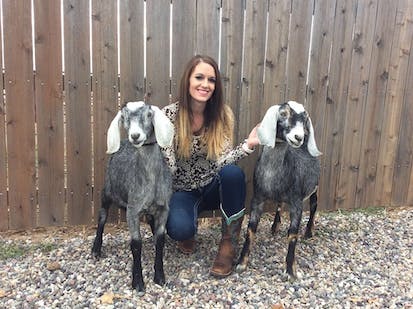 "Everyone at the lab is very willing to help each other and thrive as a team and that's not always the case at other places," she said. "The people I work with are incredibly knowledgeable, and I have learned a lot from them. I feel this positive working environment is what makes the lab as good as it is."
As she looks toward the future, Jolley plans to continue to support the lab and its research programs. And with the lab growing, there will be a lot of opportunities to expand her interactions with the technical staff.
"Working hard on the farm has given me a drive to always do my best," said Jolley. "And that translates into how I feel about my job at INL."
Jolley with Kate and Pippa, two goats that help produce some of The Goat Milk Maidens' most popular items.
Hobbies are fulfilling, and fulfilled people make more productive employees. Hobbies unearth hidden skills, alleviate stress, unite you with others, and improve quality of life — all things that will help you function better at work. See other stories about Idaho National Lab employees.