Stacey Garitone grew up in both Idaho and California, but one constant in her life was horseback riding. It started early. "I started riding around 4," she said. "I used to climb into the pasture when I was little and crawl onto the horses' backs when they were laying down. My mom put me in lessons so I would learn how to behave around them."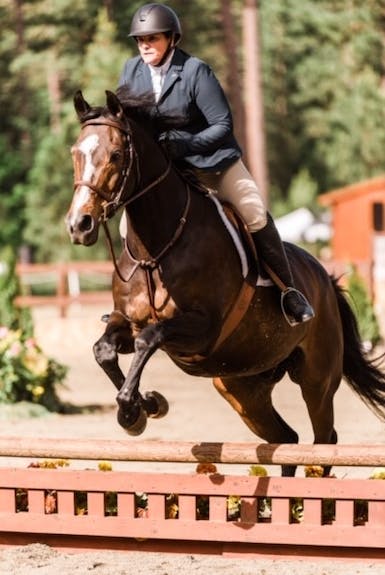 The love only grew from there. Her training started in the English style of riding as a young girl in California. But when her family moved to Idaho, her training shifted to the regionally typical Western style. There were some real differences between the two techniques. In English style, the saddles are smaller, and the rider is closer to the horse to feel the animal perform hunter jumps. Western style has heavier saddles and longer stirrups that better equip the rider for trail riding and barrel race. Despite the changes, her love for horses remained the same.
But as time went on, life got in the way of her equestrian passions. "My dad sold everything when I went to college," Garitone said. It was 17 years before she returned to the sport.
In that time, she continued her education, started a family and built a career at Idaho National Laboratory. She has worked in INL Supply Operations for 14 years, where she currently leads the warehouse for Central Facilities Area and the Advanced Test Reactor Complex.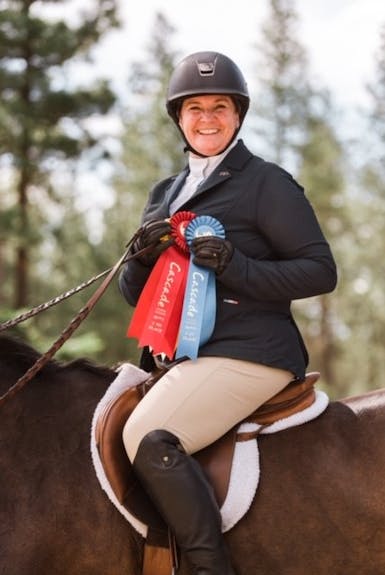 At work, she focuses on providing essential supplies for the work at these facilities. "I do everything from a gallon of gas to reactor parts," she said. "I help people all over the Site to help them set up a stock item or if they need help purchasing something." Garitone's work is one piece of the puzzle that ensures INL researchers have the supplies they need to perform the critical energy research vital to INL's mission.
It can be challenging to keep track of all these materials. And when you don't work as a scientist, knowing how to anticipate researchers' needs can be tricky. "Sometimes they don't know what they need until they need it," she said.
The same could be said of her own love of horseback riding. After a 17-year break from the sport, Garitone watched her daughter's love of equestrianism take hold. Once her daughter started show jumping, Garitone knew she needed to get back on the literal and metaphorical horse.
She returned to English riding, and the impact was immediate in her personal life. "Since I've started riding again, my daughter and my husband have told me that I'm much happier," she said.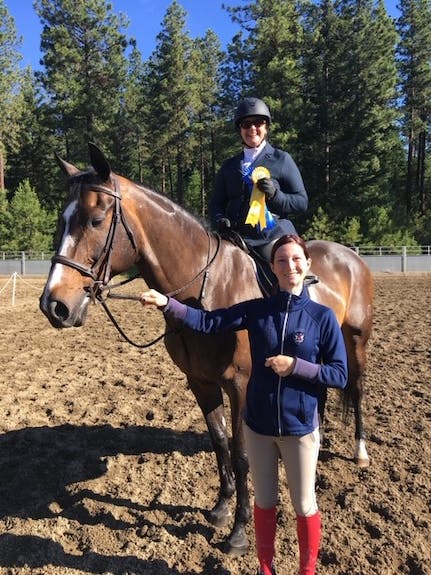 Her confidence took a hit, however, when she fell off her horse. Once again, this setback kept her from riding for some time. After finding a horse that made her feel confident and working with her trainer at Parkwood Equestrian Center, Garitone slowly built up her skills.
As her confidence on the horse grew, she decided to branch out to jumping. Garitone began working on hunter jumps, a form based on fox hunting. "Hunter is all about how the horse looks," she said. "Is it a pleasing manner? Is it efficient? Most judges will say, 'Does that look like a horse I would want to ride?'"
She began to improve, and judges took notice. Within a few years, she moved up the rankings for her local zone and was named 11th out of 35 for her age group. Like the rest of the world, jumping competitions and events have been canceled or delayed significantly in the age of COVID-19. But Garitone's goals to improve haven't slowed down. She plans to keep working and recently purchased a new horse that has the potential to help her jump higher.
However, the real payoff for Garitone is the relationship she has built with her horses. "It is a rush. When your partner is a 1,200-pound being who can spook at a plastic bag but will jump a 3½-foot fence for you no problem, there's no way to describe that partnership."
Hobbies are fulfilling, and fulfilled people make more productive employees. Hobbies unearth hidden skills, alleviate stress, unite you with others, and improve quality of life — all things that will help you function better at work. See other stories about Idaho National Lab employees.