When people ask Dr. Michael V. Glazoff why he has seven degrees, he offers a quote attributed to Michelangelo: Ancora Imparo. "It means 'I am still learning,' and he said those words when he was 87," said Glazoff, 59, who has worked at Idaho National Laboratory since 2009.
Whether studying corrosion or examining aluminum and spent nuclear fuel, Glazoff believes in approaching complex problems using a fundamental scientific basis. This holds as well for the world outside the lab. "Real-life problems are multidisciplinary and multiscale at the same time," he said.
Glazoff's journey has been a novel one. He was born in Voronezh, Russia, then part of the Soviet Union, into one of the nation's most distinguished scientific families. His grandfather, Sergey Ivanovich Vavilov, was president of the USSR Academy of Sciences from 1945 to 1951, in the waning days of Josef Stalin.
Glazoff earned his bachelor's and master's degrees in chemistry at M.V. Lomonosov Moscow State University in 1980. He received his doctorate in chemistry in 1987 from the Russian Academy of Sciences, then earned another bachelor's, in physics, the following year. In 1989, he received the Leninsky Komsomol National Scientific Prize, the Soviet equivalent of a Presidential Young Investigator Award in the U.S.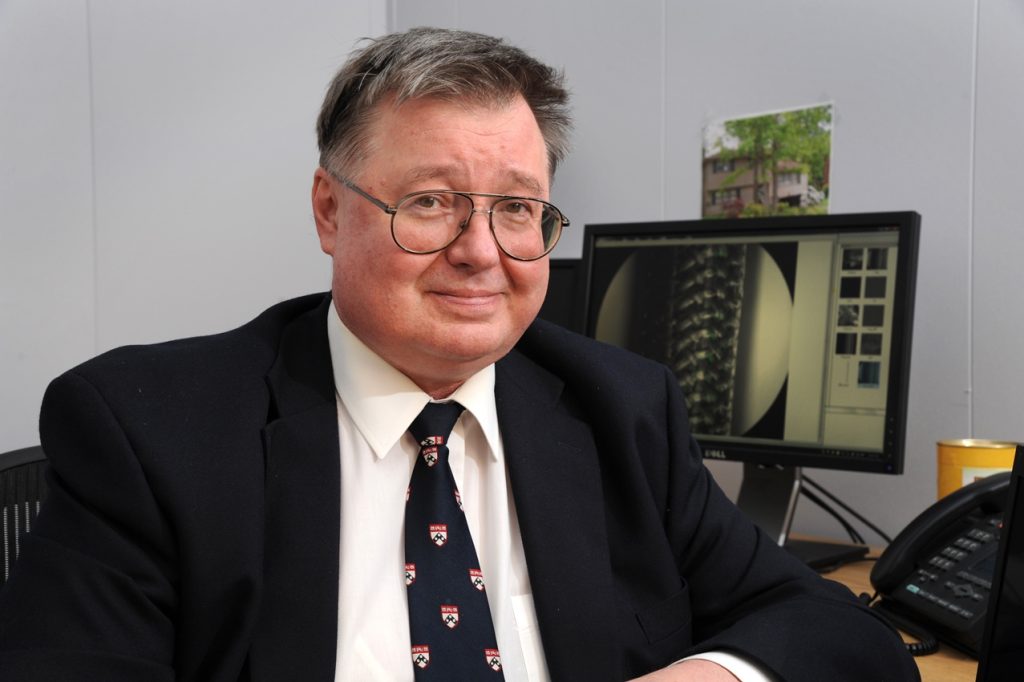 By this time, glasnost and perestroika (policies of "openness" and "restructuring" instituted by Soviet leader Mikhail Gorbachev) were in full swing, and opportunities in the West were becoming more accessible to young people in the USSR. Glazoff secured a student visa and came to the United States to study materials science and engineering at University of Pennsylvania. He has never looked back.
"My home is here and my allegiance is to this country," he says. He was granted U.S. citizenship in 2002, and a big American flag adorns the wall of his INL office.
Glazoff's expertise is in materials, nuclear engineering and chemistry, and in the application of mathematical methods to complex science and engineering problems. He has applied and patented the self-developed, commercial software "MorphoHawk" for morphological analysis and synthesis of material microstructure. In his research practice, he employs atomistic density functional theory (DFT) modeling, calculations of phase equilibria and thermodynamic properties of materials, diffusion modeling, and microstructure evolution predictions. In layman's terms, he helps engineers better understand and predict how materials will behave under specific conditions.
After getting his Ph.D. from University of Pennsylvania in 1995, Glazoff went to work for Alcoa Technical Center in Pittsburgh, helping to design products for architectural aluminum, crafting a theoretically justified solution to the "brightness problem" of extrusions and rolled aluminum sheet products. He designed an artificial neural network to predict mechanical properties of high-strength aluminum. Using this tool, called "TAD," two alloys were invented "theoretically," including materials used in aluminum baseball bats.
Concurrent with his experience in industry, in 1999 Glazoff became an adjunct professor of physics at Vanderbilt University, initiating and conducting government-funded National Science Foundation research aimed at designing novel alumina-based catalytic materials for automotive exhaust gas treatment. In 2004, he was part of an international team of scientists that developed a new patented catalytic support, GA-200L, which resulted in sales of more than $10 million for Alcoa's specialty chemicals business.
As a research lab, however, Alcoa Technical Center had begun changing after the 2001 death of Dr. Owen Richmond, its director of fundamental research. In 2008, with the company's revenues slumping from the economic downturn, Glazoff left Alcoa, and within a year, learned about INL from Sergey Rashkeev, a senior staff scientist. Glazoff was hired as a senior research engineer in advanced process and decision systems, and was named a distinguished staff scientist in 2011.
INL has been "a unique opportunity to be relevant and useful," Glazoff said. Most recently, he has served as lead author and organizer of an international team of scholars (American, British, Russian) preparing a second edition of the monograph "Casting Aluminum Alloys: Their Physical and Mechanical Metallurgy." INL has also afforded him the resources to earn a master's and doctorate in nuclear engineering and a nuclear criticality safety academic certificate from the University of Idaho.
Like many of us, Glazoff thinks a lot about the challenges facing the world, especially automation and artificial intelligence replacing human labor in the near future. His answer to this huge challenge is for people to embark on a lifelong learning process to accumulate and apply new knowledge, to stay flexible and adaptable to the rapid technological changes.
"The ability to learn is, essentially, a developed skill for thinking, analyzing and drawing your own conclusions based on the available scientific data. It's difficult but very rewarding and exciting, and it also makes a researcher's work in science relevant for a longer period of time," he said. "As long as you're alive, it's never too late to start from scratch. For me, the American dream is still alive. The opportunity is still there. It is up to the particular person. I am happy and very grateful for what I have been able to achieve at INL and in the United States."
Glazoff cites one last reason he feels a personal relationship with INL. In 1934, his grandfather, Sergey Vavilov, along with his graduate student, future Nobel laureate Pavel Cherenkov, determined that electromagnetic radiation was emitted when a charged particle (i.e., an electron) passes through a dielectric medium (water) at a speed greater than the phase velocity of light in that medium. This became known as the Vavilov-Cherenkov effect, and it's why INL's Advanced Test Reactor gives off its characteristic blue glow.
"I feel a strong connection to science," Glazoff said.