As INL employees walk through the halls of their office buildings, they are greeted by eye-catching posters and flyers advertising the multitude of events and accomplishments the lab boasts. Many of these come straight from the hands of the talented RED Inc. Communications staff. What doesn't always meet the eye is the work the RED Inc. staff performs behind the scenes each day to support INL's missions.
RED Inc. has supported INL for the past 13 years. Their graphic arts staff members work with the Graphics team within INL's Communications & Outreach organization and INL customers to produce many award-winning communications products. Through their business support services contract, they provide significant administrative support throughout the lab. RED Inc. staff can be seen embedded in many INL facilities, assisting with important projects throughout their lifespan. Additionally, the RED Inc. document control, records management and vendor data support contract provides a valuable labwide document management service.
The managed services contracts at INL are only the latest chapter in RED Inc.'s growth story, but the company has greatly expanded its capabilities since its founding in 1993. That year, Linda Keele and two others developed an idea for a small business. She was working for the lab as a technical writer dedicated to environmental restoration and waste management, and she saw a niche to provide quality support for accessible and understandable communications with stakeholders.
"We started in a room smaller than the average conference room here at the lab, with two desks, two computers, and no contracts," Keele said. "Developing this business has been a learning curve, but we have grown substantially in the past 27 years. I believe working with INL over the years has helped RED Inc. to diversify and grow into other markets."
As they've expanded in capabilities, they have also increased in size, going from three to 95 employees since 1993. The company provides support to INL as well as other national labs, like Sandia National Laboratories, Oak Ridge National Laboratory and the National Renewable Energy Laboratory. They also work with several other government agencies, including the Forest Service, National Park Service, Department of the Navy, Department of the Air Force, and Department of Veterans Affairs (VA). They offer graphic design support to the VA, including creation and maintenance of an 800-page website for their National Center for Post-Traumatic Stress Disorder.
In addition to the managed services they provide to the lab, RED Inc. offers technical publication development, 3D animation, podcast production, social media campaign support, web design and Content Management System (CMS) development, video production, and public involvement services.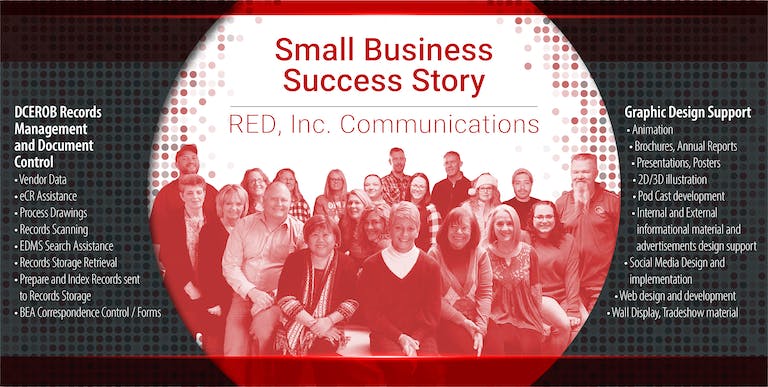 With a strong workforce, a multitude of vital capabilities and a positive reputation intact, Keele and the RED Inc. team have since focused on enhancing their excellence in their field. The company has developed several processes to streamline support activities at Department of Energy (DOE) labs and other government agencies. For example, they increased overall document production efficiency for the National Transportation Safety Board using Visual Basic programming to create electronic templates, which automate completion of certain document types.
For the RED Inc. staff, no two days on the job are alike. Their partnership with INL has been extremely beneficial for both organizations. According to Keele, INL has consistently shown respect to RED Inc. and their team, and she feels that RED Inc. in turn provides crucial support services that enable the lab to focus more keenly on its nationally important mission.
"Our partnership proves that INL's dedication and commitment to supporting small businesses pays off," Keele remarked. "We understand the importance of the lab and its role and know what it means to be able to meet the demands and deadlines associated with the work they do."
"We really enjoy working with the RED Inc. team," said INL graphic artists David Combs and Kris Burnham. "Without their consistent dedication and support, it would be difficult to complete such a high volume of quality communication content."
RED Inc. appreciates the recognition they have received from their INL customers. Their talent has not gone unnoticed, and the company, as well as its individual team members, have received several awards in the past five years. These include multiple Creative Summit and Communicator Awards, as well as the 2019 Small Business Administration Region 10 Subcontractor of the Year Award, for which INL nominated them.
"It's so gratifying to see our employees receive such high honors for their amazing work," Keele said. "With these awards, they're being recognized by not only their customers, but also their peers. They are competing with high-end design firms from across the nation, and they are consistently showcasing their amazing talent."
For Keele and Hudson, the people are the most important aspect of succeeding as a small business. "We have really exceptional people working here. They are always prepared for a lot of hard work and perseverance. We succeed because we never say no to a project, and we always find a way to get things done. That comes back to our amazing team of professionals. They are incredibly driven, and you have to have that drive to thrive as a small business."