Getting technology off the laboratory bench and into the real world is a challenge, but the right word from the right person at the right time can make a big difference.
Dr. Kevin Gering, a Distinguished Staff Scientist at Idaho National Laboratory, received an R&D 100 Award in 2014 for his Advanced Electrolyte Model (AEM), a computer simulation program designed to give fast information on properties of complex electrolyte formulations and how they can influence performance of batteries. Despite the much-coveted honor, however, AEM stayed relatively unknown until 2016, when Dr. Jeff Dahn of Dalhousie University in Halifax, Nova Scotia, discovered it.
In June that year, Dalhousie, Tesla Motors, and Canada's Natural Sciences and Engineering Research Council funded Dahn, as the industrial research chair, to develop lithium-ion batteries with longer lifetime, higher energy density and lower cost. Not long after that, he got wind of AEM. "I was very surprised by the existence of AEM and by the fact that I had not heard of its creator," he said.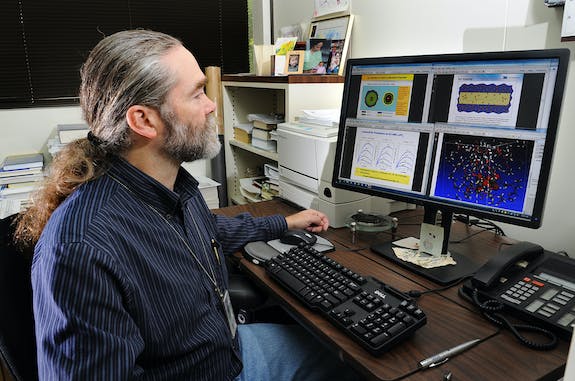 Dahn invited Gering to Dalhousie for a three-day visit in September 2016. He also obtained a license to use AEM for the university's battery research. After giving a seminar at Dalhousie, Gering went on to co-author several papers with Dahn and Dalhousie graduate student Eric Logan, including some in the Journal of the Electrochemical Society. Since then, INL has licensed AEM directly to two major automotive manufacturers, including Groupe Renault; Carnegie Mellon University; and a leading medical device manufacturer. Dow Chemical was an early adopter, and AEM has attracted the attention of other leading companies providing products to the battery supply chain.
"It kind of took that one domino to fall," Gering said.
Dahn said his first impression of Gering was that he was "somewhat of a hermit." While Gering is bemused by that description, he admits that developing the extensive foundational theories and subsequent code of AEM did require years of sustained focus — a lot like a monk, but for scientific knowledge. As for Dahn, Gering likens him to "one of the rock stars in electrochemistry."
"He's been a tremendous cheerleader and an enthusiastic champion," he said.
The heart of any battery is the electrolyte — salts and solvents responsible for transporting electrically charged ions from one electrode to another, creating a flow of electricity in the process. Different combinations deliver different results, and the results can be a lot different in a 4.2-volt battery than they are in a 5-volt battery.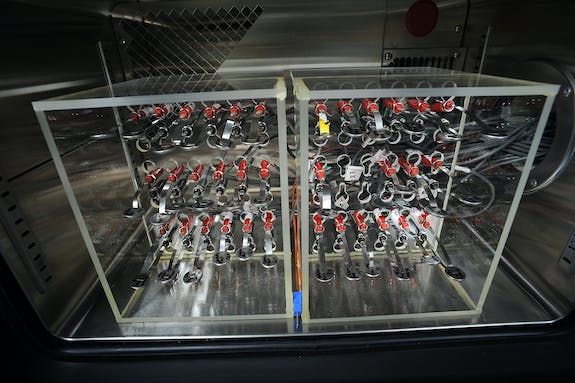 Laboratory testing of salt-solvent combinations is time-consuming and painstaking, especially considering properties such as ionic diffusivity and transference numbers. AEM offers a computer modeling program in which the desired properties are "measured" via accurate theoretical relationships, valid for wide ranges of temperature and composition.
In one sense, it is like having a virtual laboratory for genome-level electrolyte properties, Gering said. With 40 solvents, more than two-dozen salts, and the ability to vary temperature, it offers millions of combinations. "It allows them to match need with a plausible set of candidates," Gering said. "AEM helps them balance consequences for different choices of electrolytes."
The increased number of AEM licensees has offered the opportunity to meet the needs of industry, where continual technology growth and advancement is tightly tied to profitability. Along the way, Gering encounters common questions, such as whether the AEM can predict particular properties or whether other types of chemicals can be added to the AEM library.  These types of inquiries have helped Gering calibrate AEM to industrial priorities. It is an ongoing, dynamic process.
The advantage of the program is the accelerated speed at which new cell designs with new electrolytes can be developed. Gering said contributions from Dahn's group have been valuable for validating the model on new systems that represent frontline thinking in the battery industry.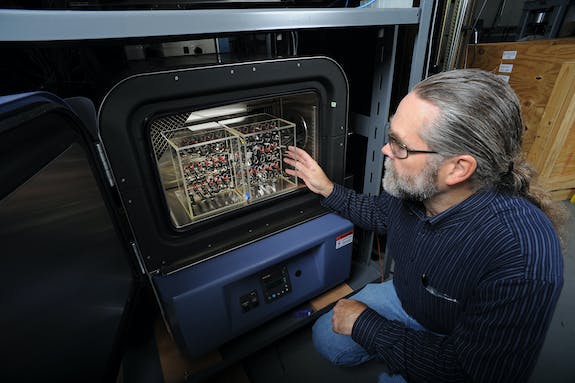 "There is no doubt that our interactions with Kevin have helped improve AEM's accuracy in many electrolyte systems," Dahn said. "At this point, AEM can instantly provide all the inputs required for physics-based modeling and simulations of li-ion cells."
To speed development of better li-ion batteries, both Gering and Dahn would like to see AEM adopted and widely used around the world. With enough different industrial users on board, Gering said, he would like to see users groups established, such as an industrial consortium.
There is no expectation that the demand for li-ion batteries is going to slow down. According to data compiled by Grand View Research, the global market for them is expected to reach $93.1 billion by 2025, with a compounded annual growth rate of 17 percent. "Although utility storage devices control majority of the lithium-ion market, it is projected that electric vehicles will take over that market in the coming years," the report said.
"In the corporate world, time is money," Gering said. "A product that can provide answers that would otherwise take six months of research saves millions. Getting a product to market quicker provides even more savings. AEM gives answers about a million times faster than density functional theory and molecular dynamics, and the answers are often more accurate and span more conditions."
For additional information about accessing AEM, contact Idaho National Laboratory Commercialization Manager Ryan Bills at ryan.bills@inl.gov.