When it comes to nuclear energy in the United States, the torch is being passed to a new generation, and with this comes the opportunity for a new conversation.
On June 15, Idaho National Laboratory hosted a Millennial Nuclear Caucus, the latest to be held across the country since October 2017. The majority of participants were young interns and researchers from the lab, but young people from across the community were invited to attend.
Millennials – people roughly between 18 and 35 years of age – represent a new mindset, said Suzanne Jaworowski, senior adviser for policy and communications in the U.S. Department of Energy's Office of Nuclear Energy. "They're a real important group of people to us," she said. "They tend to be very experiential in nature. They don't want to be told, they want to learn from experience."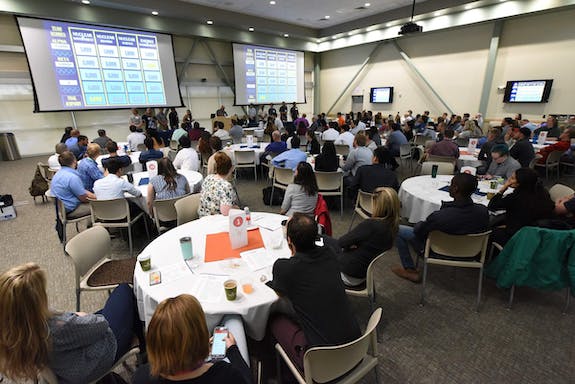 The experience DOE is seeking to create with the caucuses is an environment in which people can ask any question they want, she said. In addition to the INL caucus, the ninth since 2017, they have been held at Argonne National Laboratory, Purdue University, Texas A&M University, and General Atomics in San Diego. Another is scheduled for September in Seattle. It will be co-sponsored by the Nuclear Energy Institute with participation from NuScale and TerraPower, two Pacific Northwest companies developing small modular reactor designs that they hope to market worldwide.
U.S. Secretary of Energy Rick Perry has stated more than once that he aims to "make nuclear cool again." Speaking at the first Millennial Nuclear Caucus in Washington, D.C., in October 2017, he called the young people assembled there "young visionaries in the nuclear field." This is reflected in the hashtag #NuclearVisionary, intended for Tweets and Facebook posts and anything else that might enable the message to be shared through social media.
"The importance of their ideas and contributions to our future cannot be overstated," Perry said. "Millennials will shape our energy landscape for years to come, leading our country into the next generation of nuclear advancement and energy dominance."
The caucus in Idaho Falls started with welcoming remarks from DOE-Idaho Manager Rick Provencher and INL Director Mark Peters. Surveying the room at INL's Energy Innovation Laboratory, Peters said he has a lot of reasons to be optimistic. "In five years, I would love to stand up in front of the current lab and see this kind of diversity," he said.
The program then moved to a game of "Nuclear Jeopardy!" played by two five-person teams. Categories included "Nuclear in Government," "Nuclear in History," "Nuclear in Science" and "Energy & Environment."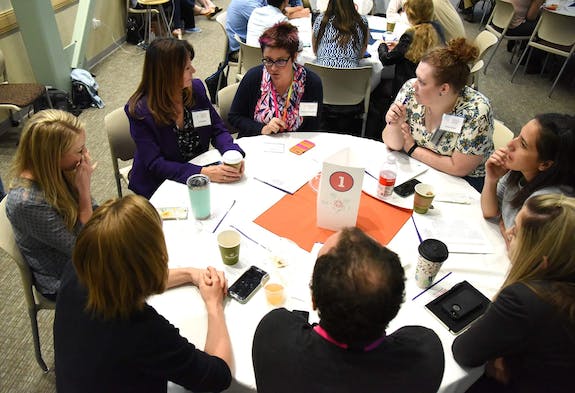 The next activity commenced following a break — speed networking — where participants were visited by 20 mentors circulating through the room, going from table to table. Some comments from participants included:
Ashley Rivera: "People like exciting, cool new things."
Andrew Turner: "One of the biggest problems is Hollywood."
Kody Shaw: "The amount of energy you get for what you put in is incredible."
Ryan Rydalch: "I don't think people understand why it's important."
Haresh Kansara: "We really want change. We feel like the environment has been trashed and we want to fix the mistakes."
Jaworowski said she is looking to the young people at the Millennial Nuclear Caucuses for answers to her own questions. "I ask them, 'What do you see as the future of nuclear? If you were in my position, what would anyone do to make that happen? What do you think is the best way to educate?'"
She is optimistic about the nuclear industry and the opportunities it has to offer young people who might want to pursue a career. "The stars have aligned right now for the U.S. nuclear industry," she said. "Nuclear has a really good story to tell."