There's nothing like adding a few hundred young people in the summer to bring life to a national laboratory, and at Idaho National Laboratory, internships are a good deal for everyone.
Researchers get help from bright young people who are eager to learn. Young people get new insights into science and engineering, and how to communicate their research effectively. Lastly, for a 70-year-old lab looking for a new generation of talent, internships are a lifeline to the future.
This summer, INL hosted 464 interns from 118 institutions. Ages ranged from high school through Ph.D. level, and 86 came from 29 countries, as far away as Australia. Approximately 30% of the 2019 class was female – still not a 50/50 split, but the largest number yet.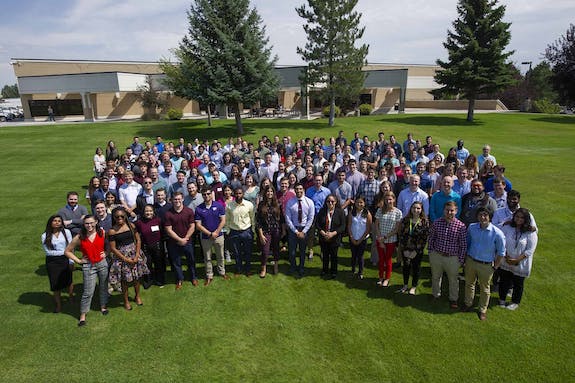 "This has been a fantastic group of students. What I really appreciate about them is that they aren't shy about asking questions and helping us all become better at what we do," said Michelle Thiel Bingham, director of INL's University Partnerships. "They're tenacious in the best possible way."
The season wrapped up Aug. 8 in its usual way, with the INL Intern Poster Session. Held this year at ISU's Bennion Student Union at University Place, the session gave more than 150 students the opportunity to present research they had done under the guidance of INL mentors.
"I really enjoyed working here," said Rachael McIntyre, a mechanical engineering student from University of Delaware who had two posters explaining the work she'd done for INL's Isabella van Rooyen. The first, on residual stress measurements, was done in conjunction with a commercial client. The second, Additive Manufacturing Process Concepts, concerned reactor vessel research for Westinghouse.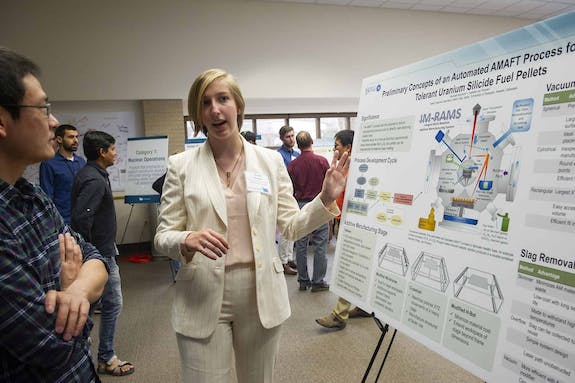 The work she did this summer was different from the project description she'd received in February, but McIntyre said it was challenging and rewarding. Perhaps most importantly, she has had an abstract accepted for The Minerals, Metals & Materials Society (TMS) 2020 conference in San Diego next February. Now in its 149th year, TMS' annual meeting is an event that brings together more than 4,000 engineers, scientists, professionals and business leaders in the minerals, metals, and materials fields. For McIntyre, this will be her first conference presentation.
Likewise, Ember Sikorski, a second-year intern pursuing a materials science doctorate at Boise State University, has had her first article accepted, in the Journal of Nuclear Materials. Studying under Richard Skifton, Sikorski has been modeling thermocouple voltages, and her INL research allowed her to validate simulations with actual experience.
"You feel very disconnected with your work until you see it's real," said Stuti Surani, a nuclear engineering student from University of Illinois Urbana-Champaign, studying for the summer under David Chichester. Surani focused on working with a multisphere neutron detector. "The experience of working in the lab was very different from school," she said. She plans to continue her research in Illinois, taking home a taste for huckleberries and ice cream from Reed's Dairy.
Reed Herner, from Georgia Tech, got to spend his summer delving into the intricacies of Monte Carlo simulation codes. He was part of a nine-person team under Brad Kirkwood of the Center for Space Nuclear Research whose task was optimizing plutonium-238 as an energy source for radioisotope thermoelectric generators on unmanned spacecraft.
"There was lots of trial and error, and a big learning curve at the beginning," he said.
"These kids worked really well as a team. We were quite proud of them," Kirkwood said. "We gave them a very difficult challenge involving finite element modeling, and they did it in 10 weeks."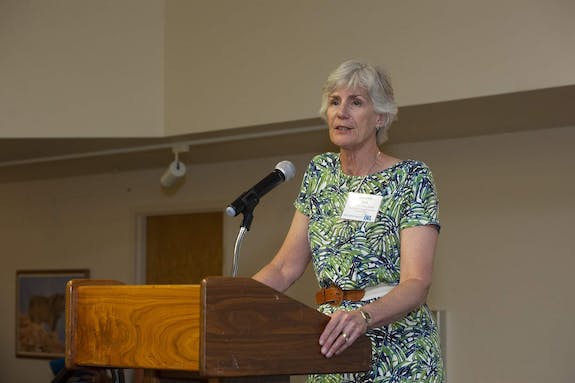 In place of posters, a few interns presented their research using infographics. Cole Branter, a recent graduate of Hillcrest High School, took honors with his, an automatic interactive dashboard using Power BI, a Microsoft business analytics service. Branter worked under Michael Cannon of INL's Information Management directorate.
"Coming in, I didn't feel like I belonged," he said. It took about three weeks to find his feet and he credits his mentors with helping him every step of the way. "Everyone has been so welcoming and inclusive," he said.
Overall, INL researchers have great respect for the interns who come to do the work. Lori Braase of the Gateway for Accelerated Innovation in Nuclear had this to say about Ihsan Yuksel, a Texas A&M University student assigned to her: "(He) is amazing because he brings a perspective to his work and research that has positively impacted the way that we are approaching our projects. He has responded with smart questions and suggestions that have added substance and nuance to our work."
Mike Griffel, agricultural research analyst in INL's Biofuels and Renewable Energy Technology Office, said his intern, Roger Boza, "has made great contributions to our project. The team enjoys working with him as he is self-motivated and provides novel solutions. In many ways, I have learned as much from Roger as he has from me."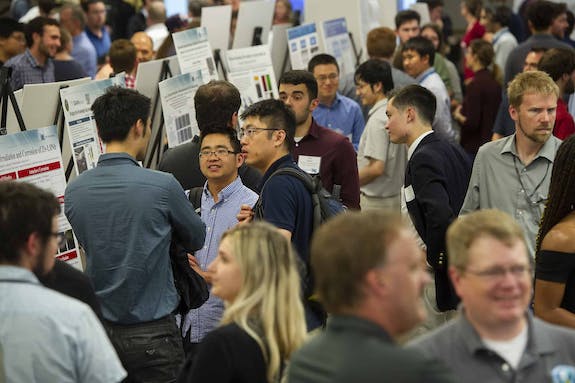 While they are here, interns are encouraged to explore the wonders of the West on their weekends. "I love hearing of students hiking in Yellowstone and traveling out to Redfish Lake and enjoying all that our area has to offer," said Ali Josephson, University Partnerships Student Programs lead. McIntyre enjoyed trips to Yellowstone, Zion and Arches national parks, plus a 20-mile backpacking trip in Alaska Basin and the Teton Range.
Two young men from the South, Andrew Bracking of Nashville and Samuel Bates of Birmingham, both students at Mississippi State University, got a lesson in mountaineering in June when they set out to climb Mount Washburn in Yellowstone National Park.
"We have some hills in the South. We call them mountains, but they aren't," said Bates.
About a half-mile into their hike, the pair came across their first snowfield. Walking along a snow-covered ridge, Bates realized the tennis shoes he was wearing were probably not the best shoes for the trip. Nevertheless, they made the 10,233-foot summit and caught the panoramic view from the lookout tower.
"We made it out, so it was good," Bracking said.
The following awards were given during the Aug. 8 program:
NUCLEAR OPERATIONS BEST POSTER AWARD
Winner: Jadallah Zouabe
Poster Submission: Modeling a Fan Failure Using RELAP5
Zouabe is a SULI (DOE Science Undergraduate Laboratory Internship) student earning a bachelor's in chemical engineering at the University of California, Berkeley. His mentor is Donna Post Guillen and his manager is Gabriel Ilevbare.
First runner-up: Abigail Eastman
Eastman is earning a bachelor's in health physics from Idaho State University. Her mentor is Seth Kanter and her manager is Cheré Morgan.
NUCLEAR RESEARCH AND EXPERIMENTS BEST POSTER AWARD
Winner: Florian Passelaigue
Poster Submission: Implementation of the Hydrogen Nucleation-Growth-Dissolution model in BISON
Passelaigue is earning a master's in nuclear materials at The Pennsylvania State University. His mentor is Giovanni Pastore and his manager is Jason Hales.
First runner-up: Logan Harbour
Harbour is earning his Ph.D. in nuclear engineering from Texas A&M University. His mentor is Derek Gaston and his manager is Richard Martineau.
CLEAN ENERGY DEVELOPMENT BEST POSTER AWARD
Winner: Tamara Barbakova 
Poster Submission: Exploring sporulation's role in S. mesophilum's response to REE
Barbakova  is earned her bachelor's with a dual concentration in biochemistry and law of environmental sustainability at Baruch College-The City University of New York (CUNY). Her mentor is Yoshiko Fujita and her manager is Frederick Stewart.
First runner-up: Samuel Bates
Bates is earning his bachelor's in mechanical engineering at Mississippi State University. His mentor is Richard Boardman and his manager is Richard Hess.
CRITICAL INFRASTRUCTURE AND CYBERSECURITY BEST POSTER AWARD
Winner: Lisa Swartz 
Poster submission: Electric Grid Resiliency Metric
Swartz  is a SULI (DOE Science Undergraduate Laboratory Internship) student earning her bachelor's degree in physical sciences/physics at California Polytechnic State University-San Luis Obispo. Her mentor is Jake Gentle and her manager is Scott McBride.
First runner-up: Michael Madsen
Madsen is earning his master's in computer science at University of Idaho. His mentor is Darren Stephens and his manager is Thomas Anderson.
INL BUSINESS, COMMUNICATION, AND SUPPORT OPERATIONS BEST POSTER AWARD
Winner: Adrienne Petrovic
Poster submission: STEM Ecosystem
Petrovic is earning a bachelor's degree in secondary education/educational studies at Idaho State University. Her mentor is Jennifer Jackson and her manager is Kortny Rolston-Duce.
First runner-up: Xingyue Yang
Yang is earning a master's in geographic information systems at Idaho State University. Her mentor is John Koudelka and her manager is Tammie Borders.
BEST INFORMATIONAL GRAPHIC (INFOGRAPHIC)
Winner: Cole Branter 
Infographic submission: Creating and Automating an Interactive Dashboard
Branter is a high school intern who recently graduated from Hillcrest High School. His mentor is Michael Cannon and his manager is Justin Summers.
First runner-up: Rajiv Khadka
Khadka is earning a Ph.D. in engineering and applied science at University of Wyoming. His mentor is John Koudelka and his manager is Tammie Borders.
BEST TECHNICAL PRESENTATION
Winner: Elizabeth Worsham
Presentation title: Flexible Design for Steam Generation in an SMR Module
Worsham is earning her Ph.D. in nuclear engineering at North Carolina State University. Her mentor is Shannon Bragg-Sitton and her manager is Youssef Ballout.
First runner-up: Kofi Oware Sarfo
Oware Sarfo is earning a Ph.D. in chemical engineering from Oregon State University. His mentor is Yongfeng Zhang and his manager is Jason Hales.
MENTOR OF THE YEAR
Winner: Phil Erickson, ATR Complex Plant & Project Engineering organization
This year's Mentor of the Year winner is someone who not only takes an active role in his mentorship of students but also makes sure they feel welcome and part of the team. Erickson is a mentor to all students he comes into contact with and he engages his students in meaningful work. He goes above and beyond to make sure his students are challenged and enjoying their experience. Interns described Erickson as someone who gives them "very interesting individual projects, as well as being helpful in teaching us and giving us plenty of other opportunities to learn." "Phil is an incredibly passionate teacher. You can tell he genuinely enjoys mentoring students and has a wealth of knowledge to share from many decades in industry." "Phil is kind, but practical. He tells it to his students straight and does an excellent job of preparing them for life after college."
First runner-up: Krista Harris, Performance Assurance organization
Krista Harris went above and beyond for their interns. She consistently made sure her students were kept busy, but also made sure to introduce them to as many people as possible at the laboratory. She was committed to seeing that her students had the best experience she could offer. Their interns described Harris as "insanely busy" yet "still managed to not only make time for her interns every day but made us feel important." Harris "continued to meet with us to ensure we are not only enjoying our time, but that our time here is meaningful and worthwhile to our futures. She has made this a great summer, and I would highly recommend her to continue working as a mentor in the future."
Click here to view the full album of photos from the Intern Poster Session.