When it came time to craft a technology to talk about in the Center for Advanced Energy Studies (CAES) Annual Pitch Event, Idaho National Laboratory Visualization Researcher Xingyue Yang's thoughts turned to stories from California about the fires raging there.
Pitching a proposal to use data from unmanned aerial vehicles and heat sensors to create enhanced visualizations for firefighter training, Yang took first place in the competition: $1,500, plus valuable training in how to present to a panel of highly discriminating judges.
Also known as "Baby Shark Tank" (a reference to the TV show on which entrepreneurs try to sign up investors), the competition was a first for CAES, the research, education and innovation consortium that consists of INL, Boise State University, Idaho State University, University of Idaho and University of Wyoming. The finals took place Sept. 24 on gotowebinar.com.
The winning pitch
Yang said developing her idea was easy compared to delivering her five-minute pitch to the five judges: Dr. Marianne Walck, INL deputy laboratory director for Science and Technology and chief research officer; Dr. Donna Lybecker, ISU acting vice president for Research and Economic Development; Corey McDaniel, INL Industry Engagement director and chief commercial officer; Nicolas Miller, executive director of the Venture College at Boise State University; and Nick Crabbs, co-chair of Boise Startup Week and Founding member of VYNYL. She credits John Koudelka, who leads the Applied Visualization Lab, and her colleague Rajiv Khadka with encouraging and coaching her for the win.
Before coming to INL in June this year, Yang was a student at Idaho State University, where she earned a master's in geography and cartography. Still a Pocatello resident, she is no stranger to fires in her own backyard, such as the one in the Gibson Jack area that destroyed a fire engine in early September.
"I had a few ideas, but there are so many wildfires I thought this would be something that could save money and save lives," she said.
Sublime Sensors and Wireless Charging Safety
The competition was open to everyone in the CAES community, with all levels of ideas welcome, from early-stage concepts to investment-ready research. Thirty-three contestants registered – at least one registrant from each CAES entity – and were offered access to training via CO*STAR and Rapid Idea Improvement Session methods. Ten finalists were selected from that field.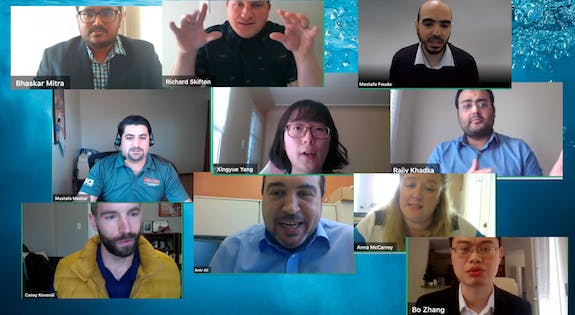 "It was CAES' first time doing this, and I thought it was really well done," said Richard Skifton, whose pitch for his Sublime Temperature Sensor won him second place and $1,000. Skifton, a researcher in INL's High Temperature Test Laboratory, says his sensor has the potential to change how temperatures are measured in everything from nuclear reactors to pizza ovens.
Right now, thermocouples are stationary and can only measure the temperature where they are placed. The sublime temperature sensor consists of a glass tube that can be filled with different gases. Sublimation of the gas in the tube leaves a mark showing where a certain temperature exists.
If the Baby Shark Tank's purpose had been solely to judge technology on its merit, Skifton thinks he would have taken first place. But it was a pitch competition. "We were graded on presentation, not the neatness of the technology," he said. Still, he was happy to have won the People's Choice Award, which netted him an extra $500.
Third place went to Bo Zhang, a researcher in INL's Electric Vehicle Infrastructure Laboratory, whose presentation involved an electromagnetic shield for wireless charging devices. Although wireless charging eliminates the need for heavy charging cables and can reduce charging times, electromagnetic field safety can become an issue when power levels exceed 200 kW. For the competition, Zhang sought to practice a pitch that can be taken to auto companies such as Nissan and BMW, also equipment manufacturers.
Pitch and promotion training
The idea of helping researchers learn how to promote their innovations and inventions to potential partners in the commercial sector is a long-standing tradition in the Department of Energy's national labs. Skifton himself participated in Cohort 7 of Energy I-Corps, a seven-week program in which researchers are paired with professionals to learn about customer discovery and industry engagement.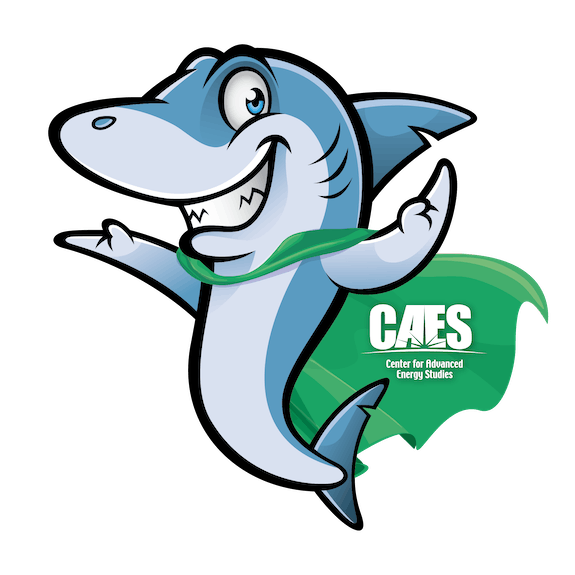 The goal of this year's CAES Annual Pitch Event/Baby Shark Tank event was to teach the participants how to convince others – funding agencies, potential industry partners or even investors – to take action in support of an idea.
From where he was sitting as a judge, INL's Corey McDaniel was impressed with all the presentations.
"Learning to communicate your idea in five to 10 minutes is very helpful," he said. "They looked like they'd all been well-rehearsed. They hit their time limits right on."
McDaniel said he'd judged a similar contest at Canadian Nuclear Laboratories, where he was chief commercial officer for science and technology. "I think it's a good thing for researchers. It's something a little bit different and challenges the researchers to look at things in a different way."
Behind the scenes: Collaboration among competitors

Even though there was prize money involved in the CAES Annual Pitch Event, one of the goals of the "Baby Shark Tank" was to promote an atmosphere of collaboration rather than competition.

CAES, after all, was formed to harness the power of collaboration, to leverage its collective resources and to solve challenges. Nowhere was this more evident than at the Rapid Idea Improvement Sessions that were part of the training required of the competitors, said Natalie Summers, one of the facilitators. "Each person pitching had to help another person who was pitching," she said. To critique their competitor-colleagues' pitches, each person was given a part to role-play. One participant was selected to react as a fan, providing support and encouragement. A second would be chosen as a builder, offering suggestions. Another was tapped as a customer or end user, asking "How is this going to help me?" And the last would play the role of a potential sponsor, investor or partner.

The end result was pitches that were concise, to the point and comprehensive. "It was fun to watch," Summers said. "I've never seen competitors work together like they were when we did this."