Many students get bogged down in what Jared Gee, a teacher at Sugar-Salem High School, calls the "single mindset" to problem solving: Find the answer, turn in the assignment. But, Gee notes, "that doesn't match up with what the real world requires."
The answer might come out to be a clean integer when experimenting in a controlled lab, but it is often a little messier in the field. For instance, when his students created miniature solar-powered cars, they didn't think of how half the car would be in the shade because of the sun's angle. The panel that remained shaded couldn't generate power, and the car sputtered. It took some brainstorming and a few wiring tweaks, but the students' willingness to tinker and try new solutions eventually saw the car up and running.
The science, technology, engineering and math (STEM) mindset to approaching these issues, involving a trial-and-error approach, is one that Gee and other educators know is crucial to creating critical thinkers — and Idaho National Laboratory is helping instill that mindset in students by providing schools around the state with grant money aimed at broadening hands-on learning experiences.
"One of our main goals is to inspire Idaho's future STEM workforce," said Jennifer Jackson, INL's K-12 Education Enrichment Programs manager. "This involves much more than just curriculum — it really depends on encouraging students to hone in skills like problem-solving and creativity."
'It clicks for them, and they get motivated'
Sugar-Salem, where Gee teaches, won INL's first STEM Impact grant, which awards $15,000 to one school each year. Sugar-Salem used it to purchase equipment to expand experiential learning and materials for class projects, such as the solar car project. Other activities include a project to measure soil moisture data to track differences across large fields, and even a 3D printer to create contoured maps to study water runoff patterns.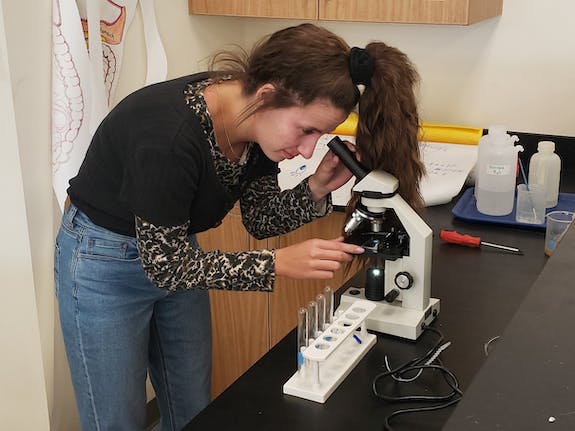 Gee said the INL grant helps students get outside the classroom and see how their hypotheses fare when put to the test.
"That's been the biggest impact," Gee said. "The students are like, 'We've got so many ways to do something. We're gonna do everything we can to address the programs.'"
But getting there isn't easy, Gee said. By high school, many students have decided whether they are good at math or other STEM subjects. Gee tries to frame it differently when recruiting students to his physics class.
"The reason engineers are good at math is because they do it a lot," he said. "Once they realize they can eventually do it, it clicks for them and they actually get motivated to do it. That's once they get past the notion that only really smart people can do math, when in actuality, the people who do it are the people who want to do it."
The next experts
At Mountain Academy of Teton Science Schools, teachers try to help students envision how they can use technology to support projects they're working on. The school bought a 3D printer through an INL STEM grant last year, and it now has older, more experienced students help teach younger students how to measure twice and print once.
The school's curriculum focuses on project-based learning, through which students independently investigate ideas during in-depth projects. Teachers act as facilitators, but these projects are mostly student driven. Elle Shafer, associate head of the School of Mountain Academy of Teton Science Schools, says this environment helps the school build up its older students as experts and create a pipeline of students with the STEM mindset.
"We strive to support our students to be the experts in the field and to help students on our campus — or the campus in Jackson, Wyoming — to use technology in their projects," Shafer said. "Exposing these students to the idea of technology as a tool for learning is so important."
A course called "Maker" that the school created after buying the 3D printer allows students to study one topic in depth over the course of three months. In one example, students took their project work focused on the history of technology and ran with the concept in many directions, ranging from the origins of the computer to studying how water bottles are created.
"On our campus, we have a number of computers and other technology, but we don't necessarily have other sorts of technologies that people can use like the 3D printer," Shafer said. "It just opens up another realm of possibility to use technology to enhance education."
'Widening our effect'
Idaho State University hosts annual summer STEM camps to engage educators, students and parents in emerging technologies and other STEM concepts. A week before students visit the camp, K-12 educators attend a weeklong workshop where technical instructors teach them how to use emerging technology such as vex robots, which are modular robots that some schools are using to introduce students to robotics.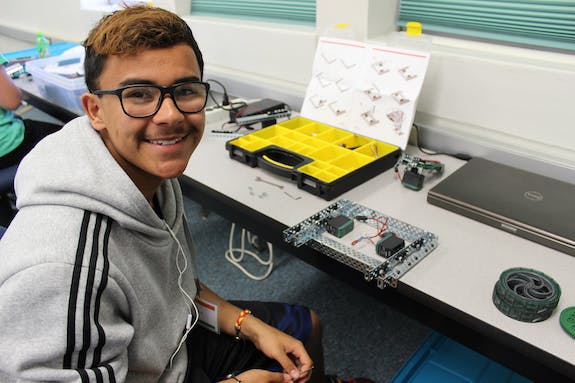 Ryan Pitcher, an ISU instructor who organizes the camp, says providing this knowledge to students and teachers ensures it is passed on to students who can't attend.
"These educators can go back to their schools and incorporate the technology into their class curriculums," he said. "That teacher goes out, and they can teach hundreds of students. It's widening our secondary effect."
More than 300 people attended the 2019 summer camp, an attendance rate helped in part by an INL grant that subsidized costs for students to attend, and also aided by bringing in more technical experts to teach the concepts to K-12 teachers. In addition to expanding K-12 teachers' technical skills, Pitcher said the grant helped broaden ISU's community reach by introducing parents to the STEM-related programs the university has.
"The grant made it possible for K-12 students to participate in a camp that would have otherwise been economically unfeasible for a lot of them," Pitcher said.
'Get them interested'
Thunder Ridge High School, built in Ammon in 2018, was outfitted upon construction with a technology lab filled with 3D printers, 3D image scanners and computers with design software, all of which an INL grant helped pay for.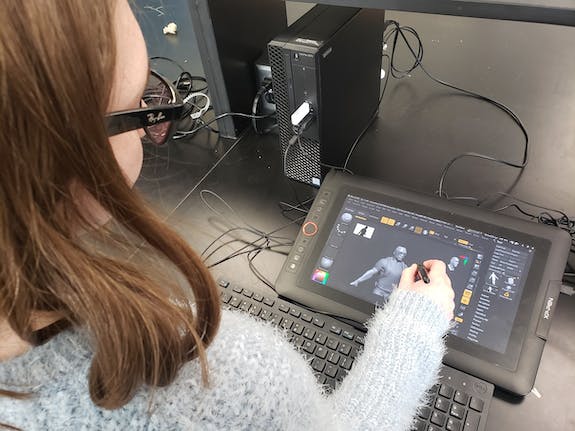 Though that lab is physically located in the high school, the teachers who run it mostly work with sixth graders. And though technology rapidly changes, Thunder Ridge teacher Darren Guthrie said the teachers focus on instilling interest in students.
"We like to let the kids do discovery learning," he said." You can listen to a lecture all day. But when you get into a project, it can fail. And you can learn a lot from that."
The lab involves an interdisciplinary focus on historical periods and their technologies. During one section, students learned about the exploration Vikings did and then had to design and build boats similar to the long, narrow design Vikings used. Students had to fine-tune the design of the sails to generate enough lift to sail and make sure the bows and sterns of their boats had the right pitch.
"They learned the principle of engineering through something they can relate to," Guthrie said.
These relatable topics help instill a long-term interest in younger students engaging with STEM-related topics by introducing them early in their education. But even with all the new technology, the Thunder Ridge lab can't expect to keep up with the rapid advancements that are bound to keep coming. Instead, Guthrie said, its focus is on getting students interested early and giving them the STEM mindset.
"We can't give presentations on all the emerging technology each month to our students," he said. "But what we can do is get them interested. And it's really hard to teach a kid who has no interest."