At Temple View Elementary School, Tena Runcorn's second-grade class comes in from recess and heads straight into the school's new science lab.
This room, officially designated the "INL Science Lab," is much more than meets the eye. It is additional classroom space for all of the school's teachers and students, of course, but perhaps even more importantly, it is also a critical aspect of Temple View's new science, technology, engineering and math (STEM) school accreditation.
After STEM School Designation language was passed into law during the 2017 Idaho legislative session, many schools set a goal of reaching this certification. Temple View was the first public school in Idaho to successfully achieve it, and was designated in November 2018. It remains the only fully public STEM elementary school statewide.
Achieving this designation requires more than simply offering students science and math classes. The Idaho state board of education awards STEM school designations annually, and only to schools that meet a specific set of criteria—including eight individual evaluation points—when they are evaluated by a separate nonprofit accreditation organization.
At Temple View, this science lab was a crucial aspect to successfully meeting the evaluation criteria.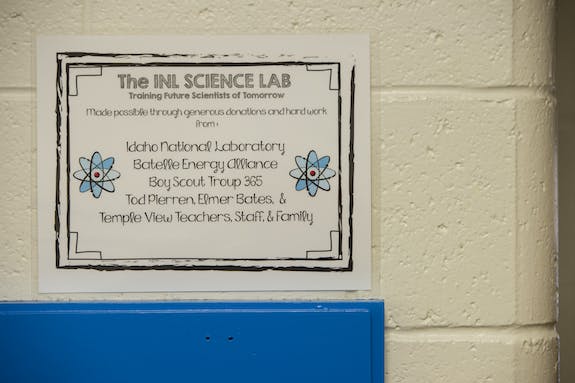 "Having this STEM lab was essential for receiving our STEM accreditation," says principal Sarah Childers. "It also is a great resource for our teachers and students. It allows us to have a place where resources are housed and accessible to everyone, and it prepares students for a real-world lab experience."
The room is used by each of the students at Temple View at least once a week, serving students from kindergarten through sixth grade. Some of the older students even use the room daily. The room provides extra learning space, including lab tables and wall-to-wall whiteboards, and the STEM learning experience does not stop there.
Full length cabinets line one wall. Built and installed by volunteer members of the community during the summer of 2018, they contain bins of supplies, robotics equipment and other hands-on learning opportunities. The room has been updated to include plumbing, also installed by a volunteer, so that the students have access to a sink. This community involvement was vital to completing the room in time for the 2018-2019 school year, and is also a major tenant of the STEM School designation.
In one corner, a library is full of children's books on STEM subjects. Posters line the walls, outlining the scientific method and different STEAM (science, technology, engineering, art and math) career paths. There is a volcano model, an aquarium, a model of the solar system and one of the human skeleton.
"This space makes a difference in what the teachers are able to do," said Runcorn, who wrote the $7,000 grant that Idaho National Laboratory provided the school on behalf of its operator Battelle Energy Alliance. This grant money, along with support from Boy Scout Troop 365 and several members of the community, was the main support for the completion of the science lab.
Equally important to Temple View's STEM School designation is what happens inside this room.
"'STEM instruction' means multidisciplinary science, technology, engineering and mathematics instruction," according to Idaho Statute Title 33, Chapter 47, which outlines the STEM school designation criteria. It goes on to state, "to be eligible to apply for a STEM designation, the school must meet the standards […] including: adopt a plan of STEM implementation that includes, but is not limited to, how the school integrates proven best practices into non-STEM courses and practices."
Put more simply: no longer does STEM education stop in science and math classrooms. At schools like Temple View, STEM education is incorporated into other disciplines and lessons whenever possible.
Take Runcorn's second grade class's pollination unit, for example. Before the lesson starts, the students have a refresher of what they learned in the last lesson, gathering together to name the parts of the flower drawn onto the classroom whiteboard. Students take turns spelling the words themselves, sounding them out as they go.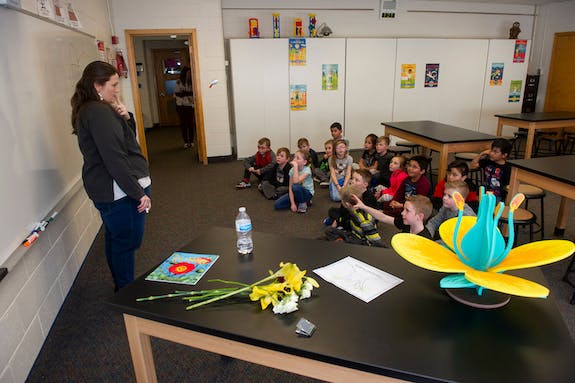 Then, the hands-on portion of the lesson begins. The students break into small groups, and begin carefully pulling apart real flowers, identifying not only the leaves and petals, but also the stamen, pistil, and pollen. They peer at the delicate plants through the lenses of colorful magnifying glasses. At the end of their lab time, the students carefully save the stamen and pistil of their flowers for future examination with a microscope.
And the lesson continues with language arts: each student keeps a "parts of the flower" journal, where they write about their discoveries.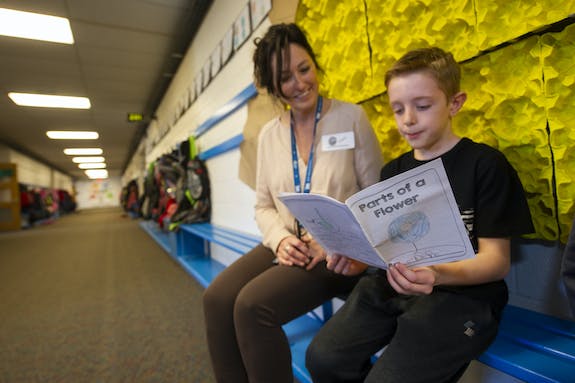 "We get to come to the lab every other week," one of the students says. "We do a lot of science in our class."
Every student at the school is exposed to similar cross-disciplinary STEM integration. In the main entry hallway, a whiteboard poses a question for students that changes weekly. This week, it is: "How is reading related to STEM?"
Students have already begun to write their own answers. Emma, third grade, says, "you can read about STEM!" "Read directions," another student answers. Olivia has written, "by learning what it is!"
"I am so proud of the Temple View teachers, principal and school community for their hard work and dedication to becoming a STEM school. That hard work is showing great dividends as students ask high-level questions and become creative problem-solvers—they are thinking like scientists!" said Jennifer Jackson, INL's K-12 STEM Program Manager.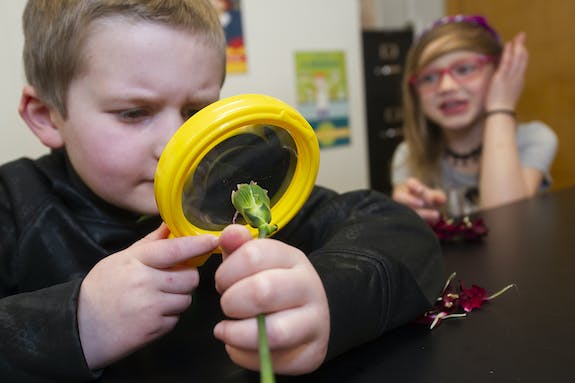 INL continues to support STEM education at Temple View beyond this initial grant. In April, more than 200 Temple View students and their parents and family members attended a family STEM night, where INL staff was present to help with hands-on STEM activities and pique student interest in STEM subjects. A subsequent grant was also provided to the school to support the development of a K-6 grade robotics program.
INL has long recognized that educating students in STEM subjects is an important part of its mission. Not only does it help Idaho communities, but STEM outreach activities and grants like the one provided to Temple View also help educate a future STEM workforce, which INL and similar businesses are in dire need of.
"Our grant program gives a hand up to teachers so they have the tools to help inspire our kids and spark their curiosity about the idea of maybe one day being a scientist of engineer," said Amy Lientz, director of Stakeholder and Education Partnerships. "Getting students excited by STEM is critical to the future of INL, Idaho and the nation as a whole."