When it comes to getting young people interested in science, technology, engineering and mathematics (commonly known as STEM), there is a lot to be said for making them say, "Wow!"
"We've got to do something now," said Anne Seifert, who heads Idaho National Laboratory's STEM Education Outreach work. "The research we have says third grade is the make-or-break year. That if you don't have their attention, you're going to lose them."
Judging by the level of enthusiasm at INL's second Family Nuclear Science Night, getting anyone's attention was not a problem. Close to 300 students and parents turned out for the event, which was held Oct. 18 at the INL Meeting Center in the Energy Innovation Laboratory building. From chemistry to physics to an actual magic show, the "Wow!" factor was in full force.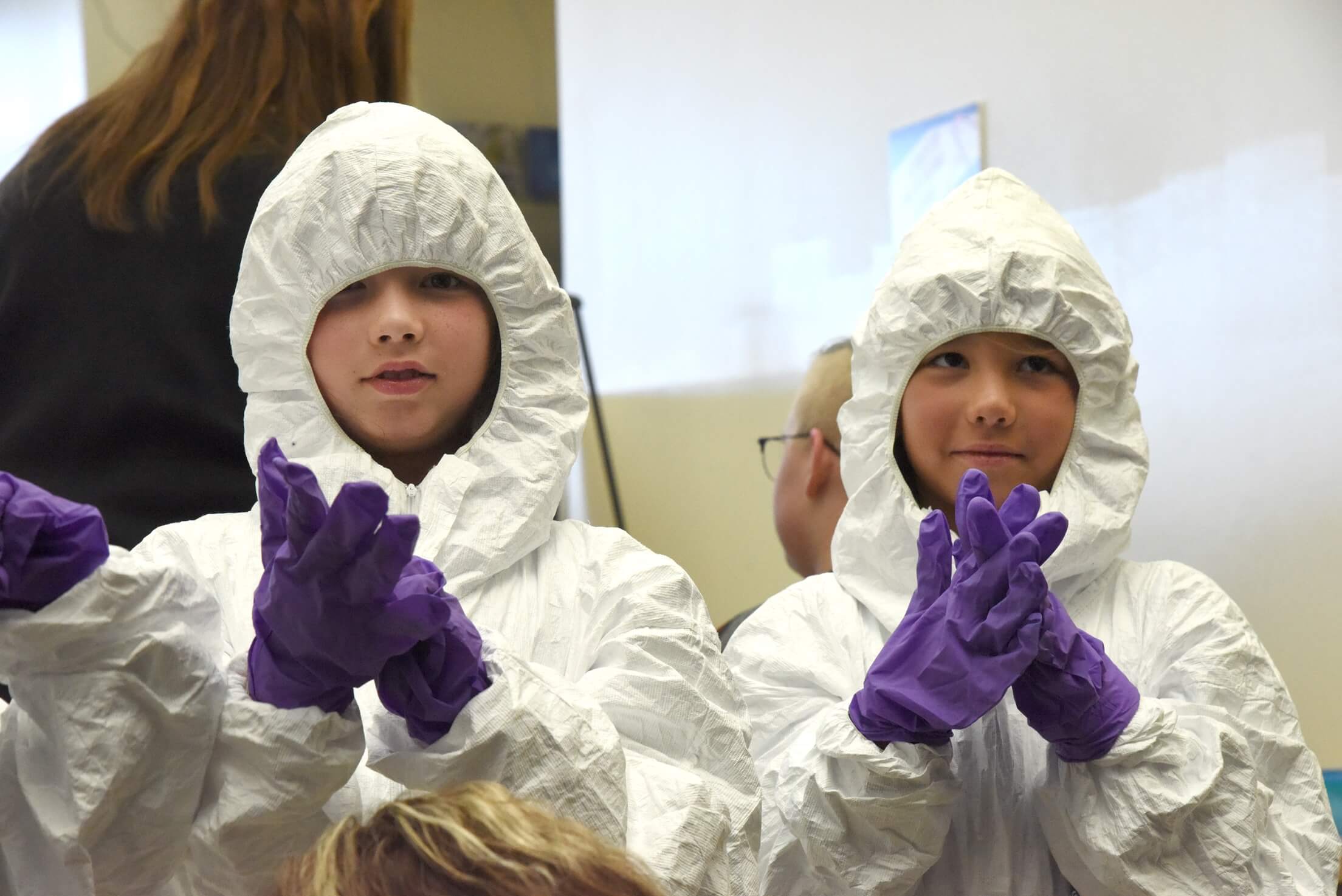 The event was held as part of Nuclear Science Week, a nationwide effort to help people understand the importance of nuclear energy in society. Delivering the welcome, Dr. John Wagner, INL's associate director for Nuclear Science and Technology, noted that a pellet of uranium has as much energy as a ton of coal. While 20 percent of the United States' electricity comes from nuclear power plants, they are responsible for 70 percent of the nation's carbon-free power generation.
Perhaps the adults appreciated the message, but at the tables, it was the things that fizzed and went pop that got the biggest reactions.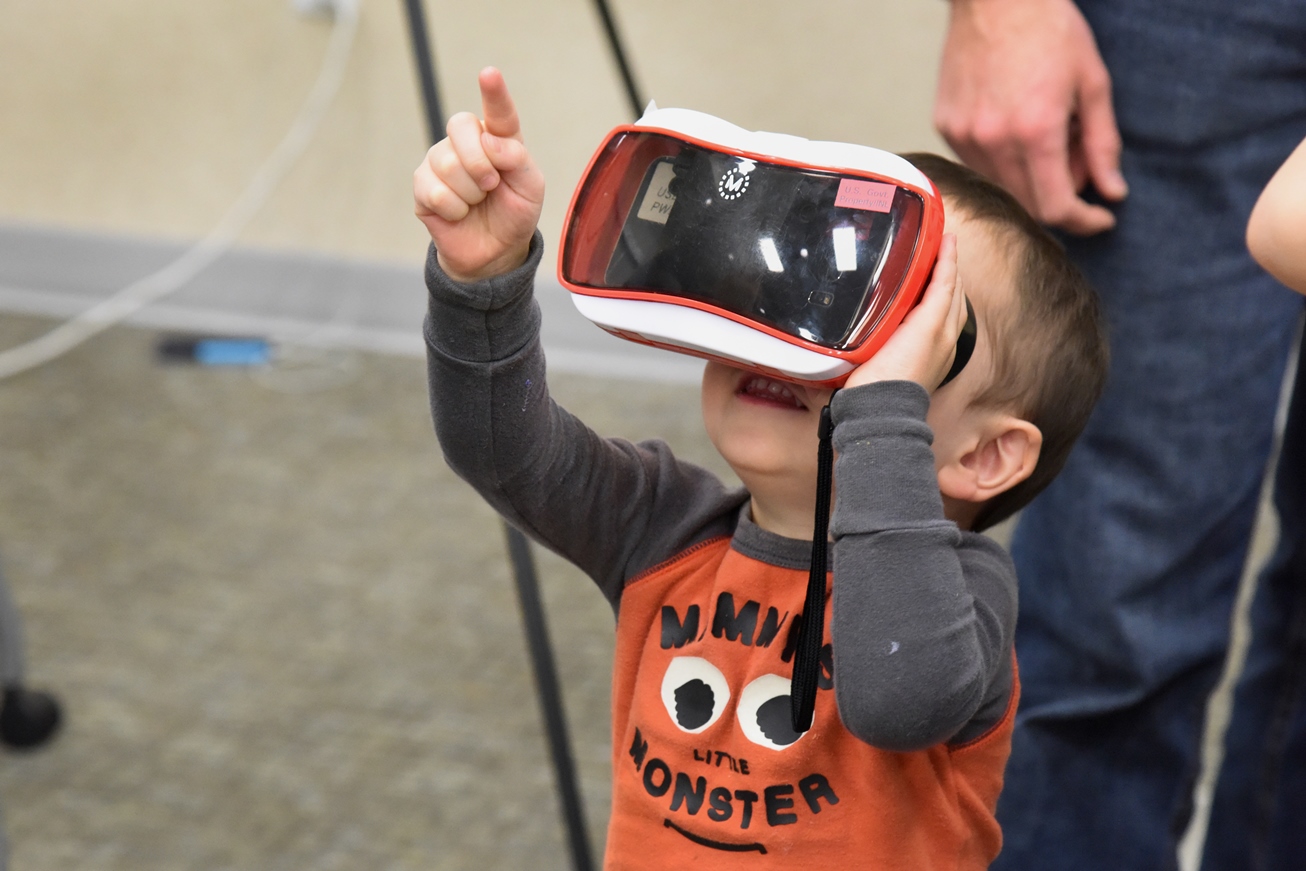 "I love that trick!" said Raimee Black, a second grader from Sunnyside Elementary School, reacting to Dr. Catherine Riddle setting off one of her "poppers." The attraction was created by dropping a small paper wad filled with baking soda into a plastic film canister half-filled with vinegar, snapping the top shut and waiting five seconds for the resulting eruption.
Raimee came with her grandfather, Dave Black, a programmer for INL, who was happy to expose her to the fun to be experienced. "She already loves science, so we might as well capitalize on it," he said.
Arguably, nobody in the room was having more fun than Riddle, who was dressed as Abby from the TV show "NCIS" for the occasion. Riddle can (and will) tell you why a geyser happens when you drop Mentos into a two-liter bottle of 7-Up. She can explain the physics involved in a hologram dish.
"Some of this stuff I just test in my backyard," she said. "Everybody understands explosions." On a more serious note, she wants even the youngest kids to realize what opportunities are available, that the work is worth doing.
"I have five patents and four pending," Riddle told Raimee. "I'm an inventor, and you can be one too!"
This year's Family Nuclear Science Night had 30 stations, featuring everything from virtual reality headsets to a table where you could "split your own atom" (actually a blob of vegetable oil in a solution of isopropyl alcohol and water). In one of the classrooms, which had been converted to a "cloud chamber," participants used dry ice and alcohol to craft an inexpensive homemade particle detector, learning about alpha, beta and gamma radiation in the process.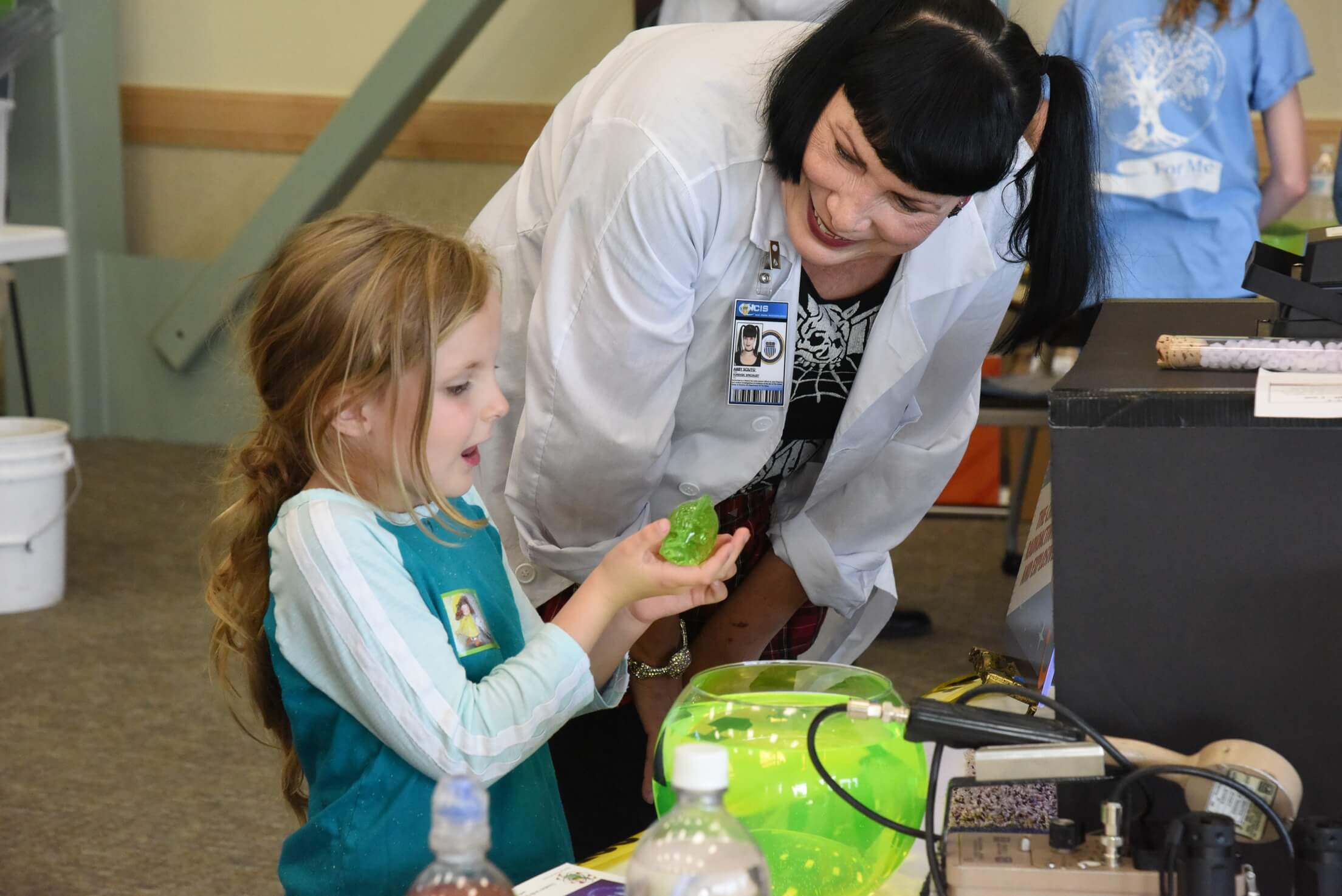 In addition to INL researchers, the event was "hosted" by past luminaries of nuclear research and engineering such as Albert Einstein, Marie Curie, Walter Zinn and Admiral Hyman Rickover – as portrayed by students from Rebecca Beck's Skyline High School dramatic arts class.
"It's a lot more exciting here," said Paul Talbot, an INL computational scientist who had his sons, William and Gabe, in tow. "Plus, it's a good break for mom."
"I'm learning lots of things here," said Jason Flannery, who brought his daughter Alisabeth, a fifth-grader at Alturas Academy in Idaho Falls. "I didn't know colors had different densities," he said, watching his daughter at the chromatography table.
One of the demonstrations was Mike McKellar's magic show, which featured such sleight-of-hand standbys as card tricks, interlocking rings and ropes that change in length. Now retired and teaching for University of Idaho in Idaho Falls, McKellar got interested in magic at age 6, long before he became a researcher and inventor. He fooled his first adult with a card trick when he was 10.
Magic and science are not that different when you consider the mystery and awe and the feelings they inspire, McKellar explained. "A young person sees something and says, 'I gotta know how to do that!'" he said.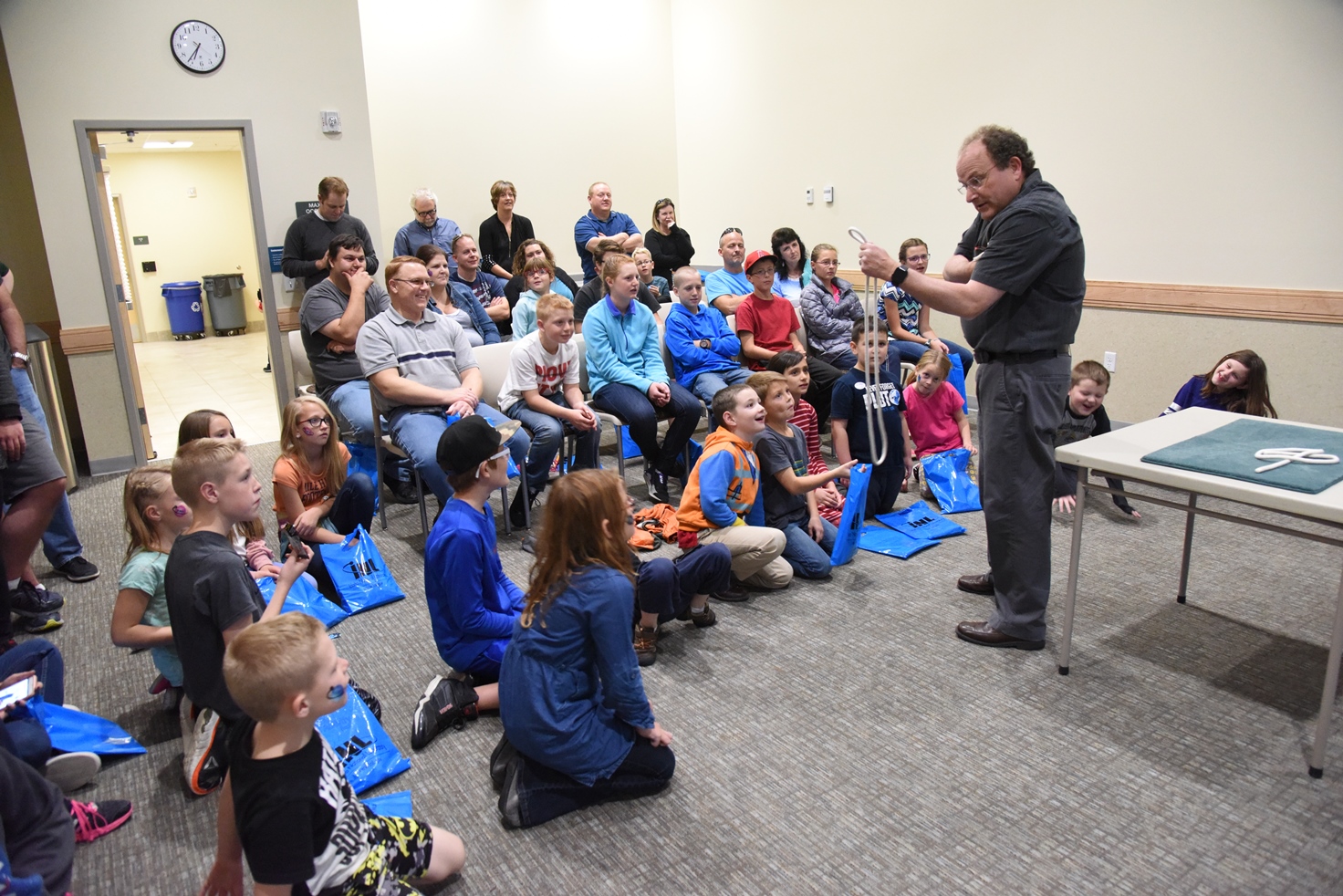 Seifert said that although the many families at Family Nuclear Science Night seemed to have some sort of INL connection, the event was first advertised to the public in area newspapers before the news was posted in-house to INL employees. Survey results showed two-thirds of the people who registered for the event did so after seeing the ads. The purpose of events like Family Nuclear Science Night is to help the whole community better understand the work that goes on at INL and the people who work at the lab, she said.
A huge number of INL employees are nearing retirement age, which means young people with fresh insights and enthusiasms must be engaged for the lab to keep realizing its full potential. That's a lot easier to do if the talent already lives here. "We hope to engage southeastern Idaho families in STEM literacy," Seifert said.
INL's partners for Family Nuclear Science Night included: Idaho State University College of Science and Engineering, North American Young Generation in Nuclear, Idaho Women in Nuclear, INL Women in Leadership, Mothers for Nuclear, University of Idaho, KIFI Local News 8, Center for Advanced Energy Studies, and the Idaho Section of the American Society for Mechanical Engineers.