The two winners of the Idaho National Laboratory Bright Future in Nuclear scholarship award – Sarah Cole of Meridian and Andrew Guillen of Idaho Falls – agree that nuclear energy can compete with other forms of power generation, but that spent fuel and waste issues need to be resolved.
Cole, a senior at Mountain View High School, placed first in the competition, winning a $4,000 scholarship. Guillen, a senior at Thunder Ridge High School in Idaho Falls, took second and received a $2,500 scholarship. Both plan to attend college in the fall.
INL announced the competition in October, in conjunction with Nuclear Science Week 2020. It was open to students in 11th and 12th grade planning to study nuclear science or a related STEM field at a college or university.
"We were thrilled at the response to our first Bright Future scholarship competition," said Jennifer Jackson, INL's K-12 Education Program manager. "We had a number of excellent presentations, and the decision was a difficult one. Both Sarah and Andrew really impressed us with their research and creativity."
Students were instructed to consider and research a question related to nuclear science and prepare a presentation for a panel of INL judges. Presentations took place in January.
"I've always liked getting up in front of people," said Cole, who is team captain of her school's competitive speech and debate team and participates in the American Legion Oratorical Contest. "There are times I have been fearful, but the more you do it the less afraid you are."
Sarah Cole – Mountain View High School, Meridian, ID.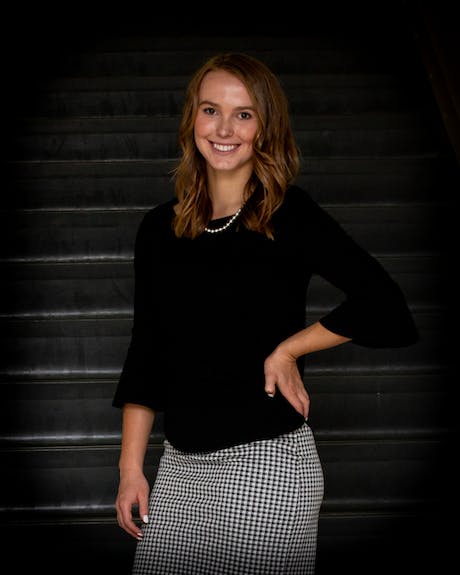 Cole posited a central question for her presentation: "How can nuclear energy compete economically with energy sources that don't have to pay for the waste they generate?" Based on the research she did, she said the industry should 1) reprocess its spent fuel, 2) open a permanent waste repository, and 3) develop advanced reactors and small modular reactors.
With advanced reactors poised to reduce the amount of spent fuel at power plants around the nation, "It makes sense to have one federal repository," she said.
Cole had some familiarity with the issue. Her senior project was about nuclear waste disposal, and she took part in a C-SPAN Student Cam Documentary on waste. She is participating through this summer in Boise State University's Advanced Materials Laboratory Research Assistant Internship program. Under the direction of Dr. Brian Jaques, she has been involved in sensor research, mechanically testing additively manufactured capacitive strain gauges. This will lead to better readings of cladding deformation caused by the harsh conditions in nuclear reactor vessels.
Cole said she hasn't decided where she wants to go to school or what she plans to major in, mentioning biological, materials science, chemical and nuclear engineering all as possibilities. She's leaning toward University of Idaho at Moscow because of its more traditional campus setting, but "the people at Boise State are really trying to persuade me to continue my education and research at BSU," she said.
Andrew Guillen – Thunder Ridge High School, Idaho Falls, ID.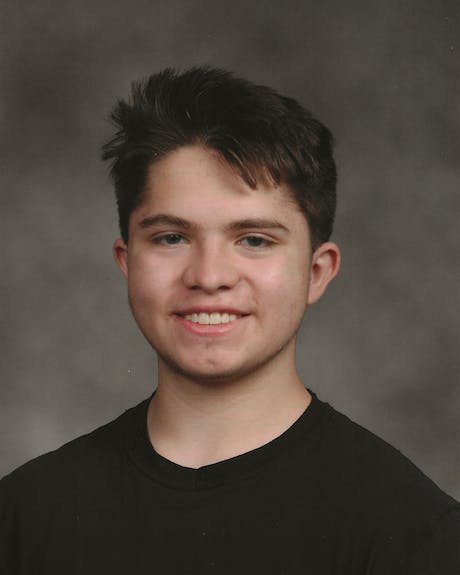 Guillen has also been involved in his school's debate team since middle school and has competed in dozens of debate and speech competitions, which he thinks helped him with his presentation. "I think I'm a really good speaker," he said. "I don't go off point."
Both his parents, Louis and Donna Guillen, work for INL, but he didn't consult them as he prepared his presentation, preferring to handle it himself. Overall, it took about a week to bring the presentation together. "I had to memorize a lot," he said. "I always challenge myself to take on difficult problems."
This is not the first time his work has been recognized. In 2017, his essay "Seven Decades of Harnessing Atoms and Ideas at the INL" was named winner of the Idaho Section of the American Nuclear Society's essay contest. The following year, his essay "Advanced Nuclear Reactors: Small is the New Big" took the same prize. During an internship at BSU last summer, he created dynamic lattice structures using interactive Python programming.
In his presentation, Guillen recapped the familiar obstacles facing nuclear energy before moving to a more optimistic note. New passively safe designs can prevent or limit the severity of accidents. Digital engineering uses models instead of manual integration of data, resulting in notable risk reductions on construction cost and schedule.
"Artificial intelligence (AI) and machine learning have also entered the spotlight, enabling simulation verification, physical system control and analysis of trends using computational tools," he wrote. "This long-term viability depends on the significant reductions in operations and maintenance costs provided by AI learning. Digital twin technology can enable autonomous operations."
Guillen concluded that solving the waste issue is the best way to get the public on board with nuclear energy. "Supply and demand could allow for nuclear energy to grow rapidly," he wrote. "However, it must first become environmentally appealing in order to draw in that demand."
As much as he supports nuclear energy, Guillen's career ambitions are in a different field, motivated by the urgency of the COVID-19 pandemic. Already training to be an EMT, he plans to start studying at Idaho State University to become a paramedic and ultimately an emergency room physician.
Watch the winning presentations here.