INL News Release
FOR IMMEDIATE RELEASE
Oct. 21, 2021
NEWS MEDIA CONTACTS:
Sarah Neumann, 208-520-1651, sarah.neumann@inl.gov
Lori McNamara, 208-520-6066, lori.mcnamara@inl.gov
Nuclear energy featured on 'Tomorrow's World Today'
"Tomorrow's World Today," an Emmy-nominated television show about the latest developments on sustainability, technology and innovation, will feature experts from Idaho National Laboratory during Season 4. "Tomorrow's World Today" explores the concepts of science and technology that are changing lives today and making a difference tomorrow.
Four consecutive episodes this season will highlight the past, present and future of nuclear energy.
"Nuclear energy is vital for a clean energy future, and we're glad to see it getting more attention and support than ever," said Rae Moss, INL's director of communications. "This was a great opportunity for INL to work with so many organizations and companies on the forefront of advanced nuclear energy."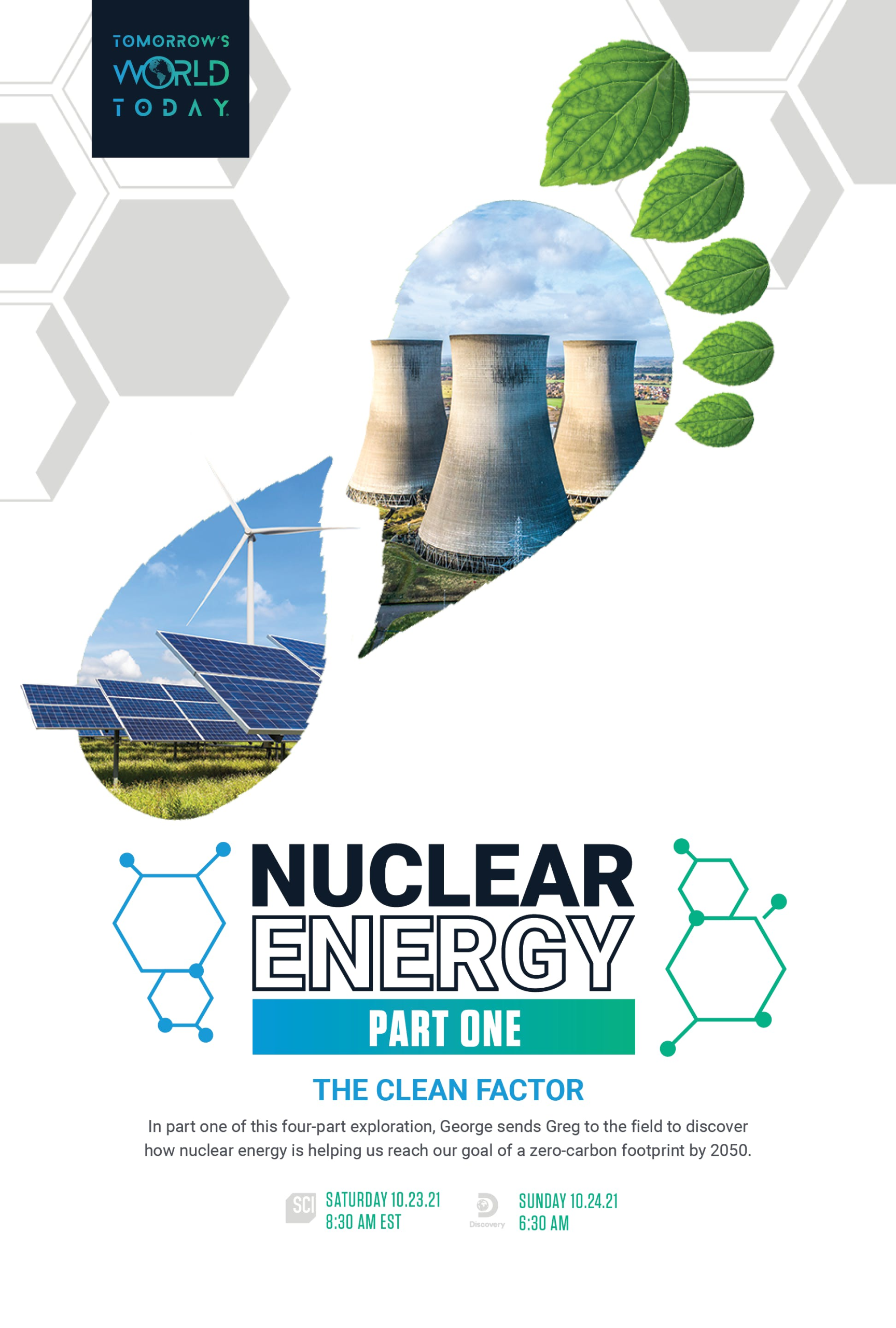 The following organizations contributed to the series: U.S. Department of Energy's Office of Nuclear Energy, Oak Ridge National Laboratory, Nuclear Energy Institute, Electric Power Research Institute, TerraPower, NuScale Power, X-energy, Ultra Safe Nuclear Corporation, Southern Company, Westinghouse, BWX Technologies, Arizona Public Service and Kairos.
The series will touch on a range of nuclear energy topics including how nuclear energy can complement renewable energy generation to help the world reach net-zero carbon emissions by 2050. It will highlight the history of nuclear energy, its safety record and future technologies such as fusion energy. Small modular reactors, microreactors and hybrid energy systems will be featured, along with how fission technology contributes to space exploration.
"'Tomorrow's World Today' is proud to have created a platform to help showcase the technology and innovations happening in the world of nuclear energy," said Julian Taylor, the show's executive producer. "With the amount of information – and misinformation – we've seen surrounding nuclear, we're thrilled that we can take a deep dive for four weeks in order to help our viewers have a better understanding about how we use it today and how it will work for us in tomorrow's world."
The first episode "Nuclear Power and Zero Carbon," airs Oct. 23 and features ClearPath's Spencer Nelson, DOE-NE's Katy Huff, Oklo's Emma Redfoot and INL's Corey McDaniel. "Nuclear Energy Yesterday, Today and Tomorrow," airing Oct. 30, features INL's Don Miley, Electric Power Research Institute's Rita Baranwal and Oak Ridge National Laboratory's Kathy McCarthy. "Big Power in Small Packages," airing Nov. 6, features interviews with NuScale's Jose Reyes, along with Yasir Arafat and Shannon Bragg-Sitton of INL. "Nuclear Science at Its Best," airing Nov. 13, features X-energy's Clay Sell and Ian Davis, INL's Steve Johnson, and a roundtable discussion among McDaniel, Baranwal, McCarthy and Johnson.
"Tomorrow's World Today" airs Saturdays at 8:30 a.m. ET on the Science channel and Sundays at 6:30 a.m. ET on the Discovery Channel. Episodes will also be available to stream on DiscoveryGo and ScienceGo the week after they air.
About "Tomorrow's World Today" 
"Tomorrow's World Today" is an Emmy-nominated television show that focuses on finding a better way for us to live more sustainable lives. The show spotlights the latest in technology and sustainability in four different areas: inspiration, creation, innovation, and production and our field reporters travel the world in search of the innovative pioneers who are utilizing our natural and technological resources. New ideas are the source of innovation. What will you do with yours for tomorrow's world, today?
https://www.tomorrowsworldtoday.com/ and https://www.twtshow.com