All across the country, individuals and groups are banding together to do whatever they can to fight the COVID-19 pandemic, dedicating resources to helping others. From individuals sewing and donating face masks, to food banks providing millions of meals to those suddenly without income, the resolve of the American people is truly inspiring.
One of the most important tools in this fight is knowledge gained from modeling and simulation to support COVID-19 research. Government, industry and research institutions around the country are dedicating their high-performance computing resources to this effort. Idaho National Laboratory is pleased to join this COVID-19 HPC Consortium and add its supercomputing capabilities to this vital cause. INL high-performance computing systems are funded through the Department of Energy Office of Nuclear Energy's Nuclear Science User Facilities.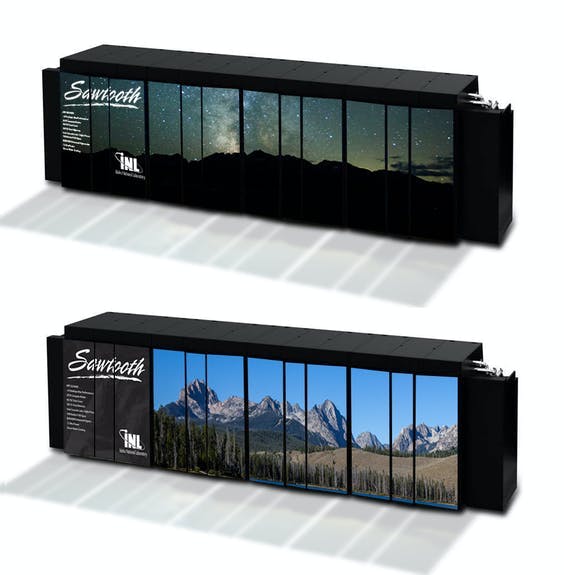 The consortium consists of 40 members providing a total of 5 million processing cores, totaling 483 petaflops. The group is supporting 62 active projects, including topics such as researching the viral spread of the virus and understanding the impact of potential COVID-19 treatments. Projects like these involve massive amounts of data and complex variables that require powerful computing capabilities to analyze correctly. Using the supercomputers can significantly shorten the time needed to answer critical questions about how the virus works and how to stop it. INL is providing the consortium with access to our newest supercomputer, Sawtooth, with nearly 100,000 computer cores and 6 petaflops of total compute performance.
Researchers around the country are submitting proposals to the COVID-19 Consortium, requesting computing resources. As part of the consortium, INL's supercomputing team will evaluate and accept the projects that best match its supercomputing capabilities.
"Most of us want to be doing something productive to help with this global challenge," said Eric Whiting, director of the Advanced Scientific Computing Division at INL. "As an energy laboratory with powerful computing capabilities, this is one way to support those who are engaged in this critical work."
This is the latest INL effort to help mitigate the impact of COVID-19 on the nation. The lab recently launched the Rapid Technology Deployment Program to help companies more quickly adapt technological developments to real-world application. INL's K-12 Education Program is providing parents with resources to help with home-based learning.  And the lab recently joined with the Bank of Idaho and local nonprofits to establish the East Idaho Community Commitment Fund to support businesses and individuals in need.
"We all have something to contribute," Whiting said. "Making computing resources available is one more way we can try to make a difference for those impacted by this pandemic."