Everyone is likely to agree that risk is a fact of life, that decisions must be made, consequences accepted or endured. It's the details of decision-making that get complicated, and one reason the management at Idaho National Laboratory's Advanced Test Reactor has contracted with DuPont Sustainable Solutions (DSS) to participate in The Risk Factor, a personal safety awareness program aimed at helping workers make conscious, deliberate decisions that minimize risk.
ATR management opted to participate in the pilot program thinking it might help improve a commercial product that could be useful not only at the reactor and INL but throughout the commercial nuclear and other high-risk industries. This kind of service is part of the national laboratory mission, but collaborating with a large outside company on a pilot program like Risk Factor is something of a first for ATR, whose main customers for 52 years have been the U.S. Navy's Naval Reactors program and the U.S. Department of Energy's Office of Nuclear Energy.
Since 2008, however, ATR's scope has expanded to include irradiations for commercial customers and universities across the United States and abroad. It is the only U.S.-based producer of cobalt-60, an isotope used widely in industry and medicine, and is also one of two suppliers of plutonium-238, the isotope used to power NASA missions like New Horizons and the Mars Curiosity Rover. Current plans are to keep ATR in operation through 2040 and perhaps beyond. A changeout of its core components is planned for 2021.
At the ATR Complex, risk of an event resulting in an unwanted outcome can be broken down into three categories, said Duke Henningsen, Human Performance Improvement lead at the 500-person complex. The first is injury, the second is mission interruption, and the third is equipment or facility damage.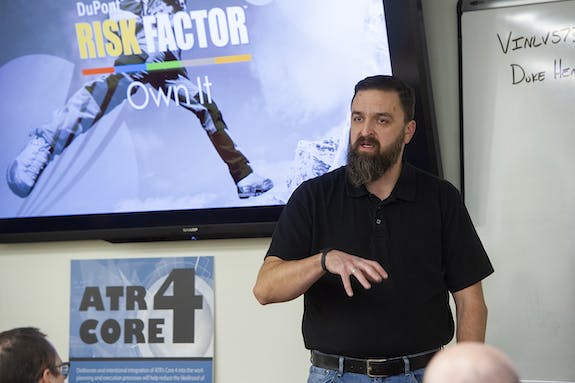 Consider two people assigned the task of replacing a water valve. One might have 15 years on the job and great confidence and familiarity with the task, the other might have six months on the job and a lot less confidence. The Risk Factor is designed to help organizations systematically improve the safety and well-being of employees and enhance safety culture by teaching employees how to elevate their awareness and make conscious, deliberate choices when it comes to risk. A tool used with The Risk Factor is a 3-by-8-inch card on which an individual is asked to assess their personal perceived risk with the task at hand. That card has a scale from 0%, the task/job has no risk at all, to 100%, the task/job will result in a significant event and someone will get hurt, the mission will be interrupted, or something is going to get damaged.
"The person with the experience might rate the risk at near zero while the new person might put it at 80%," Henningsen said. "This makes them stop and discuss the variance. Once they've done that, they have three choices. They can proceed, they can proceed with modifications, or they can stop and readdress the risk."
"Being trained and being proficient are two different things," said Henningsen, who started at ATR in 2014. "This is a tool intended to create conversation."
Padmakshi O'Neil, who helped create the program for DSS, said, "Every individual's perception of the risk involved in a particular task varies over time and may be different from the perception other individuals hold. The value is in the discussion, as it changes preconceived notions we might hold about risks involved in the tasks we do."
Considering all the training that must be done, fitting Risk Factor into the mix requires special attention, Henningsen said. ATR management first reached out to DSS in 2018 and trained 12 individuals from across INL to be certified as instructors of the DuPont Risk Factor training in early 2019. The training is being done on two tracks: management and front-line staff. Henningsen estimated the identified pilot group that is to be trained will be finished by mid-2020.
"How can we learn from things when they happen? Because they are going to happen," he said. "What things can we put into place to lower that risk? What conversations can we have to stop things from happening in the first place?"
When assessing risk, more than simple logic is involved. Research suggests that people make thousands of decisions every day, many involving risk, and that up to 90% of them fall beneath the ordinary levels of awareness. These decisions are made automatically and intuitively, and they are influenced through three main factors – bias, noise, and feelings and emotions.
While Risk Factor is currently done at ATR using cards, DSS has developed an app that will allow it to be used on cellphones. The gathered data will be used to conduct predictive and preventive analytics. ATR plans to pilot the collection of real-time field data that can be fed into a performance dashboard and used by leaders to monitor workers' risk recognition and decision-making behaviors.
"If successful, ATR will have contributed to the initial development of a tool that could shape the way risk is managed across national laboratories, and potentially across other industries," said Kelly Estes, ATR Business Affairs director.
Since its rollout, Risk Factor has been embraced by manufacturers, utilities, and oil and gas companies in the U.S., Latin America and Western and Central Europe, O'Neil said. ATR is among the few U.S. customers, and because it is a government entity, it has involved some special considerations. Unlike a transportation company or commercial customer, "We have to be very mindful this is very sensitive data," O'Neil said, "and we are working closely with ATR to ensure the privacy of the data, including considering blind data analytics."
From the training she has conducted at ATR, O'Neil said she has gotten new insights into safety culture and how it can be enhanced. "I've been very impressed by the commitment to invest in people. There is a real empowerment attitude in management. They want their people to succeed and add value to the workplace."