Microreactors hold promise for the future of nuclear power, but they are also part of our past.
There is a growing interest in alternatives to carbon-based power sources, particularly in remote locations where fuel is expensive, and supplies are difficult to secure throughout the year. An Idaho National Laboratory U.S. Department of Energy Microreactor Program report noted there are around a dozen concepts of these new nuclear plants under development in the U.S.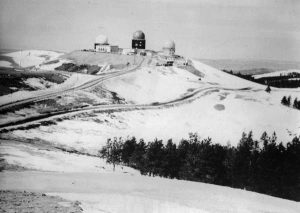 They are much smaller and simpler than traditional nuclear power reactors, with technologies evolving from advances in materials, modeling & simulation, space reactor applications, and advanced nuclear fuels. These new reactors, with capacities generally of 1-20 megawatts, are designed to be factory fabricated, transportable and self-regulating. First deployments will be for military use or shared research and development opportunities, with commercial applications to follow in the next two to seven years.
But did you know that Wyoming was home to the first portable land-based nuclear plant constructed in the U.S.? The PM-1 powered large radars and provided space heat for the Sundance Air Force Station from 1962-1968. Its purpose was to reduce the cost and logistics of supplying oil to power operations.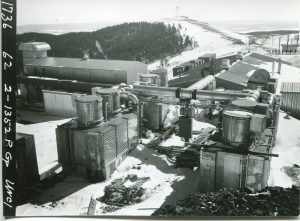 This small plant produced 1.25 MW and was designed to maintain high power quality and capacity, operate within narrow regulation limits for frequency and voltage, handle shifts in power loads of plus or minus 30%, and operate under extreme climatic conditions (-45-degree F winters and 102-degree summers).
At a 6,000-foot elevation, the reactor was situated atop Warren Peak in the Bearlodge Mountains six miles from Sundance, Wyoming. Because of the remote location, the reactor had to be modular and prefabricated prior to shipment. The Martin Company near Baltimore, Maryland, used highly skilled operators and factory equipment to manufacture the plant.
The reactor design included flanged interconnections to allow quick disconnect for disassembly, packaging, transport and reassembly at the field site. The C130 aircraft airlifted 16 identical shipping containers to Rapid City, South Dakota. Large trucks then transported the parts 93 miles to the station. Reactor operations personnel reassembled the prefabricated components into a complete operating reactor, rather than requiring construction crews.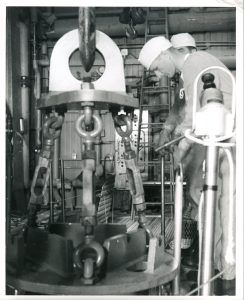 The reactor operated using a unified control console rated with reliability at 99.45%. The plant needed only one person to monitor the plant and control auxiliary equipment. Another worker performed a roving tour of the equipment, continually inspecting the working parts.
More advanced versions of PM-1 were considered, such as liquid-metal cooled reactors and gas cooled reactors that could operate at higher temperatures. Portable reactors also included the SM-1 in Virginia (1957), PM-2A in Greenland (start up in 1960), PM-3A in Antarctica (1962 )SM-1A in Alaska (1962), and the STURGIS floating power plant (MH-1A) in the Canal Zone in Panama (1967).
The U.S. Air Force and Army Nuclear Power Program recognized that any increase in capital cost for PM-1 was justifiably overridden by its high reliability— especially, where a large amount of high-quality electric power is needed. PM-1 fuel supported operations for two years before the reactor needed refueling. The pre-existing diesel generator was used as a secondary power source.
Today's microreactors require further technical development and rigorous regulatory approvals before deployment. However, learning from successful applications like PM-1 shows the art of the possible.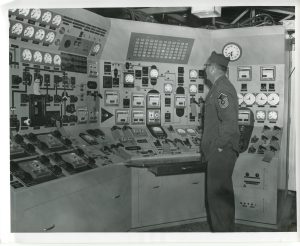 States like Wyoming, Alaska and Idaho are rolling out the welcome mat for these new reactors.
Wyoming is preparing to host a new nuclear plant once again with TerraPower's sodium-cooled reactor in Kemmerer. Through Idaho National Laboratory's Emerging Energy Markets Analysis, the Frontiers Initiative is helping these new nuclear first-mover states, like Wyoming and Alaska. Specifically, the Frontiers Initiative offers a regional to global strategy that positions these states as major enablers of economic and national security in the "new frontier" of economic competition that is unfolding.
Future microreactor applications include remote mining, military installations, federal facilities, university campuses, small rural communities such as in Alaska, islands like Puerto Rico, regional utility, like Alaska Railbelt, embedded with industry applications, marine propulsion, and disaster relief.