Although researchers at national laboratories have traditionally thought in terms of getting "awards" to fund their projects, a U.S. Department of Energy program is taking a new approach to keeping the nuclear energy research and development fires stoked.
Since 2016, the Gateway for Accelerated Innovation in Nuclear (GAIN) has been providing vouchers to help companies engaged in nuclear research, streamlining commercialization efforts by offering the resources of DOE's national labs for much less than what they would typically cost.
"In an ideal case, a young startup company has run into an issue that it doesn't have the resources to solve," said John Jackson, GAIN's technical interface. "We view ourselves as a high-end technical service to benefit the United States."
Of the 49 vouchers that have been issued since 2016, work has been done for small companies such as Oklo, of Sunnyvale, California, and Creare, of Hanover, New Hampshire. Yet giants such as Westinghouse and GE-Hitachi have also benefited from GAIN vouchers.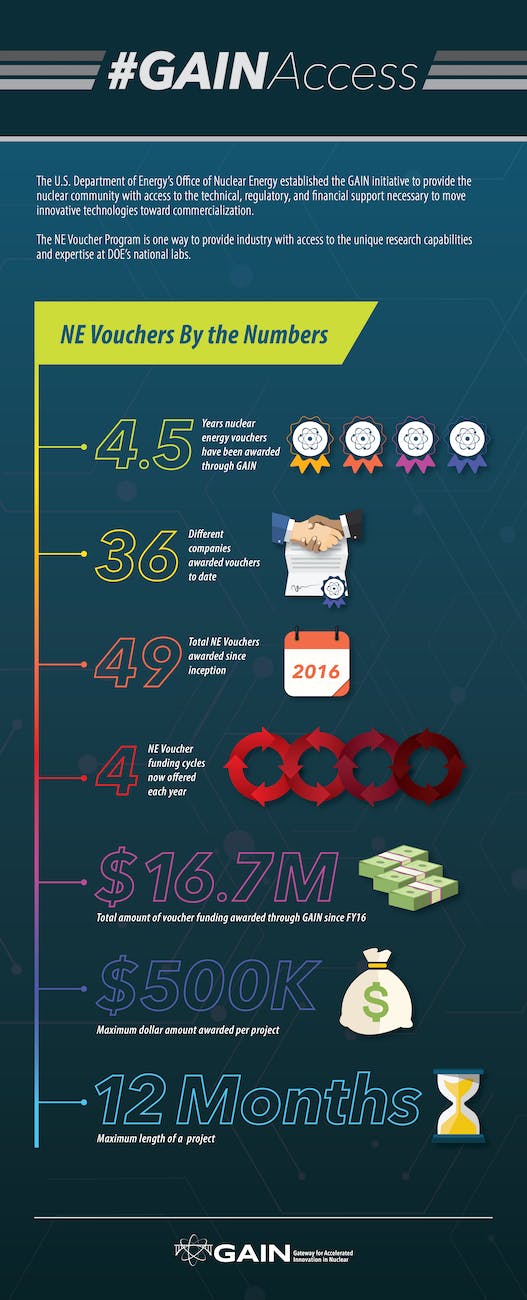 "Large companies may have departments that operate more like small businesses," Jackson said. Large or small, the idea is to establish the labs as vital resources to private companies.
A voucher's value is based on the cost estimate of a lab's services and includes a 20% cost-share commitment from the collaborating company, which can be an in-kind contribution. The funding for vouchers comes from DOE's Office of Nuclear Energy.
For the inaugural pilot program in 2016, DOE-NE made $2 million available. Out of 29 proposals, eight were chosen, based on criteria that included technical quality, level of innovation, commercialization potential, and relevance to the DOE-NE mission. After a review process, cooperative agreements were finalized, and work on all eight voucher projects started in September 2016. Seven projects were completed by the end of September 2017 and the final project was completed in December 2017.
The pilot program was judged a success on several fronts. In addition to facilitating access to national laboratory expertise and infrastructure, it also opened the path to a standardized contracting process. As the program continued in 2017 with 14 vouchers, four participating companies had been part of the 2016 pilot group.
In general terms, the GAIN NE Voucher Program accepts applications on any proposal that supports production and utilization of nuclear energy, whether it's for electrical generation or industrial process heat. Breaking down the general topic areas, they include:
Advanced reactor concepts and associated designs, including development of licensing information or strategies
Structural material and component development, testing and qualification
Advanced nuclear fuel development (including fuel materials and cladding), fabrication and testing
Development, testing, and qualification of instrumentation, controls, and sensor technologies that are hardened for harsh environments and secured against cyber intrusion
Modeling and simulation, high-performance computing, codes and methods
Technical assistance from subject matter experts and/or data/information to support technology development or confirm key technical or licensing issues
For Oklo, which has pursued four voucher-supported projects that involved working with Idaho National Laboratory, Argonne National Laboratory, and Sandia National Laboratories, GAIN's help has been more than financial, said Jacob DeWitte, the company's CEO and co-founder. There is a great advantage to having a lab administer the money, he said. "It's enabled us to move a lot more quickly. It's really helpful in getting targeted work done, and it keeps it at the right scale and the right scope."
For a company venturing into the national lab system for the first time, GAIN offers a lot of help in matching startup companies with the people who can help them most. The project with Argonne involved fuel qualification using legacy research. ANL staff accompanied Oklo staff to Nuclear Regulatory Commission meetings, where they were able to validate calculations and adapt licensing strategies for the 1- to 2-megawatt compact fast reactors the company hopes to have in operation in the early 2020s.
With INL, Oklo was able to fabricate prototype fuel elements and meet production specifications. The demonstration is "one of the bigger steps on the pathway for us moving toward ultimately submitting a license application," DeWitte said.
Oklo is only one of many companies to benefit from voucher awards. Other prominent examples include Columbia Basin Consulting Group (CBCG), based in Kennewick, Washington, and Kairos Power of Alameda, California.
Since 2017, CBCG has made use of GAIN vouchers to collaborate with Pacific Northwest National Laboratory to develop a lead bismuth-cooled fast reactor concept. The project focuses on developing criteria for the design of reactor containment structures. Unlike the current fleet of reactors that operate at high pressure, CBCG's liquid metal-cooled fast reactor will operate at near atmospheric pressure, with many additional inherent safety features. Because of this, the regulatory criteria for containment buildings associated with the current reactor fleet may not be appropriate for the new design. PNNL is helping CBCG conduct analyses for consideration by the NRC as the agency develops regulatory infrastructure for licensing the next generation of reactors.
Kairos has been awarded three vouchers since 2017 to help it develop its fluoride salt-cooled, high-temperature nuclear reactor (KP-FHR). Working with Argonne National Laboratory, the latest focus has been on developing design rules for high temperature corrosion resistant structures. Development of this design methodology will be generally beneficial to advanced reactor development. Furthermore, the ability to use cladding will improve the safety, reliability, and economic advantages inherent to the KP-FHR design.
"We look forward to continuing our relationship with Argonne National Laboratory on this important initiative," said Dr. Micah Hackett, director of Technology Development at Kairos. "This furthers our commitment to commercializing our advanced nuclear technology."
The latest companies to receive GAIN vouchers are Hydromine, Inc., of New York, New York, and Lightbridge Corp. of Reston, Virginia. Hydromine will leverage PNNL's expertise with high-temperature ultrasound to demonstrate the feasibility of online structural health monitoring of susceptible components in lead-cooled reactor heat exchangers. This could support extended periods of operation and limit shutdowns for inspection and maintenance. Working with INL, Lightbridge has designed an irradiation experiment for the Advanced Test Reactor that will allow it to measure important thermo-physical properties of its patented advanced fuel technology.
As much as DOE wants to open the national laboratories to commercialization, it is not without its challenges, Jackson said. When GAIN started, legacy research involving close to 12,000 documents had to be freed from the restrictive "applied technology" designation.
"We wanted to do everything we could to open up the laboratories to the private side," he said.
At this early stage of its development, success metrics for GAIN have been difficult to find beyond anecdotal. Still, in October 2019, DOE's Office of Science announced its Innovation Network for Fusion Energy (INFUSE).
"The labs are a resource, and vouchers are a way to build enduring technical relationships and trust with nuclear innovators," Jackson said.