Digital engineering is a game changer for nuclear energy.
In an industry vulnerable to cost overruns and schedule delays, digital engineering offers hope for accelerated deployment of advanced nuclear reactors.
How so? With digital engineering, reactor designers can link all the nuclear engineering, systems engineering, project management, and design in a centralized system – a "digital twin" – so teams can modify the plans and designs as needed in real time prior to the physical systems being built. This improves both quality and efficiency, driving lower costs and better schedule adherence.
The National Reactor Innovation Center (NRIC), a Department of Energy program led by Idaho National Laboratory, is committed to demonstrating at least two advanced nuclear reactors by 2025.
"We see digital engineering as pivotal to meeting that goal," said Ashley Finan, NRIC director.
Digital Engineering and TerraPower's molten chloride reactor
NRIC and INL are working with several companies to use digital engineering in their project designs.
One project is a collaboration between the NRIC team and the reactor design company TerraPower, based in Bellevue, Washington. TerraPower is developing an experimental reactor that is being proposed for testing at INL's Materials and Fuels Complex.
NRIC staff are working with TerraPower's technical and project management team to manage requirements and interfaces using the digital engineering tool.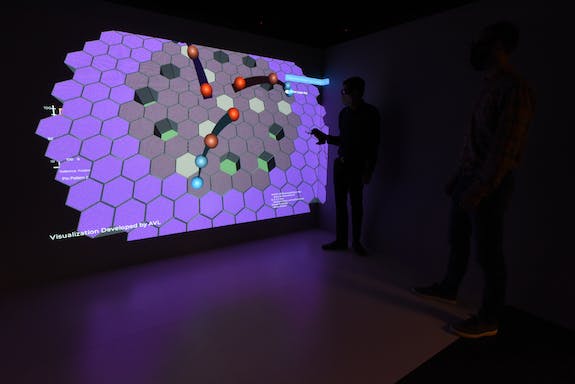 Without digital engineering, the documentation for a project like this becomes unwieldy, said Jared Harper, senior systems design engineer at TerraPower. When nearing the end of the detailed design for a plant, a small change in a pipe or a valve can require a massive amount of paperwork to ensure that change is reflected throughout the rest of the system.
"Companies that are heavily staffed with engineers push a lot of paper," he said. "You end up spending 50 percent of your time redoing documentation. It's not very efficient."
With digital engineering, a design change propagates updates automatically through the system. Near real-time changes allow NRIC's team and their collaborators to access the information quickly and securely to make the necessary changes to the rest of the project. "Every object, every data point for your project is integrated," Harper said. "Relationships between requirements, systems and components are traceable."
Sharing the digital engineering tool between INL and TerraPower mitigates a lot of risk, said Steve Grabinski, the NRIC project manager. "They're going to know what changes I make and vice versa."
Right now, the TerraPower project is in the early stages of preliminary design. TerraPower is increasing the level of detail requirements for the reactor.
"You don't know what the component looks like, but you know what it has to accomplish," said Nick Smith, NRIC deputy director.
With the digital engineering tool, the TerraPower and INL teams are linked together. "This is crucial for collaboration with industry," Smith said. "I don't know how I would live without it, doing the kind of work we're doing."
Brennan Harris, the project's software integration lead at INL, works with companies such as TerraPower to help them adopt the digital engineering tool. If a collaborator can adopt INL's digital engineering system, it eliminates a lot of "transcription work" that would typically take place between each organization's different software platforms.
"This is going to be a huge transformation in how work is done," Brennan said. "It's going to make the lives of engineers, project managers and security personnel so much easier."
Peter Suyderhoud, an INL digital engineering scientist, agreed. "The capabilities that we're building are so powerful," he said. "We're already seeing huge gains in efficiency."
Digital Engineering at NRIC
To develop a digital engineering capability that would serve the needs of NRIC and its collaborators, NRIC chose from dozens of commercially available systems engineering tools. NRIC wanted a cloud-based tool compatible with nuclear systems, one that is easy to use and cost-effective. They settled on Innoslate, a program that is the basis for other digital engineering efforts at INL.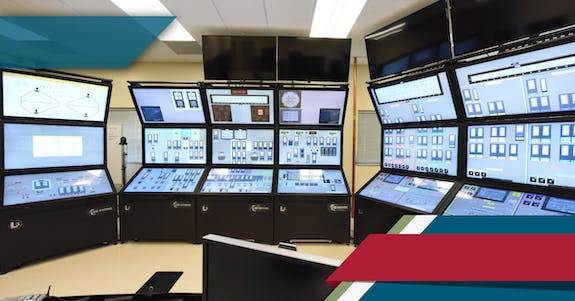 NRIC uses a systems engineering methodology called Model-Based Systems Engineering (MBSE), a formalized modeling approach for requirements, functional design, physical design and verification.
Chris Ritter, NRIC's digital engineering technical lead, said, "NRIC's engineering teams have made great progress migrating to an MBSE-first, data-driven mindset and digitally transformed engineering design processes.
"This is the first full implementation of MBSE at INL linking everything together with diagrams and data instead of Word docs and PowerPoint," Ritter said. "If I change one element, it ripples through the system. It's all interconnected through that web."
One of the biggest advantages to digital engineering is that it is cloud based, which allows the tool to be fast, adaptable and accessible to outside collaborators.
"It's on the backbone of the internet," said Taylor Ashbocker, an INL cloud architect. "As we need more computer resources, the cloud reduces the amount of time that we need to get those resources together."
The security of the cloud-based digital engineering systems was paramount, Ritter said.
"Taylor and his team have enabled the uploading of sensitive information in a very secure environment," he said. "And it's still the same speed that you would get with a Gmail account."
This interconnected model allows operators to have more accurate data for maintenance and upgrades. The system could, for example, accommodate predictive maintenance where instead of replacing parts on an arbitrary schedule, or worse, when they break, sensors monitor the condition of individual parts and they are replaced as needed.
For TerraPower, the combination of the company's reactor experiment, digital engineering and the proposed NRIC testing site will go a long way toward their goal of developing their advanced reactor.
"There are lots of challenges," Harper said. "A molten salt-fueled, fast spectrum reactor has never been done before. Upfront systems engineering is one of the exercises we have to get through to get to the final product."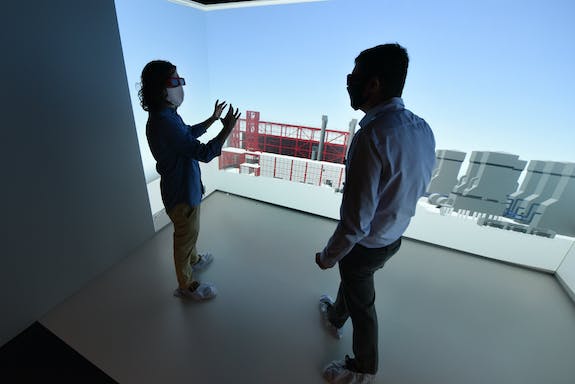 Without digital engineering, Harper said, the job would be much more difficult.
"The toolset offers a lot more than just systems engineering," he said. "It's an integrated project management and systems engineering toolkit in one package. It's a Swiss Army knife that you can tailor to do what you want it to do."
In other industries, digital engineering has had a dramatic impact on the success of megaprojects. For instance, the U.S. Air Force recently announced it was able to deliver a new stealth fighter almost 10 years early, thanks in part to digital engineering.
Experts at NRIC anticipate digital engineering can do the same thing for the next generation of commercial power reactors.
"The hope is that this secret sauce can also be applied to nuclear so we can deliver reactors ahead of schedule and under budget," Suyderhoud said.
By Cory Hatch and Donna Kemp Spangler