Idaho National Laboratory researchers got a taste of what it's like to be in the "shark tank" on June 30, gathering at the Center for Advanced Energy Studies for the National Lab Accelerator Pitch Competition.
The event ties in closely with Energy I-Corps, a Department of Energy program where national lab researchers learn about industry needs and evaluate the potential market applications for their technologies. Since the program started in fall 2015, INL has sent 14 teams through the training. Over two months, these teams worked with industry mentors to define technology value propositions, conduct customer discovery interviews, and develop viable market pathways for their technologies.
In spring 2017, INL partnered with the business accelerator program Cascadia CleanTech to launch its pilot National Lab Accelerator training, nicknaming it "Energy I-Corps Lite." Starting in April, 13 INL teams — all working with industry mentors — met at CAES to learn lean innovation-to-market techniques such as customer discovery and validation. Customer discovery, for example, is based on the idea that entrepreneurs must "test sell" at every stage, running pass/fail tests to determine whether there's a viable market for a product or service.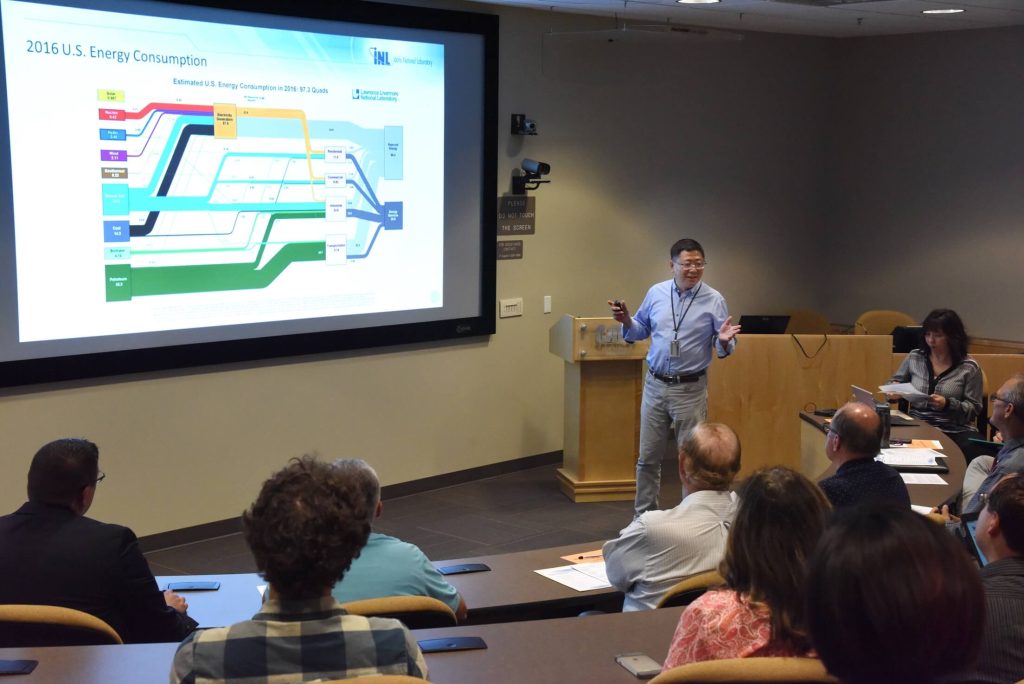 Although one goal is to prepare future teams for the Energy I-Corps program, there's more to it than that, said INL's Tammie Borders, who focuses on Business Development for Industrial Partnerships. "We want to let people in industry know that INL is open for business," she said.
The pitch competition — giving presentations and answering questions from a six-judge panel — was the next step in the process. Six teams, each made up of INL scientists and engineers partnered with mentors from the Idaho entrepreneurial network, participated in the pitch competition:
Industrial Electrification (Ting He, Dong Ding, Norris Krueger): A new electrolysis cell technology that makes use of a novel electrolyte and catalyst to upgrade ethane into higher-value chemicals.
WEX (Kurt Derr, Samuel Ramirez, Kaz Lawler): A WiFIRE appliance that automatically scans the radiofrequency spectrum in real time, allowing analysts to uncover and fix potential vulnerabilities.
AHA (Ryan Hruska, Shane Cherry, Richard Newman, Stephen Spector): Software that can create "regional dependency" models for facilities based on information from subject matter experts, technical manuals, and open source information.
4Cs (Vivek Agarwal, John Buttles, Jessica Whiting): Wireless valve position sensors for nuclear plant configuration management.
The Fog (Steve Reese, Jada Williams, Jon Duval, Bob Brown): Application for the abatement of mercury contamination.
Pitching Pros (Johanna Oxstrand, Roya Gordon, David Cohen): Highly scalable computer-based system for fieldworkers.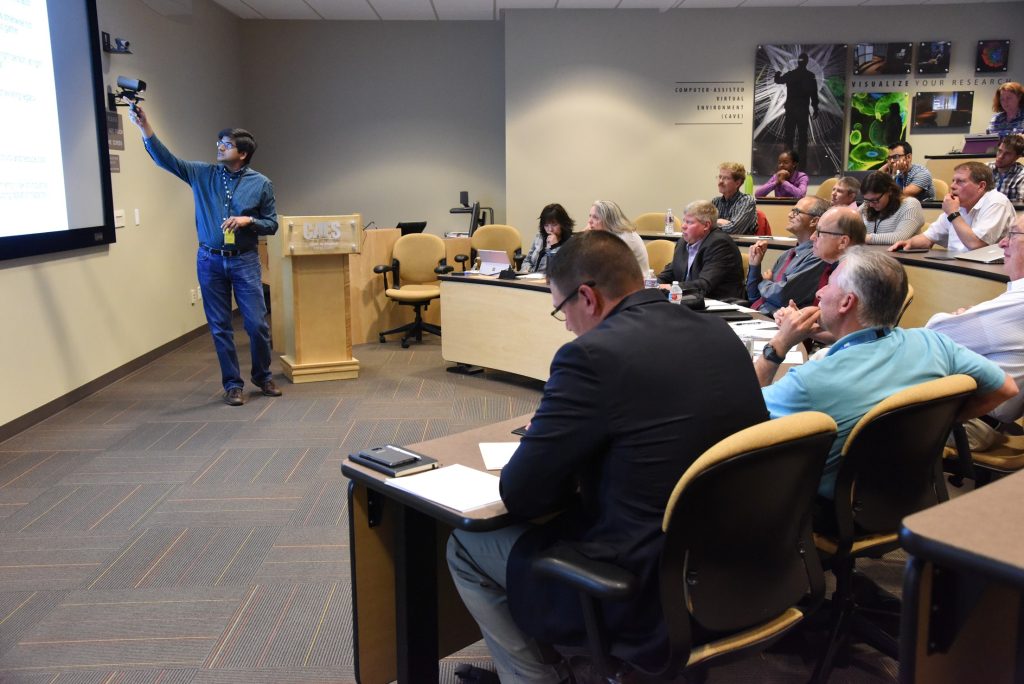 Vivek Agarwal, principal investigator for the 4Cs team, said the training has been invaluable. "As an engineer, I never thought about business expectations," he said. He discovered that the wireless sensors for valves they developed for legacy nuclear plants have a lot of appeal in other industries, including oil and gas, refineries, chemicals and manufacturing.
"It's easily retrofitted, simple in design and coexists with other wireless systems," he said. "In order to be irreplaceable, one must be different."
Agarwal's team won the June 30 pitch competition and will be part of Energy I-Corps' fall 2017 class. He is optimistic about his team holding their own in the Energy I-Corps training later this year (which is not a formal competition), and is grateful for the preparation they have received. They have already gotten interest from Exelon Nuclear about testing the sensors.
"Going through this process really opened our eyes," said Kurt Derr of the WEX WiFIRE team. Three companies are interested in their product, which is based on a value proposition of safe and secure communications. But they also learned they might want to package their product at different price points reflecting different degrees of protection.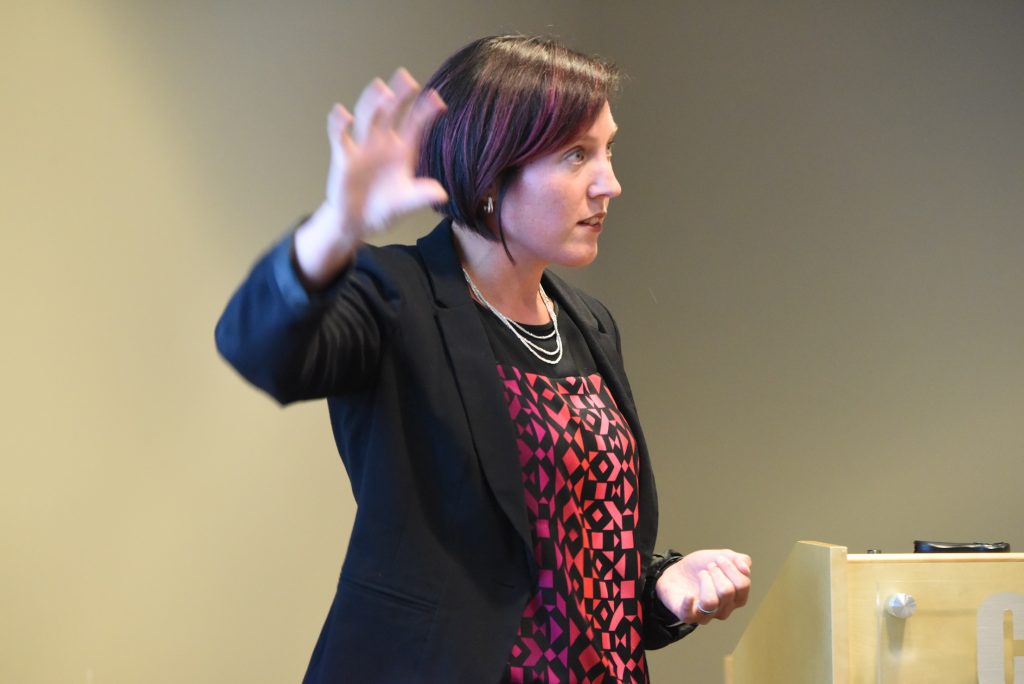 Johanna Oxstrand of Pitching Pros, a computer system designed to help fieldworkers follow procedures more thoroughly while cutting down paperwork, said she had done 21 interviews as part of the National Lab Accelerator training. When the product started as a research project in 2012, most people's response was, "Oh, that's cute," she said. Today, she and her team have interest from Duke Energy (Catawba Nuclear Station), Arizona Public Service Electric Co. (Palo Verde Nuclear Generating Station), Pacific Gas and Electric (Diablo Canyon Power Plant) and Southern Nuclear (Plant Vogtle).
At the end, the winning teams were:
First Place: 4Cs
Second Place: WEX
Third Place: AHA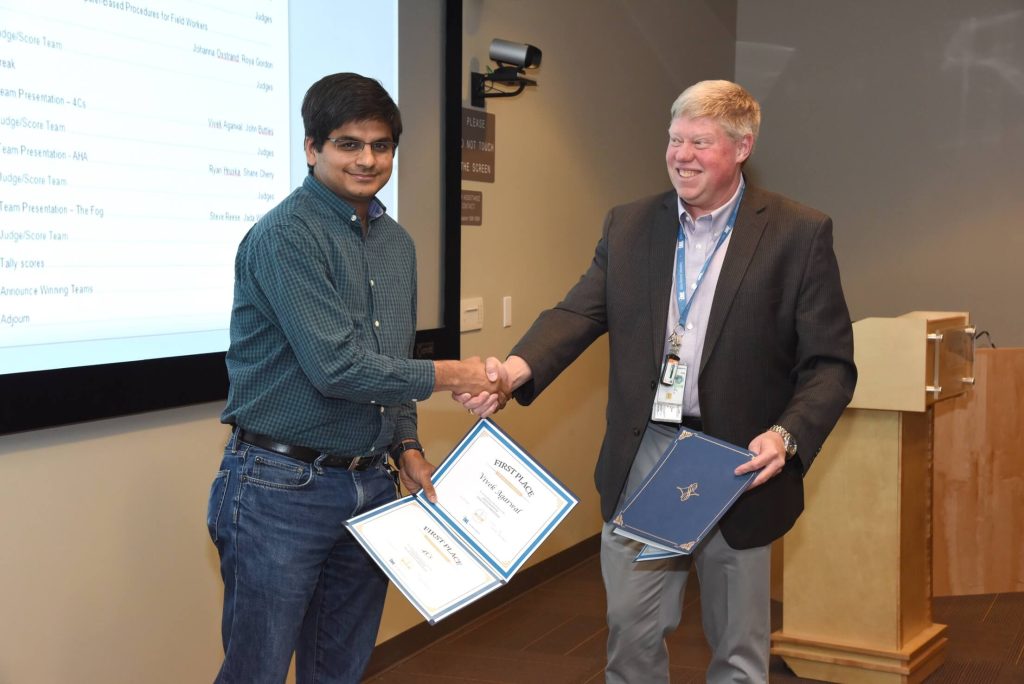 Even though they had to rate each team's performance, INL Deputy Director for Science and Technology Kelly Beierschmitt, one of the judges, said he regarded everyone who participated as a winner. "How we partner with industry is a very, very important part of our future," he said.
"This program is the best program in all the years of working with the lab I've ever seen," said David Noack, director of the Idaho Small Business Development Center regional office in Idaho Falls and also a judge.
In addition to letting Idaho know INL is open for business, Borders said she is keen to develop a network of mentors throughout the state to help drive partnerships and keep dialogue open. One person she turned to for help was Norris F. Krueger Jr., now in Boise, but a 36-year veteran of the entrepreneurial consulting scene in Idaho, nationally and worldwide.
"We were very excited when Tammie said 'We're going to need mentors,'" he said. "To see what happens when you stitch the right people in the community together is pretty amazing."
Besides mentoring the Industrial Electrification team, Krueger brought around 10 mentors to the program. He is eager to put INL researchers in contact with potential partners in the western part of Idaho. "There are probably three or four of them that could come over here and blow people's socks off," he said.
The National Lab Accelerator training is part of Lab-Bridge, a collection of small-scale projects administered by DOE's Office of Energy Efficiency and Renewable Energy Technology-to-Market program. Lab-Bridge enables the DOE national laboratories to explore new solutions addressing the barriers they face when collaborating with outside partners and preparing lab-developed technologies for market evaluation.