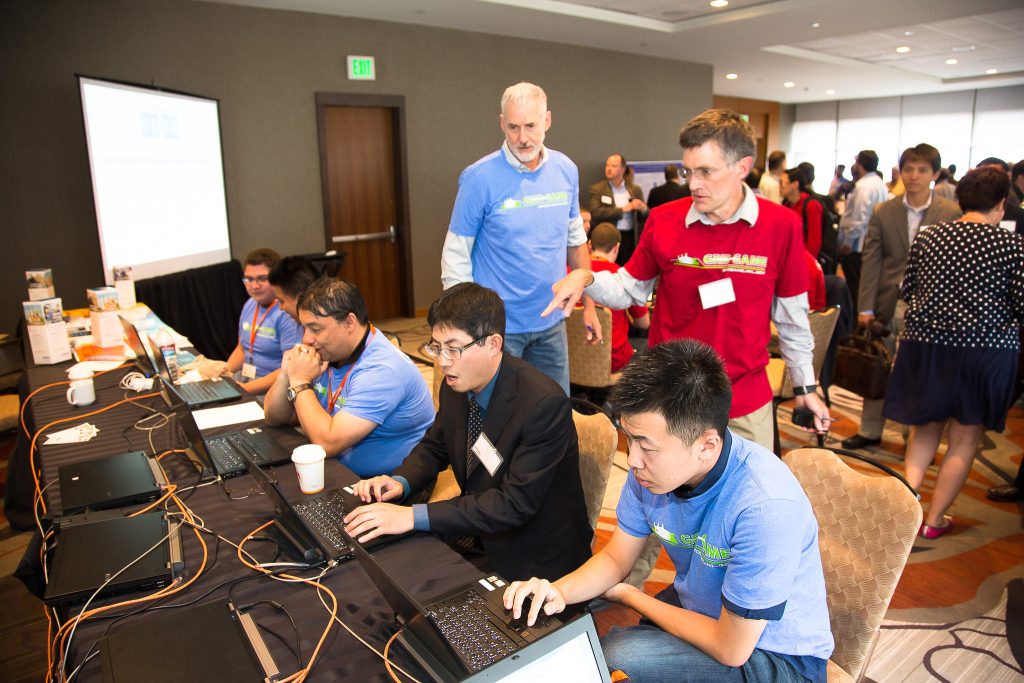 Grid Game teaches students about electric grid complexity, resilience
His 12-year-old daughter has told him the Grid Game is probably not going to be the next Candy Crush Saga, but Idaho National Laboratory research engineer Tim McJunkin still thinks there might be a fair number of people who would like to play at managing the electrical power grid.
McJunkin and a group of fellow engineers and teachers have developed a desktop simulation that allows players to keep load and generation in balance. "Red Team" participants can even mount financial and cyberattacks in real time, making the game even more interesting.
"Your average citizen could gain something by learning what has to happen when they turn their lights on," he said. While there are far more sophisticated simulations available in the industrial sector, McJunkin is hopeful that high schools will pick up on it. He spoke in July at the Idaho Professional Technical Educators Conference, and a pilot rollout will come this fall at Meridian Technical Charter High School.
The objective is simple, he said, "Keep the grid up and keep the customers happy." Every player has a client and a virtual grid. Game points are earned by providing power and then used to buy more grid assets and grow the grid.
It's a big balancing act. When a utility generates more power than is in demand, machines speed up until their circuit breakers shut them down. When there is more demand than generation, machines slow down, leading to brownouts and blackouts.
In real life, there's a lot on the line when it comes to managing electrical power.
A White House report released in 2013 said outages caused by severe weather cost the U.S. economy an average of $18 billion to $33 billion a year. The hits come from lost output and wages, spoiled inventory, delayed production and damage to the electric grid.
Think of the outage in eastern Idaho on Dec. 4, 2014, which left 70,000 people without electricity for up to 10 hours in subzero cold. It started at 5:11 a.m. when roughly 49,000 customers lost power because a circuit breaker was out of service for critical maintenance. When a cold front rolled in from the North Pole, the Balancing Authority – a governmental entity that manages the transmission grid's stability – ordered utilities in the region to shed load, forcing additional power cuts.
McJunkin seeks to replicate scenarios such as this in the Grid Game, which he admits is a work in progress. To push it to the next level, he is applying for grant money from the National Science Foundation and other organizations.
As an adjunct professor at Idaho State University, McJunkin first developed the Grid Game to give students in a Resilient Control Systems class an idea of how the grid operates. Two colleagues in particular – Craig Rieger, INL's initiative lead for Instrumentation, Control and Intelligent Systems, and Mike Guryan, distance education coordinator at Idaho Regional Optical Network – encouraged him to expand it to a multiplayer format, allowing participants to buy and sell power, add new generation sources, find new customers and defend themselves from computer-based attacks.
For the last part, McJunkin teamed with Indrajit Ray, a professor of computer science at Colorado State University, for help. Ray and the university's Hashdump security club developed software that allows hackers to implant denial of service viruses or to siphon off a utility's money to virtual Swiss bank accounts.
So far, the biggest day out for the Grid Game was in August 2014, when it was featured at the Resilience Week 2014 Conference in Denver.
For the first 15 minutes, players focused on managing their utility. In the second 15 minutes, the hackers from CSU struck, preying on anyone who didn't think anti-virus software was worth the expense, and taunting mercilessly. By the end, few players had much, if any, money in the bank.
McJunkin said he feels like there is a lot of room for the game to grow. Adding sources of baseload power like coal, natural gas and nuclear is one possibility. Then the game could reflect rules and regulations, which vary from state to state but can have a profound effect on grid operations.
"There's room for use now and room for development in the future," he said. "There's a lot to play with and consider on the real grid."