Before electric vehicles can lead the way into a cleaner energy future, drivers must have confidence that they can find a charger when they need one. The new National Electric Vehicle Infrastructure, or NEVI, formula program is addressing that challenge head-on. 
A series of federal recommendations announced last week aims to make electric vehicle charging more accessible. The announcement paved the way for NEVI to begin implementing these recommendations. 
"The overarching goal of NEVI is to remove range anxiety to encourage widespread electric vehicle adoption," said Timothy Pennington, an electric vehicle charging researcher at Idaho National Laboratory. "To achieve this, they have set in place very specific standards to guide the use of these federal funds in creating new charging stations." 
One of the first steps in launching the NEVI formula program has been creating a set of minimum standards for vehicle chargers. This includes a mandate that all chargers operate at fast charge capacity – 150 kilowatts or more – as well as a requirement that each station has at least four chargers to ensure convenient and accessible charging.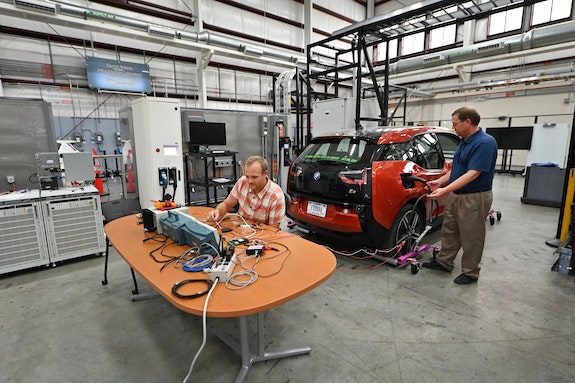 "Each state has designated major thoroughfares for long distance transportation as alternative fuel corridors, including interstate highways and other roads important to statewide transportation," Pennington said. "All NEVI electric vehicle charging stations must be within a mile of a designated alternative fuel corridor, and the network will only be considered fully built out when stations exist every 50 miles along these corridors."  
 "This nationally uniform outcome will be achieved differently in different states." Some gas stations will likely convert to charging stations. This could be especially helpful for smaller, "mom and pop" gas stations, who could receive public funding to add charging capabilities to their businesses. It will also support major players in the EV industry, like Electrify America, Chargepoint and Tesla. 
NEVI is spearheaded by the U.S. Department of Transportation's Federal Highway Administration and supported by the Joint Office for Energy and Transportation, which, like NEVI, was created by the Bipartisan Infrastructure Law. The joint office includes experts from the U.S. Energy and Transportation departments, as well as two national laboratories.  
Three INL employees are supporting the joint office. John Smart serves as a senior leader for the program focused on standards, cybersecurity and reliability. Jean Chu works on data management and analysis for joint office research. Torrey Lyons primarily supports equity efforts. Additionally, the joint office provided funding for INL to build a public, web-based version of its Caldera simulation platform to forecast the electrical load of potential NEVI charging stations. Pennington leads this project. 
Environmental justice is also a big concern for the NEVI program.  
"Electrifying vehicles will substantially improve air quality," said Pennington. "Air quality issues disproportionately affect areas with lower property values and historically underserved communities, so the NEVI program includes strategic placement of EV chargers to benefit these communities. This will incentivize more vehicles to electrify and thus improve air quality, while also boosting local economies."