Ninety-seven percent of U.S. dams don't make electricity. A new tool could help tap that resource.
The era of building big dams may be over in the United States, but hydroelectricity still has a significant and untapped role to play in the nation's energy future.
Only 3% of the nation's approximately 80,000 dams are equipped to generate power. Most are used for flood control, municipal drinking water, navigation, recreation and irrigation. In 2012, a study from Oak Ridge National Laboratory estimated that non-powered dams have the potential to generate up to 12 gigawatts of electricity – enough to power 4.8 million homes.
Construction costs, lengthy and expensive permitting processes, and environmental concerns are some of the main obstacles to new hydropower development. Because the dam structures are already in place, non-powered dams face a lower regulatory hurdle and fewer environmental impacts versus building new dams for power generation. The result is an opportunity to add clean and renewable energy generation to the grid, and spur economic development opportunities for surrounding communities.
To that end, with funding from the Department of Energy's Water Power Technologies Office, researchers at Idaho National Laboratory and Pacific Northwest National Laboratory (PNNL) have developed NPD HYDRO V1. Short for "Non-Powered Dam Hydropower Development and Ranking Opportunity Tool," NPD HYDRO V1 evaluates and ranks dams that may be good candidates for conversion.
"The challenge is looking at thousands of non-powered dams in the U.S. to determine the most promising location and prioritize them for more detailed site-level analysis," said Jakob Meng, power systems engineer at INL.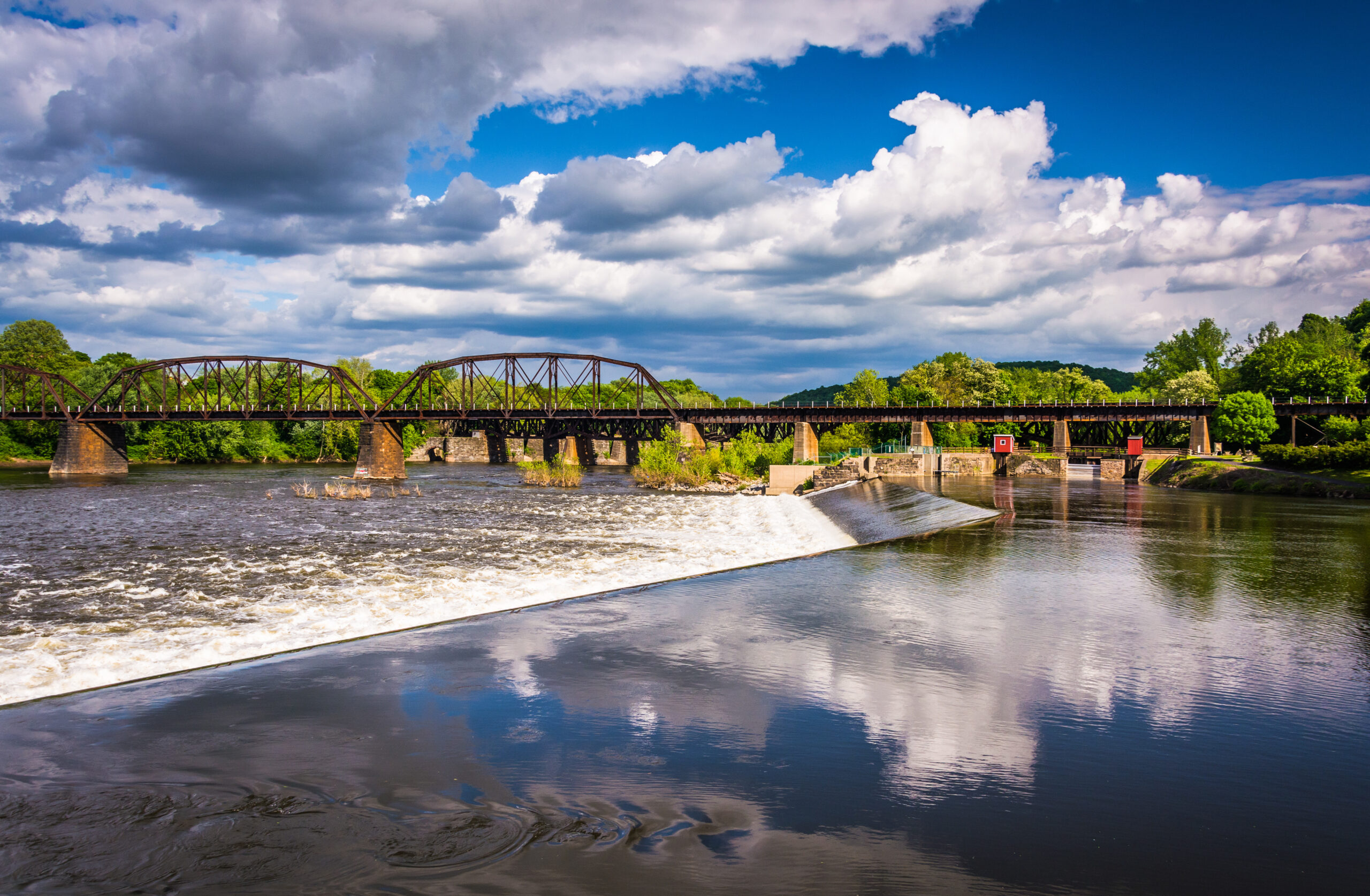 Why retrofit non-powered dams
There are numerous reasons to consider retrofitting dams with energy generation technology. NPD HYDRO V1 focuses on four benefit categories: grid, community, industry and environment. "Instead of focusing narrowly on the financial aspects, as is typically the case, we're attempting to broaden the scope of analysis to help people see all the additional benefits these projects can potentially provide," Meng said.
One is the decarbonizing role hydropower can play by adding renewable energy to the grid and providing power in concert with wind and solar. Additionally, advances in energy storage technologies such as batteries, pumped-storage hydropower, and low-temperature hydrogen electrolysis present new hybrid energy opportunities. Such opportunities can increase the value of prospective non-powered dam retrofits by mixing and matching pairs of these technologies to maximize available resources.
The NPD HYDRO V1 team also considered four primary stakeholder groups when developing the tool: communities, consumers, regulators and financiers.
"Communities are placed at the center," said Sarah Barrows of PNNL, "because they have the broadest interactions with non-powered dam projects and stand to gain significantly from them."
A dam's community impact score can be affected by variables like extreme weather, nearby fossil fuel generation, air quality and average residential energy cost burdens. Proximity to schools and hospitals and a community's impact score from the Centers for Disease Control and Prevention also count. Although not included as part of the community impact score, a user also can view a dam's risks of failure and downstream flooding.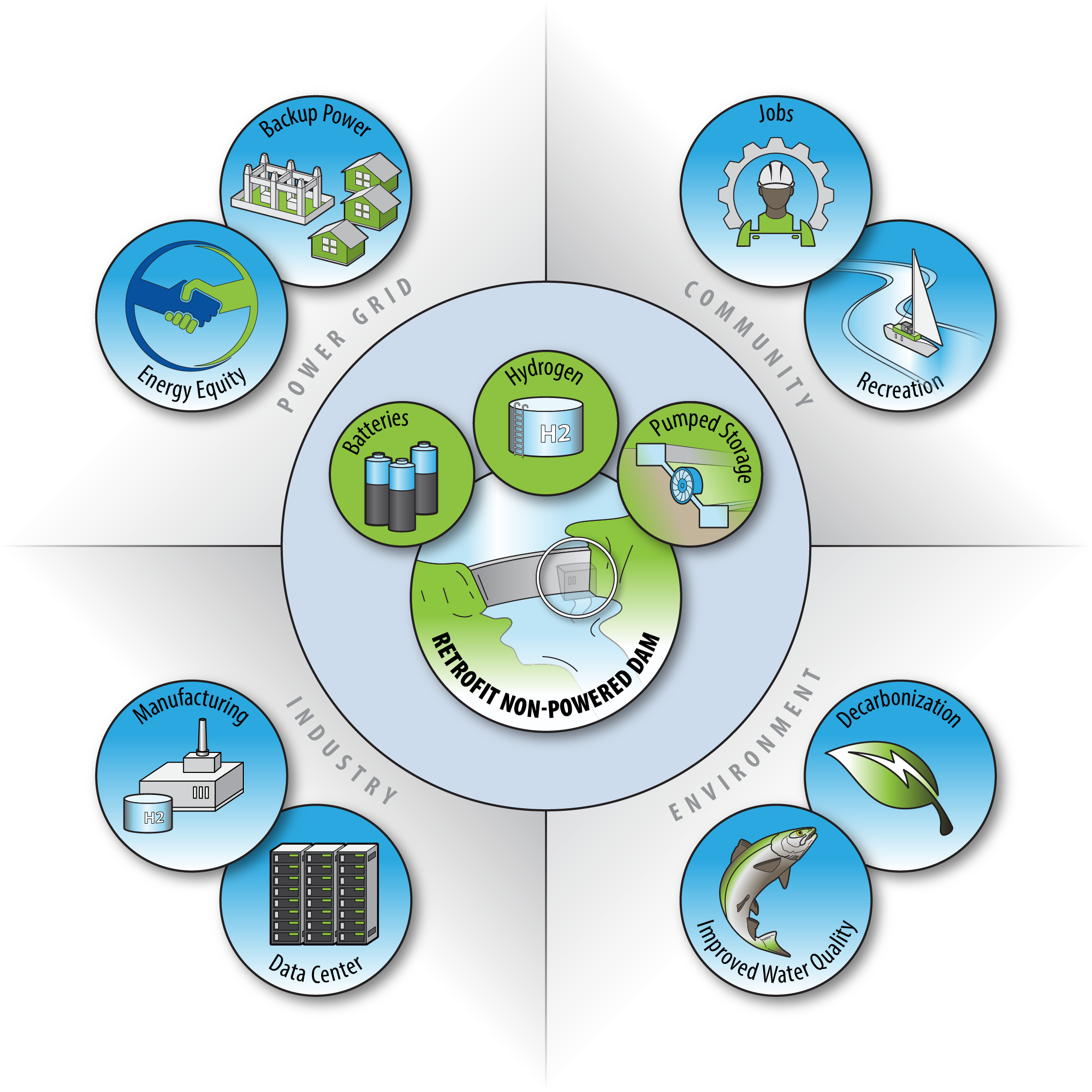 More development planned
The developers created NPD HYDRO V1 as a national-level prioritization tool rather than a tool to assess specific sites. For site-level analysis, they recommend an approach with dynamic models representing each of the involved systems. They plan to develop site-level tools for more advanced users and research communities over the next year.
"We focus a lot on the community aspect, including distressed communities like those looking for ways to replace coal jobs, or interested in prioritizing certain energy equity metrics" Meng said. "Development of non-powered dams with local communities is an opportunity to build local support for the projects and to engage those who feel left behind by the clean energy transition."
The U.S. government has a role to play in converting non-powered dams because many of them are federally owned. The U.S. Army Corps of Engineers, which is the largest owner-operator of hydropower plants in the country, owns 81 of the top 100 non-powered dams in terms of generation potential, making the government and the Army Corps of Engineers important partners in any endeavor to analyze non-powered dam benefits.
"Federal government involvement is essential, including contributions from Department of Energy national labs like INL and PNNL," Meng said. "To accelerate the rate at which these projects are executed, federal help will be needed to both address the construction costs associated with developing these long-lived assets as well as to streamline the licensing and permitting processes."