If you're seeking new innovations, few things work better than calling for ideas from the best and brightest young minds.
For Bane Sullivan, pursuing a master's in hydrology at Colorado School of Mines, the call came in early 2019, when he saw an advertisement for the U.S. Department of Energy's Geothermal Design Challenge coordinated by Idaho National Laboratory. As someone interested in geoscience visualization, "I saw it as a really good opportunity to gain exposure," he said. "I was able to showcase a lot of the work I'm doing at school."
One year after winning second place in the Design Challenge with "Open Source Solutions for 3-D Communications," Sullivan is getting ready to graduate and take a job with Kitware, a Clifton Park, New York, company that specializes in open-source software development. The attention he and his collaborator Adam Kinard found through the contest brought them attention they might not have otherwise received.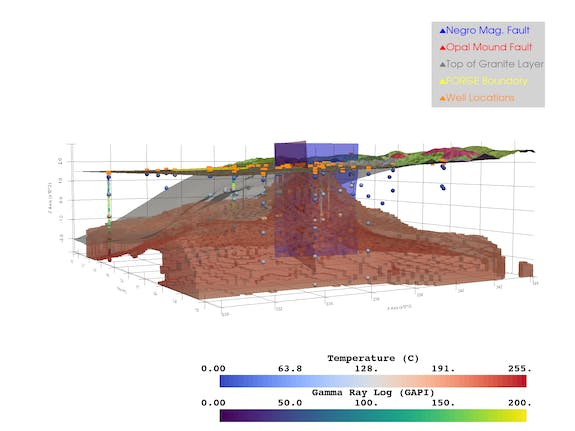 "Lots of people reached out," Sullivan said. "People were interested in the software and whether we could help them with what they were working on."
Entries are now open for this year's Geothermal Design Challenge, which is sponsored by DOE's Geothermal Technologies Office. The Design Challenge started as a poster contest in 2014, soliciting entries from high schools and universities across the United States, but in 2019 its emphasis switched to data visualization. Students were asked to use data to create visualization portfolios that would "tell a compelling story about geothermal energy."
In an interview posted on Seequent.com, Sullivan said what drove him was a need for tools to visualize spatially referenced data and 3D data – something he first recognized as an undergraduate. With his experience in programming, he enjoys creating tools that make his and others' lives easier. "I really enjoy seeing geophysics in 3D," he said. "It helps me understand, and I think it helps a lot of other people understand it as well."
Because most geophysicists use Python as their programming language but have limited experience in 3D visualization, Sullivan wanted to make a tool that provided a "glue" between all the open-source Python-based geoscience processing libraries. PyVista is a pure Python 3D visualization and mesh analysis library that enables analysis filtering, data transformations and 3D visualization. He also created PVGeo, a plug-in package to connect geoscience libraries to PyVista and the Visualization Toolkit (VTK) open-source software system.
Part of what drove Sullivan, he explained to Seequent, was his open-source vision for the future of geoscience visualization. "That way, anyone can contribute code and anyone can use it," he said. "It allows students at a research institution to focus on their research and not the complicated nuances of visualization and processing their data. … Imagine if you saw an academic paper published that had complicated physics – then imagine that anyone could check out the data, reproduce those findings and interact with 3D visualizations of those results. That's what I think is next."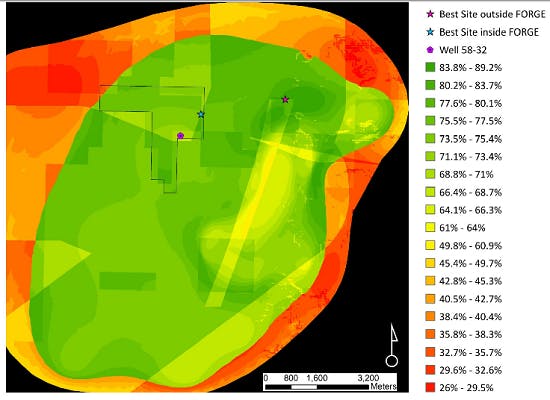 Sullivan wasn't the only participant in the 2019 DOE Geothermal Design Challenge to see a benefit from entering the contest. After graduating from DePaul University in spring 2019 with a master's in predictive analytics, first-place winner Sierra Sellman landed a job in Washington, D.C., with the National Geospatial Intelligence agency.
Sellman said the project, "EGS Site Selection using GIS and Machine Learning," which she put together with her friend Michelle Rodrigue, a data visualization student at Georgia Institute of Technology, was her first experience with machine learning techniques. This is something she uses all the time now. "I got to test drive it before actually using it," Sellman said.
Winning the contest may also have contributed to her being put in charge of a team of 20 people. "I think it helped put me over the top," she said.
The Geothermal Challenge seems to have really hit its stride, said Robert Podgorney, INL's Geothermal and Fossil Energy lead. "I was really pleased with the level of competition and the breadth of talent in the past two years," he said. "Even the entries from high school students had some interesting insights. Creativity can make a big difference."
Podgorney contacted both Sullivan and Kinard about coming to work at INL, but learned they had both found jobs. Some of the data from last year's competition has been used indirectly at the Frontier Observatory for Research in Geothermal Energy (FORGE) site. The project plans to start drilling full-sized wells this year.
Participating in the Design Challenge offers a great opportunity to any geology or geophysics student, Podgorney said. "You get exposed to a lot of top-level thought leaders in geothermal research."
While the 2019 contest was focused on the FORGE project near Milford, Utah, contestants in this year's challenge have been invited to create a digital interactive or static map showing how GIS and geospatial mapping can improve visualization and communication relating to geothermal energy.
High school and university students – undergraduate and graduate – can participate in the challenge, but only U.S. citizens are eligible. Students are required to self-select teams of two to three members. A strong foundation in data analytics, subsurface science and visualization techniques are considered key to a successful entry.
The challenge started Jan. 6, with the Round 1 compliance review set for March 30. Entries will be judged according to the following merit review criteria:
Cartographic design: creativity, text (including spelling and grammar), balance, unity, visual hierarchy, clarity, use of color (50%)
Analytical Depth – logical, clear analysis, range of complexity (25%)
Creativity and innovation – unique product, compelling to a broad audience, impact (25%)
For more information, visit https://inl.gov/geothermalchallenge/#contest.