At Idaho National Laboratory, buses are almost as much a part of employee culture as energy research.
For 69 years, the lab has used buses to ferry employees from their hometowns in eastern Idaho to their jobs at the Department of Energy's INL Site. Employees travel to job locations ranging from 35 minutes to an hour and a half west of Idaho Falls.
Today, INL's fleet of roughly 80 buses transports more than 2,000 INL employees a day safely to their work locations and home again.
So, when it came time for electric vehicle (EV) bus manufacturer New Flyer to test a state-of-the-art bus capable of high-power charging, a collaborative demonstration with INL was an obvious choice.
High-power charging could charge large commercial vehicle batteries fast enough to make EVs a viable option for businesses and municipalities.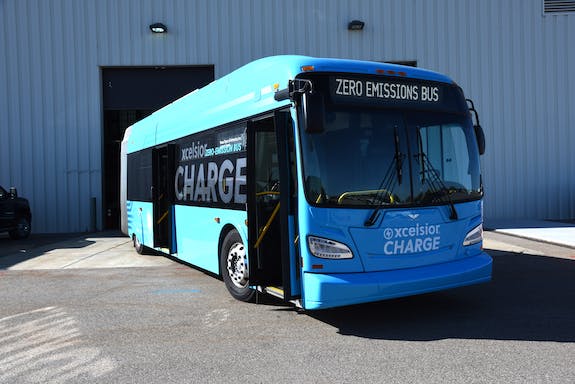 As part of INL's 70th anniversary celebration, researchers charged a New Flyer Xcelsior, their 60-foot transit bus, using a 350-kilowatt high-power charging station at the Electric Vehicle Infrastructure Laboratory in Idaho Falls. Researchers conducted a number of tests to quantify the performance of both the bus and the charger.
---
Potential of electric vehicles
Researchers and industry have long identified medium to large commercial vehicles as potential candidates for EV technologies, in part because versions of these vehicles that run on fossil fuels currently account for nearly a quarter of all transportation emissions in the U.S.
But first, those EV technologies need to compete with conventional internal combustion engines.
In the past few years, EVs have begun to rival or exceed the performance, reliability and value of fossil-fuel-powered cars and trucks. As a result, cities and businesses across the U.S. are increasingly considering larger, commercial EVs.
But one big challenge remains: the battery sizes necessary to power these vehicles—roughly 10 times larger than an EV passenger car—mean longer charging times that may not be compatible with the demands placed on commercial vehicles.
---
Today's charging systems
High-power chargers deliver up to 350 kW, roughly seven times more power than the typical 50-kW DC fast charging systems used by many of today's EVs.
A 50-kW system is capable of charging a passenger car battery to 80% in under an hour. However, a larger vehicle would take much longer. "If you're charging a bus with the standard 50-kW charger, that's overnight charging," said Richard "Barney" Carlson, a research engineer at the Electric Vehicle Infrastructure (EVI) laboratory.
Since most large, commercial vehicles operate continuously during business hours, such long charging times are not practical. "City transit buses, delivery box trucks, long haul tractor-trailer trucks—those are all commercial applications where time is money," Carlson said.
The next new standard is 150-kW charging, which is available from a handful of manufacturers. Depending on the battery size, a 150-kW charge rate reduces passenger car battery charging times to less than half an hour, equivalent to a lunch stop on a long road trip. But that still amounts to several hours of charging for a large commercial truck or bus.
Extreme fast charging, on the other hand, would charge a passenger vehicle's battery in approximately 10 to 15 minutes. This equates to a charging time of less than two hours for a commercial vehicle equipped with 600 kW-hour batteries.
---
Just one metric
Charging time was just one metric INL researchers evaluated to learn more about how high-power charging might work with tomorrow's fleet of medium and heavy-duty EVs. Researchers also looked at charging efficiency, power quality, communications compatibility between the vehicle and charger, and cybersecurity robustness and resiliency.
"Cybersecurity is more important as power levels increase," said Carlson, who explained that about six high-power chargers draw roughly the same amount of power from the grid as a small hospital. "Who cares if your 1.5-kW hair dryer gets hacked? But a 350-kW extreme fast charger is more significant."
There is so much power, in fact, that the cord and plug are liquid-cooled to keep the temperature at safe levels while limiting size and weight to a manageable level.
Given its large power requirements, an attack on a high-power charging system might cause sudden load changes that could damage or destabilize the grid itself and systems connected to the grid. At the very least, a cyberattack could disable or damage the hardware of the charger itself, which is more complex and therefore more expensive than today's chargers. There's also potential for a hostile actor to deny service or steal information such as credit card numbers or cargo manifests.
---
Future is here
In general, the test conducted by New Flyer and INL is an opportunity to learn more about how high-power charging could make electric buses a reality. In fact, a future with electric buses is already here. The city of Los Angeles recently ordered 130 electric buses to bolster its fleet.
The 60-foot New Flyer bus is the first of its kind and traveled to INL under its own power, said David Warren, New Flyer's director of sustainable transportation.
New Flyer and its subsidiary, Motor Coach Industries (MCI), have a long history with INL developing alternative transportation strategies for the laboratory's buses, including installing a solar panel-powered air conditioning system to maintain a comfortable temperature in the bus so it doesn't need to idle when it's not in operation.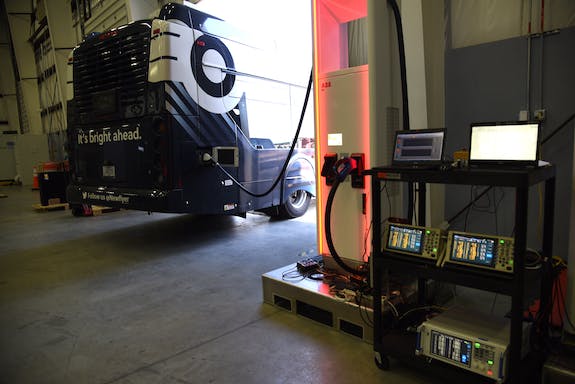 "On our first attempt, we connected to the ABB 350-kW charger and we successfully had energy transfer from the charger to the bus," Warren said. "It verifies that the standard works. It could not have been done without INL experts and the EVI facility."
INL, the National Renewable Energy Laboratory and Lawrence Livermore National Laboratory continue to collaborate with New Flyer to extend the range of its vehicles by using technologies such as hydrogen power, Warren said.
In the meantime, Carlson and his colleagues are investigating the possibility of acquiring an electric bus for INL. "Given INL's large bus fleet, electrification of buses is important," Carlson said.