Did you know one in four U.S. adults lives with a disability? That's over 50 million people! However, many of those disabilities – about 75% – are invisible and may not be obvious when you first encounter someone. According to the U.S. Bureau of Labor and Statistics, the unemployment rate for persons with a disability was 8% in 2018, more than twice the rate of those with no disability (3.7%).
Most people with disabilities would like to work but often remain unemployed or underemployed. They represent one of the largest sources of capable, untapped talent in the labor force. To bring awareness to this topic, National Disability Employment Awareness Month (NDEAM) is celebrated in October to recognize the many contributions of workers with disabilities and bring to light disability employment issues.
How can you support people with disabilities? Click here for 8 Tips on Disability Etiquette.
At the National Organization on Disability (NOD) Corporate Leadership Council Annual Forum, Shifting the Talent Paradigm: Inclusive Culture for a Modern Workforce, INL was honored as a 2019 Leading Disability Employer. Dr. Mitchell Kerman, Rose Holtz and Toni Carter attended the forum and accepted the award on INL's behalf.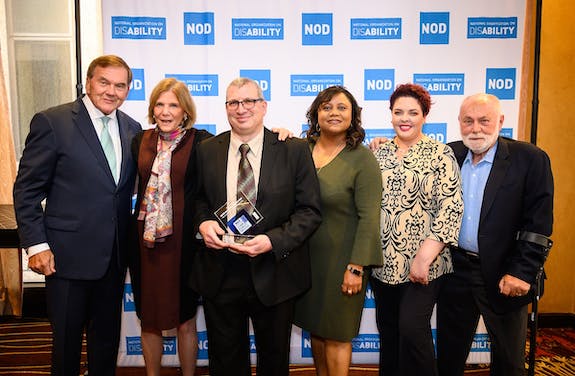 During the forum, participants looked deeper into the unconscious biases about people with disabilities and discussed possible solutions to overcome them. The forum featured nationally renowned speakers discussing topics including how to create and lead inclusive workplace cultures, how to lead from the inside out, and breaking barriers with technology.
Kerman said the experience left a huge impression on him. "Being a part of INL's Leadership Councils, I'd already had my eyes opened to the need for inclusion, but attending this forum opened my eyes in a different way," he said. "I realized that we need to engage people with disabilities even more and make a conscious effort to value all people for what they bring to the table."
Kerman was also impressed with how leadership played a key role throughout the forum and said if he could, he'd send every leader at INL to the forum so they could experience what he did. "Leaders play a huge role in hiring and supporting people with disabilities," he said. "We can all benefit from learning how to be an adaptive leader."
In particular, when hiring or working with people who have disabilities, leaders need to stop focusing on what they can't do and adapt to what they can do.
Rose Holtz also came away from the event with a new perspective. "As a person with a disability, I realized sharing my story is important not for me, but for others who might be struggling," she said. "It provides encouragement and inspiration for people in my situation to grow into their authentic selves."
Having visible and authentic role models is important because for most employees, the biggest factor in whether they disclose or do not disclose their disability is if they feel they will be accepted or fear they will be rejected. INL strives for everyone to bring their best self to work and feel valued for what they bring to the table.
"We want to cultivate a more disability-inclusive workplace. Let's upend preconceptions, practice conscious inclusion, and give people the opportunity to succeed," said Kerman.
Resources
Social Media Campaign Posts: #NDEAM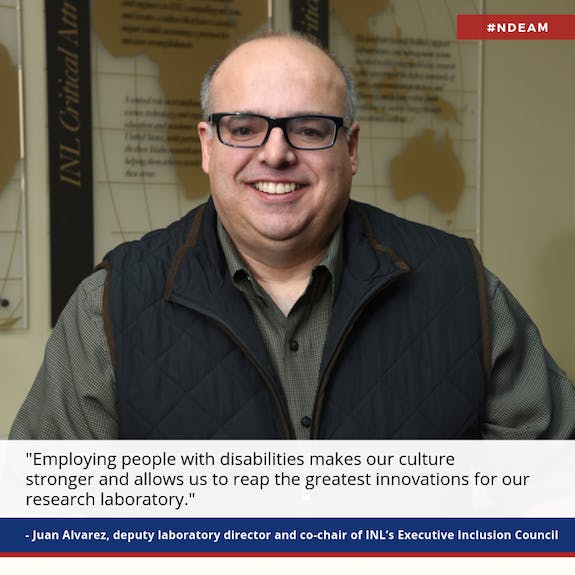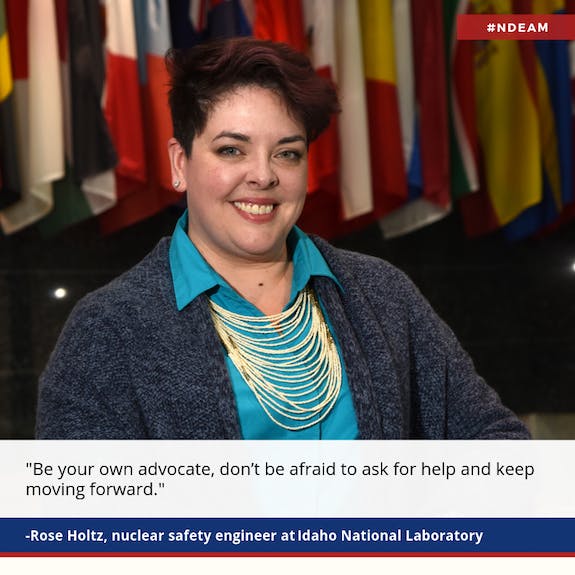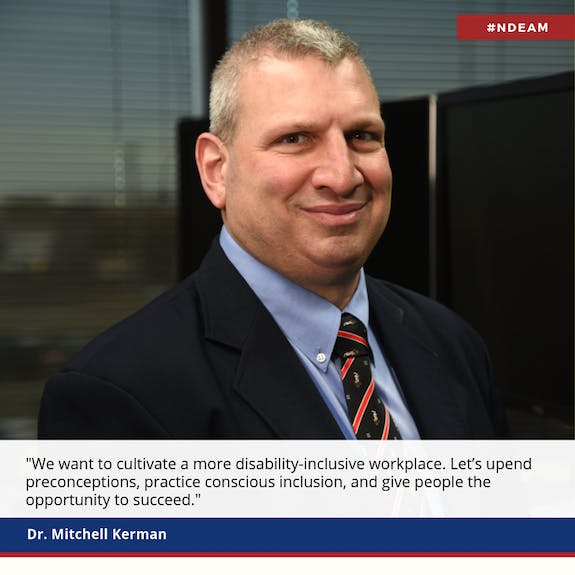 Sources:
Green JH, Brooke V. Recruiting and retaining the best from America's largest untapped talent pool. J Vocat Rehabil. 2001;16(2):83–88.