GEM program makes good on commitment to recruit the best and brightest
Idaho National Laboratory's success is intimately and proudly tied to its ability to recognize and recruit talented individuals that impact the world with their work.
Because of this commitment to the highest levels of recruitment, INL took a step in 2018 to cast a wider net in an effort to capture the brightest minds in science and research. That new cornerstone holding INL's recruitment success: inclusive diversity.
"You have to go out and find that diverse talent," said Terrence Buck, INL's Talent Acquisition manager. "My job is to recruit and find the best and brightest talent throughout the world and, while doing that, bring in more candidates with diverse backgrounds."
The partnership that would produce some of the first fruits of this effort started with Buck and the National Consortium for Graduate Degrees for Minorities in Engineering and Science, known as GEM. Having served more than 15 years as a GEM board member, Buck introduced the program to INL, hosting GEM fellows to serve as interns and postdoctoral researchers. GEM fellows bring high levels of academic achievement and research acumen to national labs and industry.
Zachary Tudor endorses the GEM program for this very reason.
"Through the GEM program, we are able to identify and access a set of students we didn't have a clear way to access," said Tudor, INL's National and Homeland Security associate laboratory director. "The GEM program brings together the cream of the crop that we might otherwise have overlooked."
These words ring true for these new GEM recruits.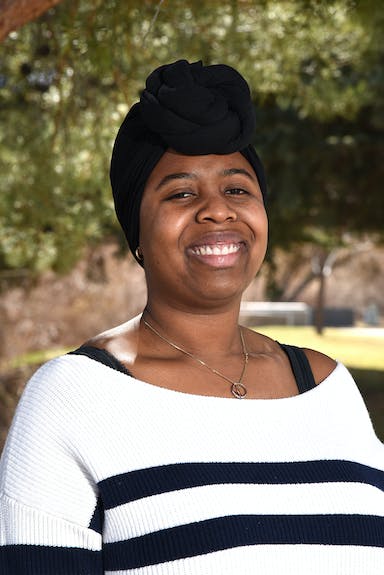 "As someone who identifies as a woman and a marginalized person, if I had not had this fellowship with the GEM program, I would not have this position at INL," said Trishelle Copeland-Johnson, a Glenn T. Seaborg distinguished postdoc fellow that INL hired this February. "GEM opened doors that would not have been available to me otherwise."
Copeland-Johnson earned a doctorate in materials science and engineering. Her focus at the lab includes molten salt reactor technology, a cutting-edge study for the future of clean nuclear energy.
She, Joshua Gomez and Luis Ocampo Giraldo are the lab's first GEM fellows to accept full-time positions with INL. These hires are milestones worth celebrating, but they are by no means an end goal. "To recruit us is one step, to retain us is another step toward creating a diverse team," said Copeland-Johnson, acknowledging the work that still lies ahead.
"Adding cultural diversity and different experiences to the workforce is a big plus for the entire laboratory's operation," said Buck. His work with Brookhaven National Laboratory has also connected GEM to Idaho, including hiring Ocampo Giraldo. "When you invite diversity into the workplace, you are not only able to better solve problems, but diversity adds to the organization's ability to look at problems differently," Buck said.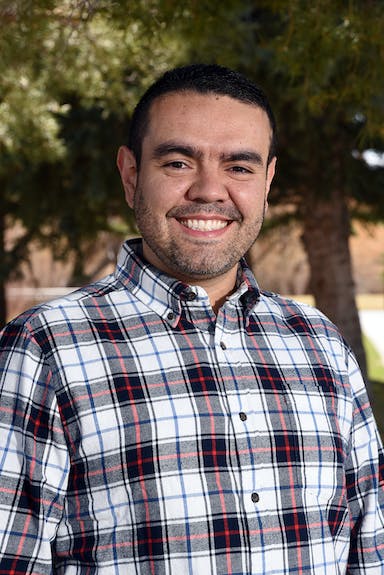 The GEM program relies heavily on networking, fostering professional relationships, and providing graduate and doctoral students with opportunities that might otherwise be unknown to underrepresented students. This powerful connection to a national network of universities and employers, including corporations and national laboratories, connects highly qualified students from underrepresented groups to STEM graduate programs and a support network – something that is often the deciding factor in pursuing graduate education. GEM fellows conduct research at the hiring institution, gaining hands-on experience in leading scientific research and exposure to future mentors.
"One of the biggest challenges is the lack of seeing someone who is Latino or a person of color in the same field of study or working toward the same career goals," Ocampo Giraldo said. "If you have never seen that, it becomes, 'Can Latinos do that?' For many of us, it's the lack of understanding as to what opportunities are available or how to take the first step."
Today, Ocampo Giraldo has a doctorate in nuclear engineering and says he is honored to work with a strong and committed team at the lab. Together, that team focuses on nuclear projects and experiments that support matters related to homeland security and nonproliferation.
Gomez echoed Ocampo Giraldo.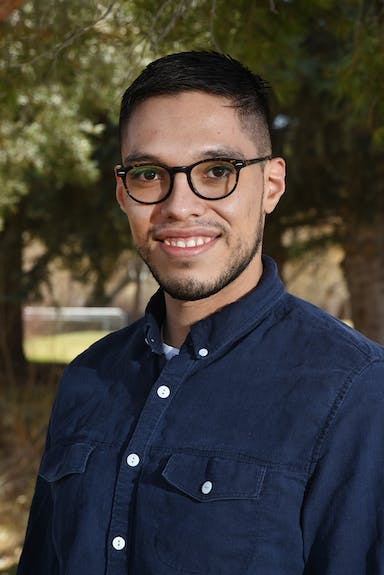 "The program introduced me to other fellow GEM students," said Gomez, who is an INL research engineer in the Biological and Chemical Science and Engineering Department with a master's degree in chemical engineering. "I have learned from other GEM alums what it takes to be successful. When you find someone with a similar cultural background as yourself, you learn how they were able to get into that position. I had no idea there were so many successful minorities before I met them through GEM."
Gomez works with an INL team that performs electrochemical experiments to characterize the performance of solid oxide cells. This work supports new manufacturing concepts that could advance production of highly efficient fuels.
According to Buck, INL has embraced the GEM program. "One of the things that GEM breaks down are perceived barriers," said Buck. He noted that underrepresented individuals and those who attend minority-serving institutions can be incorrectly perceived as not being as smart or well-equipped as students attending other schools. "These are top-notch schools producing top-notch, but underrepresented, students."
As the GEM program rounds the corner with INL, Buck is looking to the future.
"GEM has been able to give a better perspective where underrepresented students are concerned," he said. "It shows others that these students have what it takes; they have the ability and skills to contribute to research advancement at INL. And that's why I'm a big part of the program. This isn't just a job – diversity is my life."