If you happen to be driving across the desert of southeastern Idaho among the miles and miles of sagebrush, you will notice a lone faded brick building nestled near the base of the Big Southern Butte, standing out starkly against the sweeping blue horizon.
This building, Experimental Breeder Reactor-I (EBR-I) Atomic Museum, serves as an insight into the history of nuclear energy in Idaho and the United States.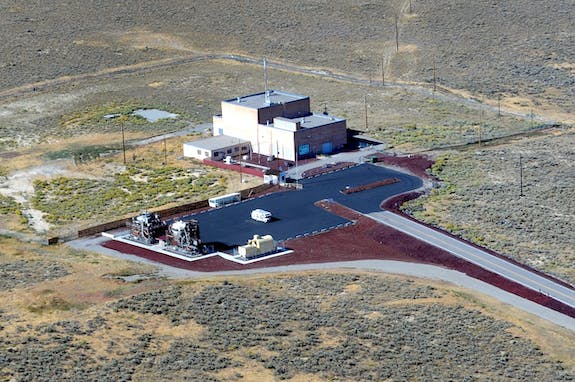 Construction began in 1949 as EBR-I became the first reactor built at the National Reactor Testing Station (NRTS), which was the original name for the 890 square miles of Idaho desert land now known as the Idaho National Laboratory (INL) Site. EBR-I is the first of 52 reactors established on the Site since 1949 as a means of researching, testing and understanding the potential of nuclear energy to bring clean power to the nation.
On Dec. 20, 1951, EBR-I successfully used nuclear fuel to light four 200-watt lightbulbs. The next day, Dec. 21, the reactor generated enough energy to light the entire building and the lights outside in the parking lot. Although this mere 400 kilowatts of power seems small by today's standards, it was absolutely monumental in the context of 1951. This was the first time a usable amount of electricity had been generated using nuclear technology, and it paved the way for an energy source of the future. As a breeder reactor, EBR-I also made more fuel than it consumed while producing electricity.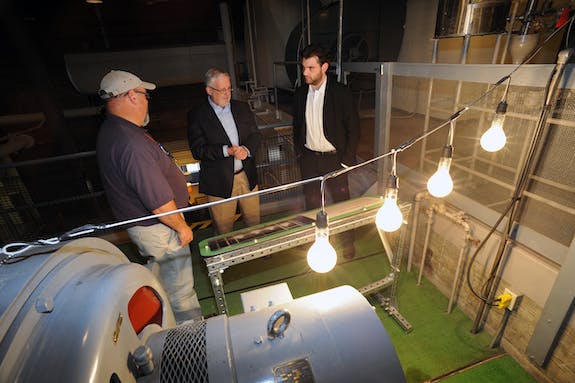 Still standing today after being designated a National Historic Landmark by President Lyndon B. Johnson, EBR-I brought scientists and researchers fundamental knowledge about nuclear power and the ways in which it could change the energy future of America. As the first breeder reactor and the first nuclear power plant to produce a usable amount of electricity, EBR-I proved to those curious about nuclear power that this technology could indeed succeed.
Don Miley, of INL Public Affairs, is a longtime tour guide at INL's facilities, including EBR-I. In his words, "EBR-I proved that test or demonstration reactors could be operated safely. They were building EBR-I based on pretty limited reactor building and operating experience. Although it had been done at the University of Chicago and at Hanford, a purely research and proof-of-concept reactor hadn't been built yet," he explained. "That was a big part of EBR-I's success. If EBR-I had not operated well, not many would have had the stomach to go on and build other reactors."
Not only did EBR-I generate confidence in reactor research programs, but it also demonstrated the benefits of materials testing, now an integral component of nuclear power. Part of the materials testing at EBR-I involved exposing material to neutrons; through this process, the researchers learned how neutron damage altered material characteristics. The later Materials Testing Reactor (MTR), which provided essential data for the continued construction of reactors on the Site, capitalized on this vital knowledge of neutron irradiation discovered through EBR-I.
In addition to assisting with founding nuclear research and proving that nuclear technology could, in fact, produce electricity, Miley said, "EBR-I proved that the idea of an NRTS was going to work. Its success proved that researchers could get nuclear data for the nation from one geographic location."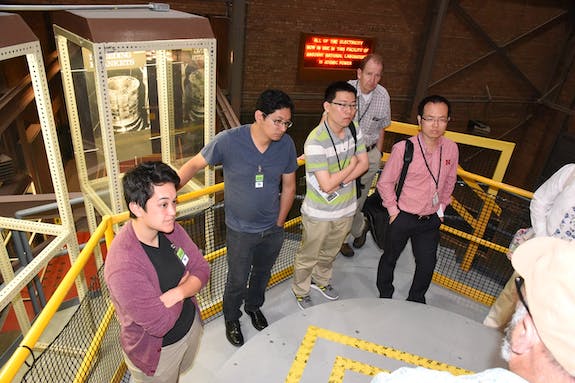 As John Wagner, associate lab director for Nuclear Science and Technology at INL, said: "EBR-I demonstrated that power generation with nuclear energy was possible. It paved the way for innovative and exciting advancements in nuclear reactor design, and proved that the NRTS was more than just a pipe dream. It was a reality that could revolutionize the production of power with clean energy sources, nationwide."
Wagner said the success of EBR-I – and the NRTS – built a research and development foundation that inspired Congress to designate INL the nation's nuclear energy laboratory and makes it the ideal place to work with industry in developing and demonstrating advanced reactors.
"Our past not only inspires our future," Wagner said, "but it also has left us in position to serve the American people by helping provide the clean, reliable and resilient energy needed to power transportation systems and industrial processes while continuing to generate one-fifth of this nation's electricity and more than half its carbon-free electricity."
Overall, EBR-I paved the way for continuing nuclear reactor research at the NRTS and across the nation, and today visitors come from all over the world to see the museum dedicated to preserving this early nuclear history. On the way to and from Craters of the Moon, EBR-I is an ideal summer destination for those wishing to dive deeper into Idaho's scientific history.
Visitors are greeted outside with a bright blue sign proudly proclaiming EBR-I's heritage as the "First Nuclear Power Plant." Although a guided tour of the decommissioned reactor-turned-museum will explain why this isn't an entirely accurate moniker, EBR-I Atomic Museum nevertheless boasts an amazing array of artifacts and information surrounding the history of nuclear power generation in the country.
The museum is open seven days a week between Memorial Day and Labor Day from 9 a.m. to 5 p.m. Hourlong guided tours are offered for free, along with a self-guided option via pamphlet. During the tour, visitors can see the wall where team leader Walter Zinn and the workers of EBR-I, including the facility custodian, Jolley, signed their names in chalk; one of the original four lightbulbs from that fateful day in December, and a fun table for younger visitors to try their hand at decoding secret messages and building rockets out of straws. Tourists even have the opportunity to actually stand on top of the reactor!
A quick visit, a nice pit stop during a desert road trip, and a monument to the goals of clean power and scientific progress – EBR-I Atomic Museum has something for everyone!
EBR-I will be open for the summer season from Friday, May 24 through Labor Day from 9a.m. to 5 p.m., seven days a week.