Authenticity is key to accelerating both personal career and laboratory growth. Authentic leaders have a positive impact on teams and boost results with inclusive leadership.
At INL we want all employees to feel safe, secure and free to be their authentic selves. To support this goal, Human Resources & Diversity invited guest speaker Mark Hacker, chief administrative officer and general counsel at Motorola Solutions in Chicago, to INL to talk with colleagues about how to be authentic, and the real-world results he's seen from authentic leadership.
The event began with a video welcome from laboratory director Dr. Mark Peters. In his address, he emphasized the impact authenticity has on the science we do at INL. "Only by embracing authenticity can we maximize potential and productivity," Peters said. "Open minds and great science go hand in hand."
In the keynote that followed, "Authentic Leadership: The Power of Being You," Hacker opened up about his personal background and how it has impacted his views on inclusion and diversity.
He shared how his perspective has evolved over the years. Hacker grew up in Chicago in what he described as an "all-white, blue collar, Catholic neighborhood." It wasn't until he began high school that he started regularly interacting with people who looked different and came from different cultural backgrounds. These interactions had a profound impact on his leadership journey.
Hacker also shared a favorite metaphor from a book by Steve Pemberton called, "A Chance in the World." He said, "Think about an iceberg. We all know whatever you see above the surface of the water is just a tiny fraction of what's below. If you had to list all of the characteristics of who you are, some would fall in the 'above the surface' category and some would go 'below the surface.'"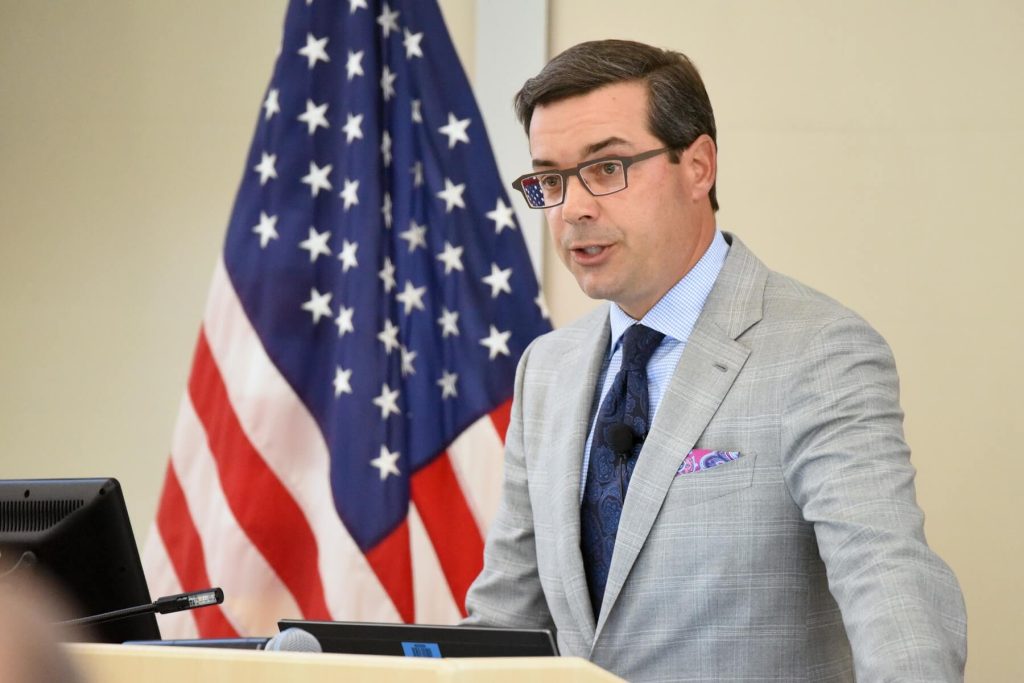 It's the "below the surface" stuff that helps us understand who a person really is.
Hacker described an experience he had with a direct report at Motorola Solutions. It stands out as a pivotal moment in his life.
During an off-site leadership meeting, one of his high-performing employees shared something very personal with the team. She told them she was a lesbian – something she'd kept hidden for nearly 30 years. After the reveal, she became an even higher performer. "That wouldn't have happened if she didn't feel safe to be herself…that wouldn't have happened if we hadn't created a culture of inclusion during that off-site," said Hacker.
He said this event shaped his thoughts about inclusion and diversity because he witnessed the business benefits of an inclusive environment right in front of him. He found the more diverse and inclusive his team, the higher they perform.
Creating an inclusive environment where employees feel safe to be themselves makes the whole organization "better, stronger and wiser," explained Hacker. When we are no longer distracted by trying to hide who we are, we are free to do our best work.
After the keynote, Hacker joined INL's Prism Employee Resource Group leadership team in a panel discussion. Carol Mascareñas, ESH&Q director, moderated the panel that included Tiffany Lin Leavitt, business director at the Materials and Fuels Complex, and Theron McGriff, performance management manager. Both employees shared their experiences with inclusion and diversity inside and outside of the lab.
Leavitt, who has worked at INL for 19 years, shared her observations on how the lab culture has changed since she began. She also talked about how she personally achieved a leadership position by being her authentic self. Leavitt said being genuine not only helps a person achieve their own goals, it also helps the lab grow by bringing inclusive diversity into our workplace. "Overall, it makes the lab a better place to work," she said.
McGriff translated the lessons learned in private industry to how they can be applied at INL and in the Department of Energy arena in general. He has worked at the lab for over 26 years and has witnessed the progression of inclusion and diversity efforts. McGriff commented that INL strives to create a respectful environment where employees feel appreciated for their skills and feel free be their authentic selves. He said having an inclusive environment allows the lab to recruit the best and the brightest talent.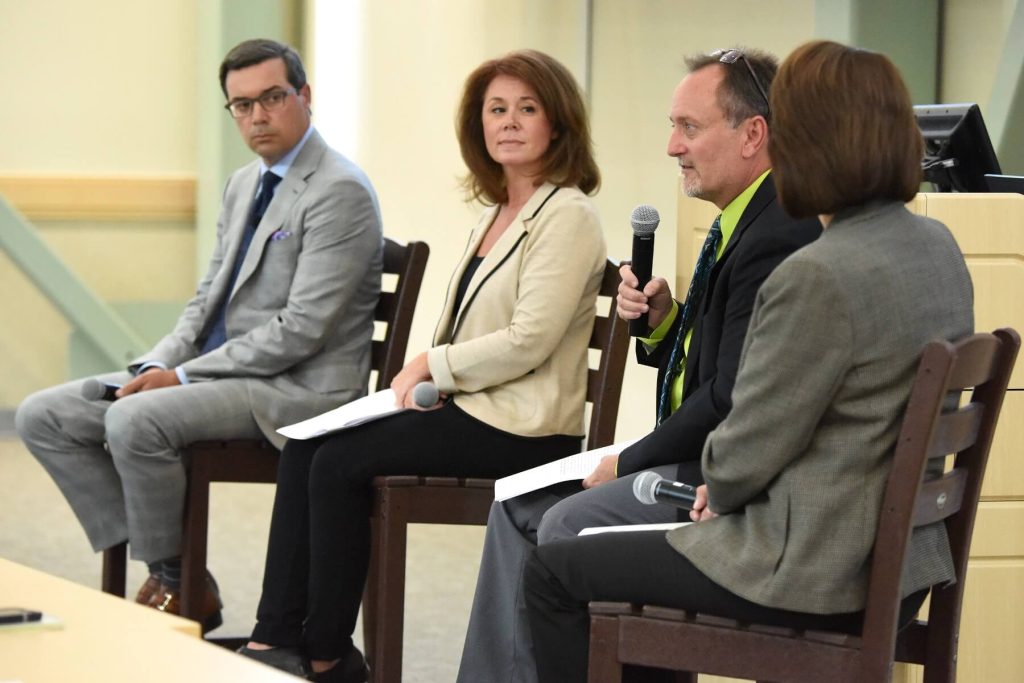 McGriff also shared his thoughts on what he can do to be more authentic. "I feel like I'm pretty authentic today," he said, "but it took me time to reach this point." He said we are all at different points in our journey and he sees his role now to encourage others who aren't as far along in their path to be their authentic selves.
McGriff said most of us think others will judge us or treat us differently if we reveal our true selves, but in reality, most won't. Most people just want to feel a connection with each other.
A common theme of all panelists was that although no two of us are the same and we all bring our unique experiences with us through life, we are often more similar than we realize.
Hacker explained our perspectives can change over time depending on what we encounter.
"I believe authentic leadership around inclusion and diversity starts with self-awareness…reflecting on where you came from and identifying and understanding your biases," Hacker said. "And then it evolves to allowing yourself to be vulnerable enough to seek the help of others and to help you break down those biases."
He said a key to creating a safe environment where team members feel free to be their authentic selves is to demonstrate inclusion and diversity from the very highest levels of the organization.
"It starts with the CEO," said Hacker. "Make sure everyone sees leadership demonstrating inclusive behavior and getting rewarded for doing so."
Dr. Kelly Beierschmitt, deputy laboratory director for science and technology and chief research officer, wrapped up the session with a thank you to the speakers and his thoughts about the impact of inclusion and diversity on the scientific community. He said, "Diversity is our strength. The great accomplishments we've had in this nation are because of inclusion and diversity – it's how we make breakthroughs. At INL, we're committed to inclusion and diversity and are going to double-down on it. As a team, we believe it is essential to innovation, and thus a key ingredient to our success."
Resources:
Point Foundation – Scholarship fund that provides leadership and academic support for LGBTQ scholars